Consummation at 88
Betrayed by All
Decline & Fall
Scapegoating
Making the Impossible Possible
New Lexicon
Overheard
Consummation at 88
Is there an age to get married beyond which one is time-barred, to use a well-worn bureaucratic jargon? Even cast-in-stone rules and regulations have, in very small print, a provision or two of granting extension under exceptional circumstances. If someone decides to get married after turning 50, you'll say the bloke hasn't learnt a thing from life. And if someone takes a plunge in the matrimonial pool in his 60's you'll say the guy has gone crazy. And if someone goes to the registry after 70 you'll suggest him to have his head examined too while going in for his heart-check. And if supported by a cane an 80-year-old talks of matrimony you'll conclude in a moment the fellow has gone really gaga.

And in late 80's! What's the word? Stupefying?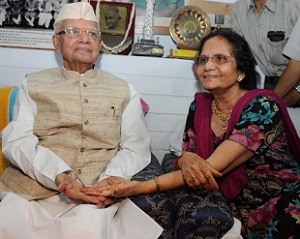 You can well imagine the reaction of a simpleton like me when I read about the marriage of 88-year veteran Congress leader ND Tiwari marrying 65-year-old Ujjwala Sharma − a staggering age difference of 23. I hope my calculation, done without a calculator, is correct?

But then Tiwari is a veteran Congress leader. He had been Chief Minister of Uttar Pradesh thrice (1976–77, 1984–85, 1988–89) and once Chief Minister of Uttarakhand (2002–2007). He also served for a while in Rajiv Gandhi's cabinet. In 2009, while serving as Governor of Andhra Pradesh he managed to get involved in a sex scandal which forced him to quit.

However, there is an explanation for everything. The bride − damn the age: a bride is a bride − happens to be the mother of revered Tiwariji's biological son Rohit Shekhar whom the seasoned UP politician of yore had to accept after the Delhi High Court ruled that DNA tests proved that he had fathered him.

How far-sighted was the Bard who not only shared some, but accepted all human frailties. Didn't he write in his last years All's Well That Ends Well
Muslim representation in the 16th Lok Sabha is at its deplorable lowest ever. It's down to just 22 seats from 29. And you'll be shocked to hear that there'll be no Muslim representation from Uttar Pradesh − the State that boasts of the largest Muslim population and that too by no-means an insignificant 18-19 percent of the total. According to a research-based write-up in the Hindu Muslims now make up just over four per cent of parliamentarians despite their accounting for over 13 per cent of the population as of 2001. There were over 30 Muslim MPs for the past 15 years.

What makes the situation almost heart-rending is that all political parties − Congress, SP and BSP − took their turn to make a fool of the community by building an edifice of make-belief in the name of secularism and minority interests.

The above anomaly will not go away on its own unless Muslims choose to discard the blinkers of the delusions that they have been fed upon. They have been the victims of vote-for-us-and-continue-living-in-ghettoes politics of the UP-variety of self-serving politicians like Mulayam Singh. They must join the mainstream of Indian national life and demand their share as Indians, and not as Muslims
Even after it was written in bold unmistakable script on the wall that the Congress has been completely decimated by the Narendra Modi tsunami, surging forward with irresistible force, the Gandhi family stayed behind the high portals of 10, Janpath, the once-mighty official residence of its president Sonia Gandhi. A large posse of journalists waited outside for Sonia and her son and vice-president Rahul Gandhi to speak, but the time kept ticking. As per insiders' version, mother and son were crying on each other's shoulders. (Some scribes confirm having a glimpse of the wet shoulder on each torso.)

My guess is that to make the humiliation sink in deeply, the Gandhis in all likelihood would get dragged into another battle should Modi were to go ahead with a probe against Robert Vadra, accused of windfall gains in very shady land deals. Broad hints were thrown about this happening during the election campaign to take the BJP Congress-mukt Bharat slogan to its logical conclusion. In that case all three Gandhis − Sonia, Rahul and Priyanka − will get embroiled.
Every time they found themselves in a new imbroglio − and they did that fairly frequently − Oliver Hardy use to turn to Stan Laurel and say in a spirit of disgusted resignation: "Here's another mess you've landed me in!" When things go awry − and they often do − someone has to be declared a fall guy.

In good old ancient Greece in response to a natural disaster (such as a plague, famine) or in response to a calendric crisis, a cripple or beggar or criminal was cast out of the community. In the Holy Bible, the goat for Azazel was the goat that was designated to be outcast in the desert as part of the ceremonies of the Day of Atonement. So, the expression scapegoat!

The moral of the story is that in the event of things going wrong someone has to be held responsible unless you can just explain it away as an act of God. However, since we cannot attribute every slip on the banana skin to Him, we tend to look for a whipping boy. In psychology they call it scapegoating.

And that search has started in Congress Party too. How very courageous of the mother-son team to appear before the TV cameras with a mae cupla plea. But can things be explained away so easily. This plea is entered on most Mondays in Italy for pardonable lapses that the human flesh is heir to. In this case the crime is to systematically fool a country for over half a century?
Making the Impossible Possible
Politics is both the art and craft of the possible and, perhaps more importantly, making the impossible possible. It is only great statesman who dares to practice the second whereas the first is the common currency everywhere.

There are a few new things that Narendra Modi had been promising in his campaign speeches. One of them was to bring everyone on board to expedite the implementation of his commitments to the people. This will be crucially tested by the way he deals with Trinamool Congress and its pre-eminent leader Mamata Bannerji. On her part, the Didi, like most other regional satraps, was operating on the assumption that election results would throw up a fractured mandate, making it necessary for Modi to reach out to others to form a government. After all she has most of the 34 seats from West Bengal.

She was so sure of her party emerging as a "determining factor" in government formation that she had the audacity – is stupidity a more appropriate word? − to say she won't support the BJP even if the latter "falls at my feet." Now, BJP has no such need but her Party has, and that too to salvage her State from bankruptcy.

When she meets the Prime Minister Modi, will he remind her that she is running into "Dangababu" for whom she said "Tui ke? (Who the hell are you?) Kone Haridas (Which big shot?)"? She even threatened to tie a rope round Modi's waist and drag him to prison for his diatribe against infiltrators moving into Bengal from across the border. The man he is, Modi for certain won't remind her of all the diatribes she so liberally aimed at him. He is a gentleman at the core of his being who knows where the cut and thrust of electioneering ends and courtesies of life begin. He knows how crucial is West Bengal's upliftment for the progress of the entire north east. That would be one of issues to test Modi's caliber to make the impossible possible.
Did you notice the glossary of words, acronyms and phrases that have defined Elections 2014? Here are a few I've picked up from the media compilations.

Selfie. I was fascinated by the word Selfie that the media coined for self-portait. It is indeed the ultimate in self-portraiture. Rembrandt and Van Gogh are passé. Instead of using your finger to press a camera button, you use the phone camera − a blessing indeed are smartphones these days − to click your finger. In this case, an ink-stained finger gives the neo De Cartesian message 'I vote, therefore I am'. That Narendra Modi landed himself in minor trouble is another story. He was booked by the cops for violating the poll code. Once upon a time it was called self-goal, but not anymore.

Conscious coupling. Hollywood actress Gwyneth Paltrow, I understand, created a new phrase, conscious uncoupling, referring to her split from her husband. We now have conscious coupling courtesy. Congress leader Digvijaya Singh had no hesitation admitting to his beloved party of his affair with a married TV anchor after photos were leaked coupling the two. Don't start talking of extra-marital relationship! Nothing of the sort. She has filed a divorce suit and his wife passed away recently. Conscious of the fallout in election season, they announced that they would soon be officially coupled irrespective of his party winning or losing the elections.

DNA. Abu Azmi − please pray that his tribe may decrease − is the spoke in the bicycle wheel, the symbol of the Samajvadi Party he represents. He spits venom whenever he opens his mouth, which he does much too much. Now comes his remark about conducting a DNA test of Muslim voters who don't vote for his party to check if they are progeny of RSS parents. The suggestion that ideology is genetically inherited can only originate from someone who urgently requires an IQ test i.e., Idiocy Quotient test.
Rahul Gandhi, according to press reports, had been praying fervently for rain on May 16th so that he can win the election match by Duckworth- Lewis method of calculation. Rain gods didn't oblige.