Fire Brand Politics
Questions We Refuse to Ask
Sound and Fury
Perpetual Search
Won't Hear About
Book Break
Election Flavor
Fire Brand Politics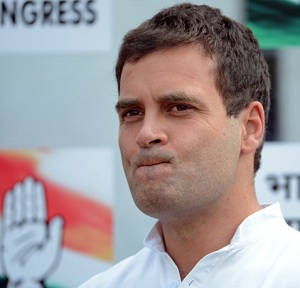 "Main janata ke liye ladunga…Hum sashakta vipaksh ki bhumika nibhayenge. Jahan janata ki nahi suni gayi, toh aag laga denge. (I will fight for the public… We will play the role of a strong Opposition… If people are not heard, we will start a fire)." That's how thundered Rahul Gandhi in Amethi after accepting his party's defeat mostly attributed to his own poor leadership.

Is the rabble-rousing tone a precursor of shape of things to come or merely to vent the young man's frustration on the verdict of a disillusioned electorate? Has Rahul Gandhi finally decided to adopt his dear uncle Sanjay Gandhi as his role model? Only time will tell.
Sonia Gandhi ably assisted by the son and daughter duo joined by Robert Vadra and the old-time clique of advisers must be trifle confused how to go about another makeover of the Party in a bid to plan a return to power. Someone among them might have heard of the name of noted American author and philosopher Sam Keen who once said "What shapes our lives are the questions we ask, refuse to ask or never think to ask." The future of the Congress depends on its preparedness to ask a few very hard questions, which so far neither the Signora nor her progeny are prepared to pose. Their blatantly self-serving advisers don't let them move a millimeter in the direction that leads to an honest-to-self introspection.

Let me explain.

When Sonia Gandhi offered her resignation at the Congress Working Committee last week, the three Congress stalwarts who were quickest on the draw in rejecting outright the suggestion were the ever-faithful, family retainers: R K Dhawan, Makhan Lal Fotedar and former Chhattisgarh chief minister Ajit Jogi. Jogi's protest was the most moving. He said his ears refused to even hear of such an unwelcome suggestion. Exactly this very well-rehearsed drama must have been enacted whenever Jawaharlal or Indira Gandhi made a similar offer. And this precisely is the root cause of the irreversible decay of the Congress party.

Let the life-time Congress President and her troop of "yes-Mam-loyalists" face, first and foremost, the blunt fact that that the Indian Republic is not Democratic People's Republic of Korea ruled by Kim Jong-un,son of Kim Jong-il and the grandson of Kim Il-sung.

Indeed, Indira Gandhi was extremely wise and far-sighted in her choice of her husband. By marrying an unemployed journalist called Firoze Jehangir Gandhi, Parsi by religion, she thought of deluding the county into accepting her two-in-one identity i.e., only daughter of Jawaharlal Nehru and very closely related to Mahatma Gandhi too. Foroze and Indira never pulled on well and were, after Independence, living separately. Firoze who was twice elected to Lok Sabha from Rae Bareli — now Sonia Gandhi's pocket borough — was indeed an embarrassment to his father-in-law by exposing scandalous goings-on in his Government like the Mundra affair.

Feroze Gandhi had no relationship with the Mahatma's lineage apart from the fact that his Parsi family had emigrated from Gujarat. And the surname Modi meaning a grocer, is an all too common name among Gujaratis and Parsis.

The first question Sonia Gandhi must face and tell her dear son is that carrying Gandhi as a family name cannot alone help them tide over their difficulties. She has to remind herself twenty-fours a day of the Abe Lincoln aphorism that all people cannot be made fool of all the time. If the Congress party addresses itself in dead seriousness to this exercise there's a chance of it spotting some tight at the end of the tunnel.
Drama, nautanki, theatre, circus are some of the words that have been suggested to describe Arvind Kejriwal's decision to go to jail instead of furnishing a bail bond. Some on the social media haven't stopped merely at calling a spade a spade. There are several inelegant substitutes in use on the streets of Delhi. All of a sudden almost everybody has turned into the Queen of Hearts in Alice in Wonderland and is shouting 'off with Kejri's head'. It is difficult — almost impossible — to justify the AAP leader's theatricals any more. Delhi-ites are too clever by half to have wool pulled over their eyes a second time by the same trickster.

On some other day, and that day is far, far behind us, Kejriwal may have been lauded for what he's doing and how. Yes if his theatrics had been enacted in India before Independence, but not sixty-five after that. The same publicity-grabbing stunt is being enacted by another Aam Aadmi Party leader like Miss Shazia Ilmi.

Shrieking and shouting in the middle of Delhi road and Ram Leela Maidan is in the AAP genes. For once it was effective in drawing public attention. Its repetition a second time may be heeded by some. Certainly not thereafter.
Built-in the human psyche is the urge to transcend the limitations of time and space that man by his very nature has to accept. But the creative ones among us have always been in search of ways and means to transcend these limitations.

There are, in all reckoning, two routes of escape: spiritual and material. Of course most will opt for the easier escape route. "Modern life is often a mechanical oppression and liquor is the only mechanical relief," wrote Ernest Hemingway. He was recording openly that many a creative artist before him had been indulging in without declaring it so openly and candidly. Remember Sadat Hasan Manto. World literature is richer for his legacy of short stories which were written after a copious intake of country liquor. Cirrhosis of liver is perhaps a small price he paid to bequeath posterity with a masterpiece like Toba Tek Singh.

The spiritual alternative is formidably difficult. A woman devotee of Ramakrishna once complained to him about her drunkard husband whom she wanted to be brought back on the path of sanity. The Thakur asked her to bring him over some day. She one day took him to Dakshineswar.

The first question the man asked Ramakridhna was if he had a drink to offer. The Saint assured him that he had but that was very, very strong. "In that case it must be real foreign liquor;" the man said. No, it's desi but very powerful." Having kept him on tenterhooks, the Thakur touched the man who felt an electric shock. That you know is the first step towards transformation.

Mortals like you and me who aren't recipients of such uplifting experience have to be content with the Hemingway prescription.
"The more I read the news, the more it looks to me that four words are becoming obsolete and destined to be dropped from our vocabulary. And those words are privacy, local, average and later." So wrote Thomas Friedman, The New York Times columnist in one of his recent pieces. Perhaps none contributed more to their premature demise than the ham-handedness of media in their use.

The most unforgivable loss is the priceless gift of privacy and the undisputed villain is the ever-improving accursed gadget called smartphone which is on a relentless march of umpteen gadgets rolled into one.
It only takes one book to change the biology of your brain. As reported in The Washington Post, new research indicates that reading a novel initiates changes that linger in the brain, if only for a few days. Neurobiological researchers at Emory University focused their efforts on 21 undergrads who were asked to read the 2003 novel Pompeii by Robert Harris. Subsequent MRI testing revealed increased connectivity in each student's left temporal cortex, the brain area associated with receptivity for language. "Even though the participants were not actually reading the novel while they were in the scanner, they retained this heightened connectivity," said study anchor Gregory Berns. "We call that a 'shadow activity,' almost like a muscle memory."
Robert Vadra was out jogging one day…

When he tripped, and fell over a bridge railing and landed in the river below. Before NSG commandos could get to him, 3 kids who were fishing pulled him out of the water. He was so grateful he offered the kids whatever they wanted in return for saving his life. The first kid said, "I want to go to Disney world!" To which Vadra replied, "not a problem, I'll even fly you there in first class air fare." The second kid then says, "I want a new ST cricket bat!" "You got it." Said Vadra. "I'll even have Tendulkar himself sign it for you." Then the third kid says, "I want a motorized wheelchair with a built in big screen TV and headset." Vadra seemed a bit confused at this. "You don't at all look like handicapped." He said. To which the kid replied, "I will be after my dad finds out I saved you from drowning".