Sunitha Srinivas C, Mnemosyne, Writers Workshop, Kolkata, 2012,
49 pages, Price Rs 150/-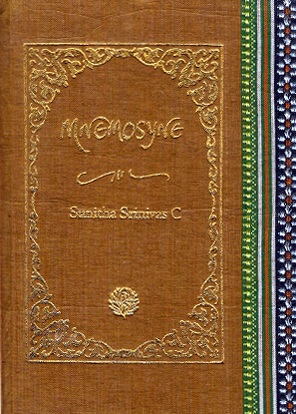 Sunitha Srinivas C is a budding poet. Her poems were published earlier by Poets International, Poet Crit, Poets' Paradise and Indo-Asian Literature. This book under review is indicative of the poet's mood. The reason for the composer's production is her imaginative out put. A portmanteau creation the title is a deft combination of mnemonic and an anodyne. It delivers the poet's insights and ambition. The thirty- nine poems are short and crisp. Poems in short lines give the reader scope to think with the minimum words expressed.
'Poems are no longer what they used to be, one of her poems states. Musings behind her work indicate the poet's angst. This is what she states, 'The creation slips out through the creator's hand, beyond him and thoughts (read her thoughts) beyond him and becomes alien to the poet who revisits it.' 'The 'bizarre' thoughts that explode and words in contemporary poems (read Sunitha's poems) may appear weird and peculiar to the reader.'
The poem 'Window' describes what it is: 'A framework to the outer/ World, nature, life/ Nature in different hues / … all with vision/ Captured/bound, constricted/ Yet free,/As man by life/ Life by death.' (p.9)
"Reality" shows how bizarre things could be and actually are. "Body to soul/Not mantle to body/a signpost/Of style, status, /Of modernity … Comic show/ A comic relief/ Life and you.'(12.) "ESC"is all about keyboard guides on the personal computer. "Minority" is about reservation, conservation and preservation. The poet says further that everything is in a name. "The Commuter Commutes' reveals the drudgery and boredom of years of commuting for people. "The Schoolgirl" is sad realism : "At the school gate/led inside the four walls/ gates closed/at the outer world/ to be disciplined/groomed churned/until the world opens/wide-armed to receive/its young'(p.18) The poem "Harmony" is a fine truth about birds and flowers that mock at man who is dry, pale and withered in his dreary existence.
The short lines of Sunith's poems are sometimes glamorous and sometimes menacing. The poem "SMS" is about the reality of the mobile phone with restlessness of fingers coming from the restlessness of the mind.
Most of the poems are about reality, actuality and not really lovable contemporary life. "Finis" is about woman's existence: "a life of misery and hope, hope and misery/ a ceaseless struggle with very few happy endings." (p26)
There are two poems on rain. "In the Rain" is a joyous piece of writing. It is a poem of hope and joy. 'Man, God's creation/Drenched in His blessing/Waiting for his Saviour/And Paradise.'( p.27) The other poem "Rain" is not of joy: 'Drizzling … Storming …/ Touch ever life/Leaving one cold and drenched.' (p36) "Mind" is an enigma. The poet says that it is a meaningful silence and concludes 'But finding meaning I cannot.' (37)
There is a feeling of disillusionment in most of the poems. In "Lacuna", the longest poem, there is pain, sorrow and turbulence (there is poem too with this title). For all these bothering memories and thoughts, perhaps there may be some anodyne that assuages pain and sorrow.