Belly Dance for Liberation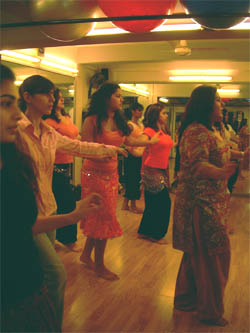 Sharmila Arte, 37, is a perfect wife, daughter-in-law and mother. But she also has a secret life. Two afternoons a week, she slips out of her Matunga home in Mumbai on the pretext of going to the temple. But instead of going there, she heads for the suburbs, praying that she doesn't get held up by traffic since she doesn't want to be late for her belly dancing class.

Belly dancing has long been associated with light-eyed, fair-skinned Arab women exuding sexuality. It speaks of exotic locales, beautiful women and debauched men and carries with it a vague sense of immorality and vulgarity.

But despite all its negative connotations, belly dancing has found its way into this mega metropolis and garnered a sizeable fan following. Scores of harried city women have loosened up, let go of their inhibitions and brought back some spice into their daily drudgery. Shakira, take a pat on the back.

"I've been managing my household and family for years now. Although I do some voluntary work, I felt like I needed to do something else, especially now that my kids are busy with their friends and other things," says Arte.

So six months ago, recalling a long-forgotten affinity for dance, she began scouting for dance classes. She rejected Western dances like salsa and ballroom dancing because they all require partners. Then, she saw a listing in a newspaper for belly dancing classes. "I called the number, ready to hang up any minute. But the instructor was very professional and friendly, and seemed to understand my fears. She encouraged me to simply come and see one class," she recalls. When Arte went to check out a session, she was hooked. "I loved the way the women moved. And all the students were from good families, dressed decently." Six months on, Arte says: "I feel confident, refreshed, sexy and happier. It has transformed my life."

Andheri resident Kavita Ranjan echoes this sentiment. The 29-year-old has been learning belly dancing for about eight months now, but unlike Arte, her family knows about it. "My husband is quite intrigued by it, and I even show off to my four-year-old daughter," says Ranjan, who has a part-time teaching job. "My parents were quite shocked when I told them I was joining these classes, more so because they were afraid of how my in-laws and 'society' would react."

All fears were laid to rest when Ranjan took her mother along to one of the classes. "She saw that it was graceful, soft and elegant. She was very impressed," she says. Although her family is accepting of her interest, Ranjan says she is unsure about telling others. "Some of my friends know, but I don't think the neighbors and extended family would understand. And I can't take each one of them to my class to show them how it is."

Arte agrees. "I know that there is nothing vulgar about the dance, but I know my in-laws and husband wouldn't see it that way. They would be shocked."

That, says Dr Preeti Rao, 28, is the biggest hurdle. This dentist, who teaches belly dancing at the Pulse studio in Santacruz, Mumbai, says, "I grew up in the Middle East, where belly dancing is a part of the culture. Women break into it the way people here dance the bhangra at the drop of a hat. It's a big misconception that belly dancing is to entertain men. It is meant for women."

Naturally, most women come with inhibitions - mostly about their bodies, and about their dancing skills. "We have to make them understand that it's a dance you can do even if you are fat. It's a dance that requires the right look, style and attitude, so you can't afford to be self-conscious," says Rao. "Also, it requires tremendous muscle control, which is difficult to pick up."

But therein lies the appeal for many enthusiasts. Putting everything out of your mind and focusing on learning something and getting it right can be liberating. "It's exercise for the mind and body, and gives me mental peace," says Shanti Shah, 40, who is four classes into belly dancing.

Her instructor is Prajakta Sathe, 24. "Often, women with a classical dance background need to unlearn their skills to be able to belly dance. Because while Indian classical dance has stiffness, belly dancing is all about fluidity," says Sathe, who has recently started one-on-one classes, offering many students the discretion they want. Adds Aanchal Gupta, 28, who runs the Arts In Motion studio in Sion, "Indian women tend to do jhatkas (jerks), whereas belly dancing moves need to be more controlled."

Although the Pulse Studio and Arts In Motion put up shows which include a segment of belly dancing, the fact that there is no obvious platform for the women to showcase their talent - other than wedding sangeets (a pre-wedding musical gala) for some - does not seem to bother them. "If a good opportunity comes up I would love to dance in public, but I'm learning for myself," says Shah, who is waiting for the right time to tell her family about her unique hobby.

Rao and Sathe have also had offers to dance in public, but have turned them down. Sathe because they were dubious calls from restaurants, and Rao because she's only danced with women and "that's the only way to let go".

Clearly, for these women, belly dancing is not about who they are performing for. As Gupta says, "We lead such difficult lives that we women have become quite aggressive and tough. This dance helps us slow down, get sensuous and become more feminine." If only society could see that.


14-Oct-2007
More by : Aditi Seshadri
---