Braving social taboos, a number of Kashmiri women have successfully made their presence felt on the business scene in the state of Jammu and Kashmir. From establishing food-processing units to cultivating flowers for foreign markets to setting up a printing press, these women have given their male counterparts a run for their money.

Though many hold educational degrees unrelated to the nature of their business, they enjoy an annual turnover of between Rs 5 and Rs 10 million (US $1=Rs 40). Some even cater to an international clientele.
Take the case of Rifat Mushtaq, 50, one of the oldest women entrepreneurs in Kashmir. Rifat ventured into the business world by establishing a matchbox manufacturing unit. Currently, she runs a cardboard box manufacturing unit and a printing press in the industrial area of Zakura, on the outskirts of Srinagar. A post-graduate, Rifat says she dabbled in teaching and even worked at a bank before finally setting up her businesses in 1984.

"I wanted to be independent and work for myself. I ventured into the match box business with personal and borrowed investments to the tune of Rs 1 million. The business did well and I invested further to set up an automatic plant," explains Rifat.

Unfortunately, the onset of militancy in the 1990s led to huge losses for Rifat. The government discontinued her licence for security reasons (she used gunpowder as a raw material) and she had to shut down the plant. "I was not ready to accept defeat. I borrowed money from friends and started a polythene bag-manufacturing unit that was quite profitable."

However, the government even had this unit closed, claiming it was an environmental hazard, she recalls. The closure meant another setback, this time to the tune of Rs 2.5 million. Rifat had to sell her jewellary and other assets to clear the debts.

Then, in 1998, a never-say-die Rifat set up a printing press that, today, ranks among one of the biggest in Kashmir. She has also diversified, by manufacturing and printing cardboard boxes for packaging dry and fresh fruits. "I have worked hard, walking four to five kilometres every day to take orders and show customers what I was doing. I handled all the technical and marketing aspects of the business."

Married to a scientist and a mother of two sons, aged 22 and 19, Rifat acknowledges her husband's support. "He continued to extend moral support despite the fact that I had incurred huge financial losses. Though he was not involved in the business operations, he gave me a shoulder to cry on and the encouragement to keep at it." Her business now registers an impressive annual return of Rs 5 to 6 million. In fact, she expects her returns to near the Rs 10 million mark, this year. Rifat has employed about a dozen local Kashmiri women for the printing, folding and other technical jobs, in addition to the skilled male labour from Punjab. "I feel proud to provide employment to young local Kashmiri women," says the entrepreneur.

Rubeena Tabasum of Chadoora in Budgam district represents the small-town success story. Recipient of the Women Entrepreneur Award, 2007, conferred by J&K Bank, Rubeena, who is in her early 30s, was inspired by a radio programme to venture into floriculture.

On land given to her by her in-laws and with financial assistance from J&K Bank, Rubeena ventured into the cut flowers trade, cultivating carnations under controlled temperature and humidity conditions. Soon she, too, diversified her business. Today, she has five greenhouses of carnations and lilies and an open field of gladioli in place. Of course, despite the success, her venture has not been a bed of roses. "People in the rural areas don't appreciate working under a woman. One has to move ahead by pushing them to the limit." Today, she has over a dozen workers and an annual turnover between Rs 2-3 million.

Enjoying the sweet fragrance of success is another famous florist of Srinagar, Nusrat Jahan Ara, 27. A computer graduate, Nusrat gave up a lucrative government job five years ago to set up Petals and Ferns Cooperative Ltd. "When I started out, I would take flowers on credit, send them to Delhi for sale and pay the farmers later. Those were days of utter frustration and hard work," recalls Nusrat. Now, enjoying the fruits of her labour, Nusrat has forayed into the housekeeping business. She employs 80 people and boasts of an annual return of Rs 5 million.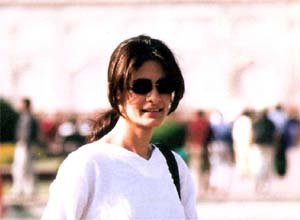 Shahala Sheikh, 32, has also crafted a name for herself. A commerce graduate from Bangalore and hailing from an affluent family, Shahala resolved to revive her late father's furniture business. The venture required her to revive a saw mill and furniture unit at Parimpore on the Srinagar-Gulmarg Road.

Recalls Shahla, "I have had tough times: Wood carvers were reluctant to come here due to militancy (she now hires skilled labour from Uttar Pradesh) and it was initially difficult to make 30 men listen to a young person like me."

Currently, she is in the process of opening showrooms in Delhi and Mumbai and also reviving a contract with a French firm that was signed by her father and which will see Shahla's firm benefiting from foreign technical expertise in furniture manufacturing and from a ready international market.

Ulfat Rasool Khan, 25, has a sharp sense of local flavour. She set up a Kashmiri cuisine food-processing unit at Khanmoh Food Park with an investment of Rs 1 million. The commerce graduate explains, "Kashmiri cuisine involves elaborate cooking. I have deliberately decided to venture into Kashmiri food processing. There is a great demand for it."

The list of successful women entrepreneurs in Kashmir does not end here. According to sociologists, many women stepped out of their domestic cocoons as a result of the turmoil and challenges thrown up by militancy in the Valley. The troubled times were a test of their willpower and spirits, says Professor Bashir Ahmad Dabla, Dean, Faculty of Social Sciences, University of Kashmir.

"Nearly half the students at Kashmir Entrepreneur Development Institute are enthusiastic women who are working towards setting up their own businesses or plan to do so in the near future," says Niala Khanday, senior faculty, Entrepreneurship Development Institute, J&K.

The government, too, has done its bit to encourage women entrepreneurs. According to Muzafar Hussain, General Manager, Jammu and Kashmir Industries Department, while there are no special incentives, women are always given preference.

Records of the last three years show that at least 66 women in Srinagar District are operating registered and functional small-scale industrial units; while 56 others are in the provincial stages of registration. While there are no figures for the rest of the state, the number of women entrepreneurs could be gauged from the quantum of loans taken. In the past three years, women entrepreneurs have taken financial assistance between Rs 300-350 million from different banking institutions.