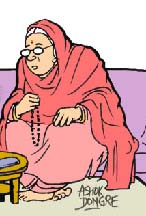 "What is your most precious memory of childhood?" The other day I saw one character in a TV serial, ask another. This set me thinking and I took a stroll down memory lane. And the result of my ramblings was this vignette: It is a midsummer night. The moon is bright. In the courtyard of a fairly big house is a cot. On the cot a seventy four-year lady is sitting with her rosary beads and chanting softly. She is thin and frail, her face wreathed in wrinkles. Her skin thin as parchment paper. But her eyes are very bright and there is calm and serene expression on her face. Just then, there is a patter of little feet. Two girls and one boy all between the ages five to eight come rushing and jump on the cot. The youngest lands straight in the old woman's lap.
"Dadiji, dadiji, kahani". All three of them shout.
Dadiji smiles. Gently places the rosary in a small box and pulling all three of them close, she begins, "Once upon a time, long long ago there was a king………"
All three listen in rapt attention.
I was the five-year-old and the other two girls were my cousins. We lived in a joint family. Every evening after dinner we would rush into the courtyard where our grandma would be waiting to take us on a new journey every day. Brave kings, handsome princes, beautiful princesses, huge giants, gods and goddesses, rakshasas and sadhus - her stories had all these and a lot more. She introduced us to the world of wonder and fantasy, which seemed so much more real than our own. In her stories, invariably honesty, truth, love, courage and goodness triumphed over falsehood, hatred, cowardice, and evil.
My Grandma was not a writer; in fact, she couldn't even read. She used to tell stories from Ramayana, Mahabharata, Panchatantra, Jataka tales, et al. Often she would add a few of her own experiences and try to make a heady concoction of fun, fact and fantasy. The result was hugely entertaining and for us kids the moments spent with her were the very best.
Now I wonder how many of today's children are fortunate to have experienced this pleasure – the unadulterated joy of listening to stories. Today, with the nuclear family becoming more the norm, than the exception, grandchildren very rarely get the chance to enjoy the company of their grandparents. In nuclear families, because of compulsions of economics as well as aspirations, in most cases, both the parents are working. In such a situation, where time is at a tremendous premium, the question of mama or papa-spending time with children to tell them stories doesn't arise. And the substitute for stories is the omnipresent idiot box, the internet or video games.
I was telling Mohit, a friend, some time back how my kids miss me if I have to go on tour even for a day.
"You are lucky, I guess. My son is not even bothered when I come or go. All Monty wants is his monthly quota of video games and chocolates."
"But that means you are not spending much time with him. Why don't you tell him stories?"
"Stories? Are you crazy? If I had the time wouldn't I teach him Maths or computers or something useful."
"You think telling stories is a waste of time?"
"Of course. If he wants entertainment, there are scores of channels on the TV. Why I should be the substitute for the idiot box?"
"When you tell a child a story, you create a bond with him. You give him your undivided attention and also get his. You share something which is very valuable to you - your time - with him. Through your stories you can help your son enhance his imagination and creativity. And most important, you can teach him the value of values.
"Sounds impressive! But, it is easy for you to conjure up stories - you are a writer. I am a businessman. I sell pipes and tubes the whole day. Even when I was a child, I never read any other books except my class books. From where do I get stories to tell my son?"
"You are literate aren't you? Well, read aloud stories to him. Try to make them a bit more interesting by showing him the pictures in the book. See Mohit, if you are interested in bonding with your child, becoming his friend, you will think of far better ways than I can. But if you are interested in only being a disciplinarian, a provider and nothing more, than continue as before. But then don't complain, 'You are lucky I guess. Monty is not even bothered when I come or go'," I said imitating him.
That was six months ago. The other day I bumped into Mohit in the library.
"Hey what are you doing here?" I asked. I was surprised since the library was the last place I would expect to find Mohit.
"It is all because of you," he said smiling. "I decided to follow your advice. I bought some books – fairy tales, stories from Indian Mythology, Arabian Nights and Panchtantra and read them. Then one Sunday after dinner I read out a story to Monty. He liked it. I read out a few more. He loved them all. This soon became a regular practice. And funny enough I too started enjoying reading aloud stories to him. I found that his face reflected every emotion in the story. His eyes would widen with surprise when I would describe the Selfish Giant to him, his face would split into smiles when told about the monkey who lost his tail, he would have a look of utter wonderment when I would tell him about the vivshwarupa of Lord Krishna. Sometimes I would just stop for a couple of seconds and watch with fascination the myriad expressions on his face. Now, I really can't say who waits for bedtime more eagerly - me or Monty."
"Hey! That's terrific, yaar," I said slapping him on his back.
"And you know what! Monty made me postpone my recent tour by a day."
"Why?"
"Because I had told him only half the story of Alibaba and he wanted to know what happened to Kasim!" Mohit said laughing.