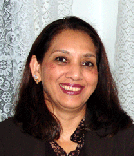 Inter Religion Marriage is one of my most popular articles. I am glad to be of help to so many people - that is the sole purpose of the article in the first place. Thank you all. All the response that I get has inspired me to write few of my own experiences that I am sure would help my readers. I know times have changed now but not the attitude of people.
This was before I got married; my then boy friend - my husband - took me to a friend's place and asked me to join the prayer (Kirtan). To his surprise, I refused. Not that I had not attended Hindu religious functions before. In fact, when I was a kid I made it a point not to miss out on the evening rituals of my neighbors. Before they turn on the lights for the night, they would go in a small room (Mandir) to pray and the little light was first lit for the God. The reason for me to refuse as I now look back was to assert myself. It was a big decision for me going against my so-called religion. The other reason could also be that the prayer was being held at his ex-girl friend's house.
The incident disturbed my then boy friend - my husband - very much and he wanted to have a serious talk on the issue. Marketing man as he is, he chose his words blunt so they hit me at the right spot. On our next date, he said, "Look I don't care what happens to me after I die BUT when my father dies I am going to have to perform all the rituals, and you as my wife would have to be part of all the ceremonies" I was thrown an open option to run away if I wanted. I decided to stay.
Ever since that day, I am part of every religious ceremony with him without qualms. In fact in Bombay, there is a legend that in the Mahim Church your prayers are heard if you frequent the church for nine wednesdays uninterruptedly. There were times, I could not fill in one particular wednesday and then my husband would fill in and the prayers were heard still. What I am trying to say is that I am not alone to be a participant in his religion, he too is an active partner with me in my religious activity.
After we got married it was very important for me to go to church on my first Christmas. I might say here that it was actually not customary for me to do so. Even though both my parents were regular churchgoers, we were always given the freedom to choose if we wanted to go. However, this was a question of my religious freedom. It is nice that my husband was willing to take me wholeheartedly. When we were set to leave, like usual there were comments from the family that it was not right for me to hang on to my earlier life. Raj's grandmother intervened and actually supported with my views. She was in her mid seventies at the time. Thank God for that.
Adjusting with Raj with our religious differences was not much of a problem. However, there were always people in our lives who were envious of our courage and they tried their best to break us down. It was second year into our marriage; we met a very enthusiastic young lady visiting her parents from England. I am not aware of her experiences there, but she would visit us on daily basis to discuss religion with Raj and constantly disparage Christianity. Well I wasn't going to give her what she wanted. I always kept my cool and ignored her totally. Before publishing this article Raj will know for the first time - after 26 years of my marriage with him - that how much angry I was inside that day?
All our lives we could never get rid of people who despised our audacity. There was this neighbor, every time he visited he would condemn Christianity and Raj would sometimes sway with him. It just so happened that one time it was on a Christmas Day, I was sensitive to his comments. I waited for him to leave. As soon as we were alone Raj had it all. That was our solo fight over religion.
What I am saying is that people who are getting into inter-religion marriages, especially Indians, are going to have numerous such experiences. They have to be strong and be able to rationalize. Most important thing that will get them through would be the degree of love they have for each other - that is the all and end all. Adjusting with each other with disparity of religion would not be much of a problem. The fact that two people fall in love ignoring the religious difference is a proof enough of their tolerance. It is the outside influences that they have to learn to adhere.