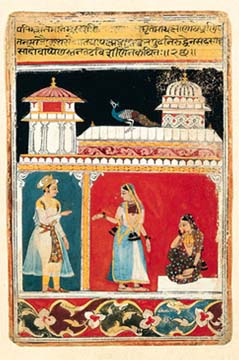 Compilation

Amaru was one of the supreme early lyric (Sanskrit) poets of India living around AD 800. There is a legend that Amaru was the 101st reincarnation of a soul, which had previously occupied a 100 women. He was held in great esteem as a poet of the phases of Love: desire and attainment, estrangement and reconciliation, joy and sorrow.
Graceful and yet remarkably playful, intensely passionate, and at times hinting of divine transcendence, Amaru's poems offer glimpses into the many faces of erotic love. His poetry is considered to be among the best love poetry ever written in Sanskrit. His poems are popularly known as Amarushataka in the literary world.
In his poems, he talks of heterosexual and homosexual love (esp. descriptive of lesbianism).
Here are some translated works of his love poems.
Amaru's Verses on Men in Love:
The tenuous bamboo bridge
spanning the double tide of the Malini (river)
has been carried away,
and now my handsome is cut off
from me upon an island.
The rain continues.
Each night I climb up the hill
from which I can see the trembling night
of the house of Sarmicha.
It shines in the wet darkness
like a glance through tears.

~*~

Her robe clung close to her body,
and the tissue of it became transparent.
I thank you, rain.
You were, Sanabavi,
as if you were naked.
But, when the rainbow broke in flower,
who warmed your little shivering breasts
for you?

~*~
If I had the talent of Valmiki
I would write a poem
with my lover as heroine.
The first ten parts would be given
over to the ten fingers of her hands,
for they wove a veil in which
I have wrapped up all my ancient loves.
And I would consecrate the ten others
to the ten nights we spent at Mabhahat.

~*~

'Pity!' she says,
with bruised breasts and disordered hair.
With eyes closed and legs still trembling,
'Finish!' she says.
She says in a choked voice:
'It is enough!'
And now her silence grows eternal.
Is she dead or sleeping,
is she meditating in delight
on what has happened,
or thinking of another?

~*~

She makes me a precise salute,
and withdraws her little feet
under her fringes.
She looks attentively at the flowers
painted on her fan.
If I venture to caress her gazelle (neck),
she starts to smooth the feathers
of her painted parakeet.
If I speak,
she asks a question
of one of her women.
I find a thousand delights
in her timidity.

~*~

If I told my pain to the torrent,
the torrent would halt for me.
If I told it to the palm tree,
the tree would bend down about me.
But you pass singing,
and do not even regard me.

I will tell my pain to the torrent.
If the torrent does not halt for me,
at least its water will refresh my brow.
I will tell my pain to the palm tree.
If the palm tree does not bend down about me,
at least it will shade my grief.
Once more I have conquered shame
and told you my suffering.
You refuse me the water of your lips,
the shade of your shadow.

~*~

No one has dared to speak
of you to me
since you went away.
But I have said your name
to the wind
as he passed me,
and to a certain man
as he lay dying.
If you are alive,
O my mistress,
the wind will some day meet you
as he passes,
and if you are dead,
the dead man will tell you
I have not forgotten.

~*~
My thirst has redoubled
since first I drank her lips.
Nor am I astonished.
There was much salt in that kissing.

~*~
I told you that I knew
how to make you happy.
I said the very old words
which put a woman's fears
to sleep.
Now your tears smile
at me
as a child smiles at a dream.

~*~

Why have you no pity
for my love?
The stars do not disdain the sea.
They can admire themselves in it.

~*~

She is alive no more,
and the flowers still appear.
O Death,
now that you have got this girl
how can you find time
to go on killing?

Amaru's Verses on Women in Love:
See how his violence
has dispersed
my powder of sandal;
I spread it
with so much art
upon my breasts!
See how tired my lips are still,
and how the down of the couch
has been soiled beyond all cleansing,
and this veil torn in pieces!

~*~

'He sleeps, sleep now in your turn,'
said my women, and they left me.
Then, in a drunken fit of love,
I brushed the cheek
of my young bridegroom with my lips.
I felt him tremble,
and saw
that he had only pretended.
I was ashamed at the time,
but soon I groaned with happiness.

~*~

Sometimes you can be so fair,
O day; O night, so desolate.
Sometimes so sweet,
O night; so torturing, O day.
If he means never to come back,
I wish you were both dead.

~*~

I write this letter
by the sufficient moonlight.
My friends have called me,
but I preferred to stay
in this room
since it is full of you.
I am still weeping.
I looked into the garden,
and the shadow of a leaf
of the bamboo wrote out
an unknown word
on the blue sand.
It may have been your name.

~*~

I take a long time
in carefully giving a severe fold
to my eyebrows,
and know
how to harden my looks.
I am an expert in correcting smiles.
When my companions rally me,
I fasten an absolute silence
upon myself.
When my heart is like to break,
I tighten my girdle (waistband).
But the success of these things
is in the hands of God.

~*~

O night,
you have often come to me
softly
and covered my face
when it was weeping.
A nectar glistens
in my cup this evening,
and my lover lies
upon my breast.
Stay with me
as long as you will tonight,
O night.

~*~

If you remember my kisses,
say my name once very softly
as you crush your mistress.

~*~

She teaches me all her secrets:
that it is better to soak
our cheek-betel in snow water,
that the powdered root
of lemon-grass brightens our teeth,
that nothing is better
than the juice of green strawberries
to reaffirm our breasts;
but not how to forget a door
I wept outside all night.

Amaru's Verses on Man-Women Love:
She used to pass singing,
but since that very handsome boy caressed her,
she does not sing,
and all is sad on the road she used to take.
Why, Madahi, are you so desolate?
Is there only one very handsome boy
between the Red Mountain and the seashore?

~*~
This dancer pleases you,
but there are fifteen coveting her.
Therefore carelessly drop
an incendiary phrase
into the conversation,
say that the talent of the poet Sadasa
is open to discussion,
or that the army of Kamatrasnu
is not invincible.
Let it work upon heated nerves,
and the walls will soon be shaking.
Do not wait
until your companions
come to blows,
but make a sign to the dancer.

~*~
He entered the house of his mistress
after long journeys,
trembling with desire,
emotion and impatience.
And he found her surrounded
by women friends,
who took malicious pleasure
in prolonging their visit.
But she was more eager still,
and crying:
'Ah, something bites me!'
lifted her veil
and fanned out the flame
of the only torch with it.
So that the guests departed.

~*~
'Now may Love break my heart
in a hundred and fifty-two pieces,
put out the fire of my eyes,
render me as thin as a harp,
if I value that faithless boy
more than a last year's nail-paring!'
And then she cast an impatient glance
along his usual footpath.

~*~
Her husband committed a small fault,
and she recalled
the eternal perfidious counsel
of her women.
She bore herself violently,
thinking to frighten him;
but he only remembered
the unchanging sweetness
of a certain girl.

Amaru's Verses on Woman-Women Love:
The girls washing their clothes
make such a wanton babbling
that I cannot hear what you say.
Come near.
Sit on my bed.
Now you were saying?…
She knotted her arms about my neck,
her breath to my breath,
and her lips set to mine.

~*~
'Caress my breasts
with your fingers,
they are small
and you have neglected them.
Enough!
Now set your mouth
just there immediately.
Oh, why have you
delayed so long?'
She was stifling her cries
in her friend's hair…

~*~
Yesterday he took hold
of my breasts by guile.
Do you hear that?
He took hold of my breasts.
Also he kissed me by force
this morning and tore my lips.
You lie!
Look at these wounds.
I cannot believe my eyes.
I must taste them, taste them.
I must taste them.

~*~

And you love him?
Indeed I do.
Do you not know that I also love?
I was afraid so.
Now there are two of us to love him.
Even if one of us dies
he will have a mistress.
You? You die?
We never know.
O Sadahi,
star of my day,
have you not understood
that it is you I love,
and that I am jealous?
____________________________________

(compiled from various sources)
Image courtesy : Asia Society
Folio from an Amaru Shataka Manuscript: Heroine Confiding in Her Attendant
India, Madhya Pradesh, Malwa region; about 1650 - 1660
Opaque watercolor and ink on paper
H. 8 1/4 in. (21 cm); W. 5 3/4 in. (14.6 cm)
Mr. and Mrs. John D. Rockefeller 3rd Collection of Asian Art 1979.058