If someone had told me that the color of peace could be red – and that too a bright, flaming, passionate red, I would never have believed him or her. However, in Oslo I saw and experienced Peace and love, trust and togetherness in red. The place was the Nobel Peace Centre. As soon as I and my wife Madhavi entered it, we were overwhelmed by the ambience. The walls, the roof, the floor, the interiors were all a flamboyant red and everywhere we looked we saw the symbols of peace from Martin Luther King to Dalai Lama, Gorbachev to Nelson Mandela and Mother Teresa to Aung San Suu Kyi in perfect sync with the milieu. Key chains, book marks, CDs, greetings, post cards, books et al were on sale : we had the option of carrying back a little bit of Peace with us.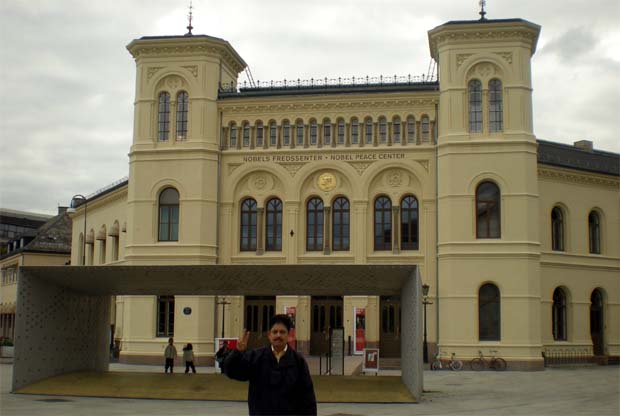 Shaped like a castle the Nobel Peace Centre is a truly fascinating place. It has a Nobel Field where all the Peace Prize Laureates are showcased. Another star attraction is the world's only interactive wall paper which contains more than three thousand articles on the Nobel Peace Laureates.

It was a delight to watch Martin Luther King fill up the screen with his immortal "I have a dream" speech in the Centre's Cinema which screens documentaries and films on the Nobel Peace Prize winners. To me, the most impacting feature of the Centre was the exhibition entitled "The Places We Live" by Jonas Bendiksen the world famous Norwegian and Nordic photographer. It was a multi-media presentation covering four slums in Kenya, India, Venezuela and Indonesia.

There was a particular presentation which I think I shall never be able to forget. It showed a young man, who was most likely in his late teens, from Caracas Venezuela speaking to the camera. I am reproducing exactly what he said, "I am comfortable with violence. I don't know how many people I must have killed, probably 18 or 19. I and my friends enjoy killing. We sometimes cut the head of the person we have murdered and pass it around even as we sing and dance. On a couple of occasions we have burnt people alive. At times I feel equilibrium can be very tedious. Too much of happiness, too much of sadness, too much of peace, too much of violence can all be boring – so now I am trying to operate somewhere in between."

This was told in such a matter of fact style as if the speaker was describing the art of writing poetry or nuances of playing a cover drive, that it sent a chill down my spine. How could any one, and that too a teenager, speak with such insouciance about murder and mayhem, blood and gore!!

As we walked out of the Peace Centre I knew I was carrying with me indelible images of a world fractured by Violence being healed by Peace.

Now let me go back a wee bit in time. We reached Oslo from Copenhagen where I had gone to attend a Writers' Conference. Our cruise was on a luxury liner called the Pearl of Scandinavia. It was a 13 deck ship and was so huge that calling it an oyster would be more apt. Our 'oyster' started at five in the evening and we reached Oslo at nine thirty the next morning.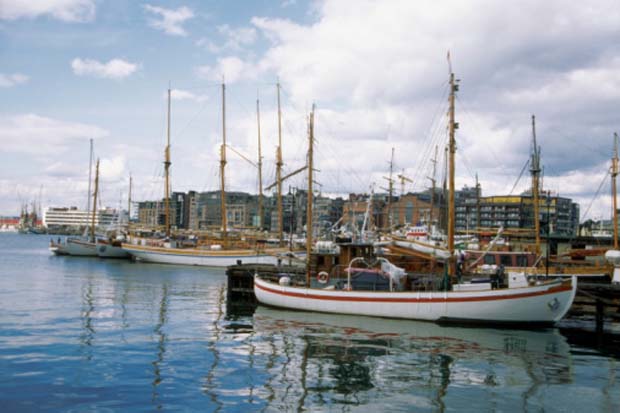 Oslo is the second largest Scandinavian city, after Stockholm. It looked lovely as we cruised into the harbor and I was reminded of Roald Dahl's words "When I was young, the capital of Norway was not called Oslo. It was called Kristiania. But somewhere along the line, the Norwegians decided to do away with that pretty name and call it Oslo instead."

Later, after spending a couple of days in Oslo, I couldn't help but agree that Oslo was a rather prosaic name for a place as poetic as the Norwegian capital.

After docking we took a taxi to the City Centre where our bus was waiting to take us on a tour of the city. Our tour guide was a sixty year old lady- crisp and efficient. We were shown the Royal Palace, the National Theatre, The Museum of Modern Art, and the Oslo City Hall where the Nobel Peace Prize is awarded, Aker Brygge, the biggest shopping complex of Oslo and a few more landmarks - all from the bus itself.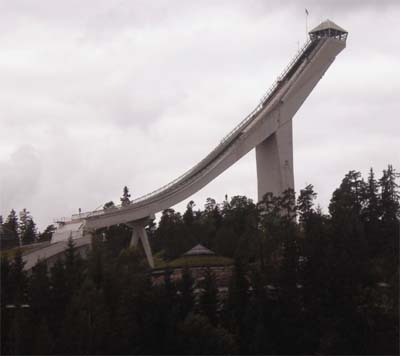 Our first stop was The Holmenkollen ski jump, which is host to the world's second oldest ski jump competition still in existence. It was a very picturesque location and I felt that asking us to spend just ten minutes at a spot of such breathtaking beauty was an injustice to our sensibilities and an insult to the locale.

Our next destination was the Vigeland Sculpture Park which is located 3 km northwest of the city centre. The park displays the work of Norway's most famous sculptor Gustav Vigeland.
As we went around looking at the creations I could only gaze in complete fascination and admiration at the sheer genius on display. Statues in stone of old women and men with their sagging breasts, wrinkles under their eyes and around their mouths, sculptures of young men with their muscles taut, those of young women with their perfect curves and toddlers with their supple bodies looking fresh and pure - all etched with such precision that it left me spell bound.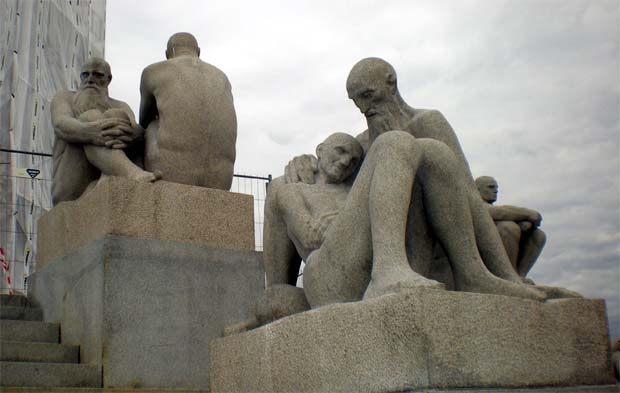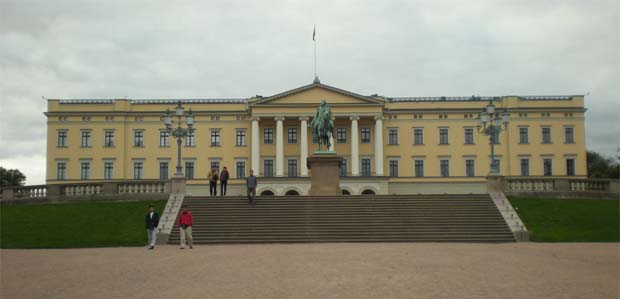 Gustav Vigeland's eye for detail and his absolute mastery over his craft was awesome. The sculptures were housed in a huge garden which was resplendent with flowers and majestic lawns. From the centre as you moved towards the exit there were rows of statues, each one as eye catching as the next. The neatness and the cleanliness of the garden were outstanding with not a speck of dirt or litter anywhere.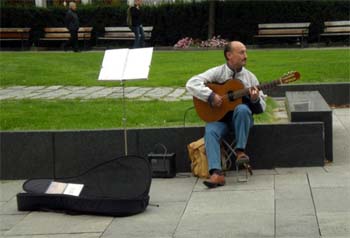 The next morning we went walking to the Royal Palace close by. It was uphill and by the time we reached the grounds surrounding the magnificent palace we were quite tired. We could get a spectacular view of the city from the grounds. There were two Bobbies on guard looking every inch the picture of dignity and commitment. I walked up to one of them and asked, "Can I take a photo?" In an instant he clicked his boots and stood to attention. The gesture was so emphatic and sudden that I was taken aback. I took a couple of photos and we then went behind to explore the lovely gardens. The lush greenery, the tranquil environs and the quietude - it was a perfect place to chill out and that is what we did.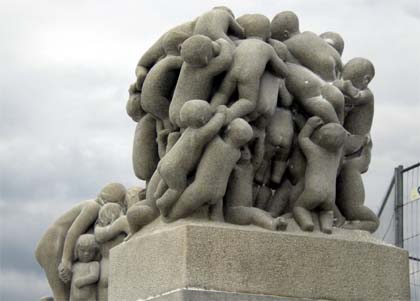 Later we roamed the streets happily drinking in the sights. At one spot we found a middle aged man sitting on a bench playing a guitar. The tune was really melodious and we just sat there enthralled by the euphony as well as the passion with which he was playing. Beside him was a glass in which passers by were dropping coins. One could possibly term it 'begging' but he was doing it with a lot of grace and dignity and I for one felt nothing but admiration for him.

Apart from the sights and the scenery what stuck me most were the people. I found them to be very friendly and open. Whenever we asked for directions the response was immediate. They would, in their quite decent English, ask us for a map of the city, which all tourists are asked to carry, and then explain the directions in great detail with a whole lot of patience. We did not feel unsafe even once though we were strangers in a foreign land, roaming the streets at an unearthly hour. I wondered whether we can indulge in this kind of freedom in any big city in our own country.

Next morning as we took our train to another destination I knew I was carrying with me a montage of images of a great heritage and brilliant creativity. I was taking with me a collage of a people with smiling hearts and a city with a caring soul.