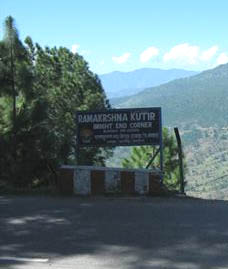 After a tedious journey, arriving at Sri Ramakrishna Kutir at 11.30am was a great relief. The immediate view that surrounded us, took the exhaustion off in a jiffy. Ah this! The river Kosi winding its way through the hills to meet river Sorata and together moving on�. It reminded me of life itself. So many twists and turns we make to ultimately meet our final destination � the larger sea of Supreme Consciousness.

The spiritual journey begins well before we actually become aware of it. It is that one incident or a series of incidents that finally turn us inward, to the rasa of that which lies within. This movement inward is unending, it is a journey with a clear destination to reach, yet the Path is beyond our control. The hands that guide us and lead us on are ever careful to see that not a step more is taken than is enough for that moment. Therefore, the journey is a long one, where we walk the Path, then rest sometime and take on the journey again.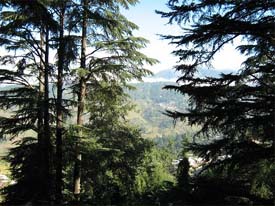 I have had a date with Silence for a long time. The haunting presence of Silence is only a moment away from me at any point. Yet, many times, my mind becomes the chaos around me, battling to reach that Centre, that spot where all is still. It is like going back in the womb. So it was at Almora.

Sri Ramakrishna Kutir, a rather small ashram at Bright End Corner, came into being on May 22, 1916 under the auspices of Swami Turiyananda, giving fulfillment to the dream long held by Swami Vivekananda�s dream to have an ashram where all of nature comes to the aid of a true meditator, where dhyana, is no more an effort to make but a natural consequence of being in such a place.
�We want to lead mankind to the place where there is neither the Vedas, nor The Bible, nor the Koran; yet this has to be done by harmonizing the Vedas, the Bible and the Koran. Mankind ought to be taught that religions are but the varied expressions of The Religion, which is Oneness. So that each may choose the path that suits him best"- Swami Vivekananda
Swami Turiyananda (1863-1922) was born in Kolkata and his pre-monastic name was Harinath Chattopadhyay. From childhood he lived an austere life. He met Sri Ramakrishna in his early teens. In 1887 he joined the Ramakrishna Ashram, and traveled across India, and abroad to teach Vedanta. In 1899 he went abroad and established the Shanti Ashram in Northern California. In 1902, he returned to India, and on 22 May, 1916 he established the Sri Ramakrishna Kutir in Almora

A brief history shows that on April 8, 1915 after staying in Dehra Dun, Rishkesh, Varanasi and Kankhal in Haridwar, Swami Turiyananda, left for Almora. His health condition was very bad at that time and doctors advised that he move on to a cool place in the Himalayas. Vivekananda had expressed his wish to have a retreat centre in Almora. Here with Swami Sivananda, Turiyananada fulfilled that wish and the Ramakrishna Cottage, later called Sri Ramakrishna Kutir, came into existence. From the present location, it is possible to see the hill where Swami Vivekananda had meditated for three days and nights and also the Kosi river winding its way through the hills.

Unfortunately, Swami Turiyananda�s health got worse and on 5 December 1916, only after seven to eight months he left for Belur Math, off Kolkatta, via Lucknow and Varanasi. On 4 February, 1922 Sw Turyananda left his body.

Although he spent only a short time in Almora, Sri Ramakrishna Kutir at Bright End Corner continues to be a place for natural meditation to happen. Nature comes to ones aid and helps the meditator, to go inwards -antarmukhi as we Indians would say.

Presently, at the Ashram, as we saw it, there are two sannyasins, Sw Chinmayananda at the head and another Swami to assist him, four other brahmacharis, three helper boys and a dog stay there. The Shrine is in the room that Sw Turiyananda had occupied. Sw Turiyananda�s bed and belongings are well preserved in this room. There is another house, called Sivananda Kutir which now has been converted to the guest house for visitors like us. However, it is open to visitors only in April � June and September-November. Visitors come during these months from all over the country both for meditation as well as tie in the sight seeing as well.

Except for a few houses and the new library that is being built, the space is otherwise covered by trees and more trees, the pine with its shining needles and of course the all pervading silence in the air, only occasionally broken by the loud talk and laughter from insensitive visitors. Otherwise, what silence!

But for the above, human noises and the far away sound of a passing vehicle, it is even difficult to keep one�s eyes open, for nature compels us to shut our eyes. There is much to see outside, but only if we can keep our eyes from looking within.

It is said that Swami Vivekananda made three trips to Almora. After the passing away of Sri Ramakrishna, Swamiji, felt the need to travel across the country and the world to preach the words of Thakur and the Vedanta. In 1890, he walked from Nainital to Almora by foot with Swami Akahananda. Both were often ill with fever. He spent time in the Sehapahar (visible from the present lacation of the ashram) for meditation. Then crossed the Kosi river and climbed up to the Almora hill. Three kilometers short of Almora, in a place called Karbala, Swamiji fell on the ground, almost dying of exhaustion. His feet were blistered and he could not move any longer.
Swami Akhandananda ran hither and thither, looking for someone, to help. At the far end, he spotted near a graveyard, a Muslim fakir. He pleaded with him to give some food to Swamiji. But The Fakir was hesitant as his religion was different. Swami Vivekananda said � We are all brothers� The only food available with the fakir was a cucumber, which revived Swamiji. Life returned and they continued on their journey to reach Almora.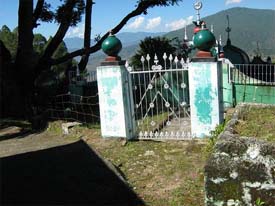 Today, where Swamiji fell, there is Vivekanada Rest House. It is an open platform where any one can come and stay and rest. The keys to this are with the grave keepers. Surrounding it is the expanse of a graveyard, with primordial silence. There is a Shrine that has been made over the grave of the fakir close by.

The space provided by Vivekananda Rest House is used as a school in the mornings. About twenty children come from the neighborhood to attend the school holding their plates in hand for the free midday meal.

� It is very difficult to teach these children�, says their soft spoken teacher,
� there is no follow up. Whatever they learn in these three hours is all that they learn. At home, their parents do not encourage them to study further, they do not pay attention to studies��

We held her hand and congratulated her on this gigantic work she is doing. We were enthralled by the fact that, here in the middle of a kabarstan in the midst of nature, there runs a school�.the mountains surrounding it, the peaks of Trishul, Nanada Devi, Nanada kund, standing tall, all visible from here; a place frequently visited by so many birds, of different colors and voices. It is absorbing, this primordial silence of the dead, interjected by the shrill voices of little children, learning their first �R�s�.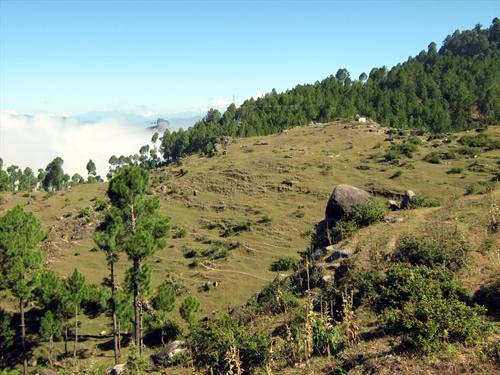 It is not known for how long Swamiji stayed in Almora on his first visit. But during this visit he received the hospitality of Lala Badri Shah, who was a rich moneylender and treasurer from Gujrat who had settled here for over 300 years. Swamiji also visited the ancient Kasar Devi temple about 12 kilometers from Almora and meditated in a cave close to the temple.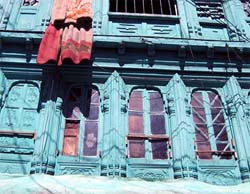 On his return from the cave Swamiji left Almora, and began his world journey to Chicago and rest of the European world, finally landing in Colombo. He re-visited Almora in 1897 and gave his lecture there on the platform right in the middle of the market place. Three thousand people had come to welcome him. Among them was also our fakir who had saved his life, seven years ago. On spotting him in the crowd, Swamiji called him to the stage and introduced him to the people as his lifesaver.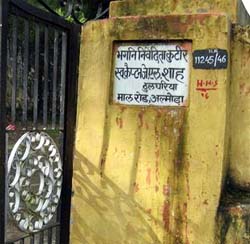 Swamiji returned to Almora again 1898, this time with Sister Nivedita and other western followers. While he had accepted the hospitality of Capt Godwin and his wife, Sister Nevedita and her western companions lived in Lala Badri Shah house. Every morning Swamiji would speak on the Vedanta sitting in the verandah

But the most interesting thing that happened in this house, was, Margaret Elizabeth Noble, was given Swami Vivekananda�s blessings and her new name by which the world knows her better - Sister Nivedita. Right under the deodhar tree, which still stands in the house, a great soul was born again! A soul who had come all the way from England, to make India her home. It is here in the lap of the Himalayas that her destiny met the heights of the spiritual Master, she gave up her entire life for, just to be with him and his teachings, her Guru, Swami Vivekananda.

Fast Facts
When to go � All year round
Tourist offices
KMVN
Holiday Home, Mall Road, Almora
Tel: 05962-230250
KMVN
103, Indraprakash Building
21, Barakhamba Road
Tel: 011-23712246, 41519366
Email: kmvnnewdelhi@yahoo.com
Website: www kmvn.org
STD code 05962
Getting There
Air Nearest airport: Pantnagar (125 km/ 4 hrs), linked to Delhi by Jagson Airlines on Mondays, Wednesdays and Fridays. A taxi to Almora costs Rs 1,600, one-way,
Rail Nearest railhead: Kathgodam (87 km/ 3.5 hrs. A taxi to Almora costs Rs 1,000-1,200, one-way
Road From Delhi, follow the route till Kathgodam via NH24 and NH87 Five kilometres ahead of Kathgodam at Ranibagh, turn right (at the sign for the HMT factory) and follow the road to Bhimtal. At Bhimtal, skirt the lake, cross the bridge and at the junction, turn left towards Bhowali. At Bhowali, catch the highway leading north to Khairna from Bhowali Market. At Khairna, take the right fork across the Kosi River to Almora via Sualbari. Buses leave for Almora from Delhi�s ISBT Vivekananda at Anand Vihar every hour between 4.30 and 9 pm
Where to Stay
Ramakrishna Kutir, Almora Ramakrishna Kutir Bright End Corner Almora, Uttaranchal 263 601 Phone: (05962) 25-24417 Fax: Tele (05962) 25-24417 Email rkutir@gmail.com, rkutir@rediffmail.com
Stay is free with meals though leaving a generous donation is always advisable.

Deodar Holiday Inn, Mall Road, Almora
Contact Tel number 05962-231295 Mobile 09412092531. Room rents here range from Rs 550 to 1,000. Meal are made to order and charged separately.

Others

Kalmatia Sangam�s (Tel: 05962-233625; Tariff: Package Rs 13,800-19,800) tastefully designed cottages at Kalimat Estate offer the best stay in Almora. The resort organises safaris, guides, hiking and trekking, and wellness treatments.

Snow View Resort (Tel: 233650; Tariff: Rs 2,500-3,200) on the Kasar Devi Road has 12 rooms, and a restaurant offering Gujarati, Bengali, Marwari, Mughlai and Continental food. Deodar Resort (Tel: 233025) is located in the middle of a forest in Paparsalle. Special facilities include yoga classes.

Decent mid-range options include Hotel Himsagar (Tel: 230711; Tariff: Rs 600-2,000) near the bus stand; Hotel Shikhar (Tel: 230253; Tariff: Rs 250-1,500) near the State Bank of India ATM on the Mall and Hotel Bhagwati Palace (Tel: 230222; Tariff: Rs 1,200-1,850), near the taxi stand on Thapalia Road.

The best budget options are KMVN�s Gollu Devta TRH (Tel: 230250; Tariff: Rs 450-900) and New TRH Danya (Tariff: Rs 200-300) on the Main Road.
Where to Eat
Most hotels offer standard fare. Shikhar Restaurant (Tel: 230395) has a decent chicken curry and rice. There are a number of small dhabas on the Mall, where you can expect to find the usual chowmein, aloo tikki, puri-bhaji and the like. And, yes, there is the ubiquitous Madras Caf�, located just off the Mall for South Indian tiffin. Don�t miss a taste of khoya singhori and Kumaon�s speciality bal mithai at Almora�s many halwais.
Shopping
The old bazaar and the new The Mall. You�ll also find a lot of Almora�s famous copperware along the way � from little diyas and bangles to pots and pans to carved images of the gods. Gold and silversmiths jostle for attention with woollen garment sellers. Also Khadi Village Industries outlet. There were shawls in lovely pastels, kurtas, dress material, woollen jackets in Mughal blues and lots more.