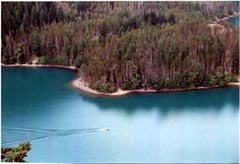 If god would have been asked to name the place that is the closest to paradise, one name would stand loud and clear and that is the North Cascades. Set in the picturesque surroundings of the North Cascades the drive is just breathtaking. This for example is one of the stops en route to Columbia Pass.
Now if this has inspired you enough to visit the place…just relax and fasten your seat belts for I would take you to where I had been.
This is shot from a mountain overlooking Lake Diablo. It looks as though urbanization never happened here and the Government of Washington has preserved this place very well. If you observe closely you are allowed to take your own boat and this is the first time that the water does not reflect the sky. It is normally suggested that you start your journey in the evening and stay at one of those getaway hotels where you could cook and relax in absolute silence.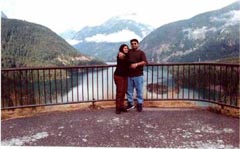 If you are looking for becoming one with nature with just your partner and nothing else but North Cascades is your destination ultimate.
Here is a shot of myself and my wife at the mountain which overlooks the Diablo lake. It is a perfect blending of modernism and pure natural conditions. This route is best seen from summer to fall. It gives immense potential for professional or amateur hikers and mountain-climbers. Sometimes as you drive through these natural spots time just stops and so does your car. Just gazing at the wonder that treats your eyes is in itself the greatest fulfillment.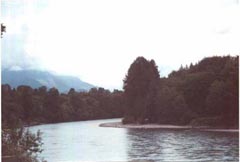 This place is inspiring enough for W.B. Yeats to write the famous 'Lake of Inisfree' and Wordsworth to write a "Paradise Regained". This is where I personally regained my closeness to nature.
The moment you reach the overlook facing the Columbia pass you feel on top of the world as you can see the road that brought you up. The Columbia Pass is almost quarter the height of Mt. Everest and yet there is a two lane road that takes you to that place. I was really amazed at the ability of the Americans to achieve this.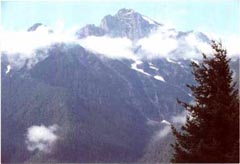 This is a shot of Columbia pass from the overlook. This mountain is at a height of 8000ft above sea level. The best part of these mountains is snow is available throughout the year. All these spectacles come in the route of highway 20. Surrounded by Waterfalls and river streams the ride takes you away from the hustle bustle of daily life. En route you would also find Gorge Falls and the Ross Lake. The journey finally ends at Lake Chelan where there is a daylong cruise which takes you into lake Chelan. The cruise takes you an island where there are only 31 inhabitants in the whole island. It is different experience to meet people who live in a community where each one can be counted. The ride was the best I have ever been to.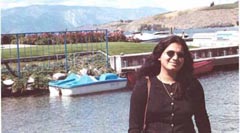 This is a shot of my wife posing before the backwaters of lake Chelan. To sum it up at the end of two days we felt great that we could explore so much of nature but also sad that we had to leave it. But deep in our heart there was this feeling that now that we know the place we can always get back to put our tensions to oblivion.