Color is a characteristic feature of light or of surfaces or objects that is perceptible to human vision and described by various names.

Colors are an important factor in deciding the mood and quality of a space .the proper use of color can alter the space qualities in a lot of ways. A designer's important task is to understand the nature, type, quality and the effects of colors it can create to a space.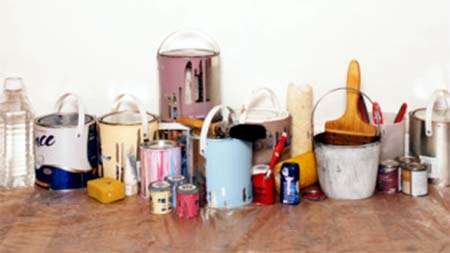 Colors have a varied application in different types of interiors.

Residential Interiors
a) Living Rooms and Dining Rooms
They are most successful in color tones ranging from mildly warm to neutral with stronger tones restricted to smaller areas or accents.

Yellows, if not intense are workable tones for living spaces in neutralized forms as cream, beige or light tan.

Where wood work trim is present (base boards, trim of doors and windows, cornice, moldings), white or more chromatic color can be used to contrast with wall color.

Strong chromatic colors can be introduced to furniture, window treatments and in accessory items.

Floors are best kept in warm to neutral tones. strong and solid colors of carpet are best avoided.
b) Bed Rooms
They are approached in several ways of treatment and variety of choices.
Use a stronger and more fully chromatic color scheme, chosen to fully suit preferences of the occupant.

It is better to avoid intense color on a ceiling or on large wall areas.

Bed coverings, pillows and cushions can provide accent color which is easily changed with seasons or simply for variety.
c) Children's Rooms
Use of bright colors is more preferred in these rooms.

Infants respond to bight colors which can be provided with toys and in other small areas so that walls and floors may best be kept to more quiet color.

Older children may enjoy some areas of bright color or may develop some areas of bright color or may develop preferences similar to adults.
d) Bathrooms
Frequent use is the white for tiling and fixtures for association with cleanliness and sanitation.

Other colors can be helpful in increasing a sense of comfort.

White, tan or light warm gray is preferred in general tones with strong color accent in bands of color tiles.
d) Kitchens
Kitchens can make use of strong color for walls, cabinet fronts and floors.

Counter tops can be in light colors.

Natural color, with extensive use of natural wood tones are preferable.

White combined with a chromatic color can be used.

Stainless steel often used for sinks is also preferable for counter tops and fronts of appliances.