Tread softly for this is holy ground;
It maybe, could we look with seeing eyes,
This land we stand upon is paradise.
Famously said the British poet Christina Rossetti, and no words can better describe the mystical charm of Uttaranchal. This holy abode of Gods is surrounded with such an abundance of natural beauty, that one sure is left mesmerized by its enchanting endowments. And enchantment was what I was looking for, as I planned my much needed, but delayed vacation.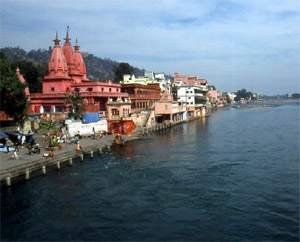 My first stop in this divine land was going to be Haridwar. One of my distant relatives lives in Haridwar, so much of the planning part had already been taken care of. I was to camp in at their place, and they had assured me of their guidance in time-managing my trip. So, on the D-day, with almost everything taken care of, I was excited enough to hop onto the Haridwar bound bus, right after my night shift. I had a rough idea that from Delhi, it would take me about six and half hours to reach Haridwar. But the over enthusiastic bus conductor (seeing my over apparent excitement and energetic demeanor), assured me that in about five hours, I would be in Haridwar, (guess my colorful backpack, floppy hat and bright sunglasses also did the trick). Anyways, my excitement knew no bounds'so finally I was on my way to the mystical land of Gods'or rather I would say, I was on my way to a land beyond adjectives.

On the way, at some point of time, the night shift had begun to take its toll on me. Weariness was setting in and I was taking fitful naps in between gazing out of the bus window. There was nothing extraordinary outside to cheer my tired spirits'just the bland monotonous landscape'But hey'lo and behold! There was a mountain range right outside my window. Wow'mountains! And in a matter of minutes, there was greenery all around. It was as if, the head gardener, taking pity on my drooping spirits, had immediately spread out a beautiful green carpet all around'yes, it was green all around, every shade of green. My excitement knew no bounds. I stood up from my seat, murmuring to myself in excitement, aware of the amused stares of other travelers. Wow! I was finally in Uttaranchal. The bus was just crossing Roorkee, and Haridwar was still a good one-hour away. As I finally got down from the bus at Haridwar, late in the afternoon, the first thing that caught my attention was a huge river, flowing down majestically, right across the road.
Was it the holy Ganga? I was not sure'.
As it turned out, the majestically cascading river was indeed the holy Ganges! So I was finally in Haridwar, taking in the fresh air, with my enthusiasm and sheer happiness at finally arriving in the city quite evident on my face.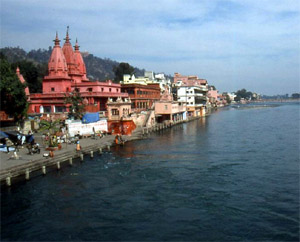 My first evening in Haridwar started with pushing and shoveling around people at the famous Har-ki-Pauri, and ended up with an enlightening walk around the holy ghats. After a leisurely bath, (the refreshingly cold water is piped across from the holy Ganges, so technically speaking, my first Ganga-snan in Haridwar was taken in a bathroom), and a light snacks later, I was on my way to Har-ki-Pauri, also known as Brahmakund, one of the most important places to see in Haridwar. It is believed that King Vikramaditya built this sacred ghat, Har-ki-Pauri, in the memory of his brother Bharatihari, who came to Haridwar to meditate by the banks of holy Ganga. When he died, his brother Vikramaditya constructed this ghat in his memory. This ghat is regarded as one of the most sacred ghats in India.

It is said that Haridwar has been sanctified by the presence of three gods, or the holy trinity - Brahma, Vishnu & Mahesh. Lord Vishnu is said to have his footprint on the stone that is set in the upper wall of Har-ki-Pauri, where the holy Ganga touches it all the time. Again, Haridwar has different connotations for devotees of Lord Vishnu and Lord Shiva�. for them it can be Haridwar (Hari ka dwar) or Hardwar (Har ka dwar), respectively, and when translated literally, both of them mean Gateway to the abode of Gods.

Now, coming back to Har-ki-Pauri, we reached the ghats, with the sun going down�right in time for the grand aarti. All around me, there was a human colossus�crowd thronging every nook and corner of the unplanned town. As Ekadasi was falling the very next day, devotees were arriving in full force to take the holy dip the next morning, with most of them choosing to camp just near the ghats. Streets I had passed were full of people, mostly tourists and pilgrims, arriving from every corner of the country. And what to say about the foreigners�. I observed all kind of mixed reactions from them. At times, it seemed that most of them were too taken in by the whole Ganga worshipping thing, to fully realize the implication of the holy rituals for the natives. And at times, they were numbed by the humidity of the weather to react to anything else. But generally, most of them were excited enough to brave the chaos at the ghats. With their handycams and digicams ready, they seemed ready to capture every little minute of the aarti.
Now frankly speaking, the first sight of the huge chaotic endless crowd was disheartening enough to dampen my till now soaring spirits. On the other hand, my aunt seemed hell bent on pulling me towards the foremost row so that I could have a full view of the aarti, which was just about going to start. The Ganga Aarti ceremony is performed at about 7 every evening. Now, ruthlessly pushing strangers and in turn getting shoved around by them is not my cup of tea, but I must tell you that my experienced aunt finally did manage to maneuver me towards the front rows�right in time for me to catch a glimpse of the first aarti being offered�and what a grand spectacle it was!! Believe me, just in a fraction of second, I realized that, every push I had given and every jolt I had received a few minutes back was well worth it.
Right in front of me was one of the most enchanting sights I had ever seen. Huge orange flames of the holy aarti, their reflection in the holy water, with the holy chant of the aarti filling the background�it was as if all of a sudden, there was pin drop silence amidst the thousand plus strong crowd. Devotees were offering their floral diyas in the Ganga, their tiny flames dancing away in the night, and the reflection of theit golden hue imparting an ethereal aura to the whole scene. The spectacular scene not just lighted up the evening, but also left a lasting impression on me.
In about half an hour, the aarti, a daily ritual was over, and the crowd had started dispersing. But many amongst them were stripping to take a quick dip in the now dark water of the holy river, preparing themselves to purify their souls of material impurities, seeking salvation�nirvana. However, a few like me still lingered around, taking in everything�.from the thousands of beautiful diyaas which were floating along the river, to the faraway crowd hanging around the over bridges, to the people taking holy dip in the now dark waters of the Ganges.