We have had the industrial revolution, the information revolution and now we are experiencing the remix revolution.
What! You don't agree with me? I'll convince you in less time than it would take a remix item girl to drop her clothes.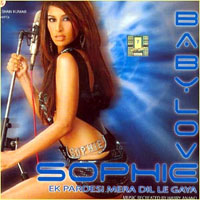 A few months ago, sitting in my study, I heard one of my favorite songs from the fifties playing on the TV: Saayan dil mein aana re, aakey phir na jaana re'..Only it sounded different. I rushed to the drawing room where the TV is placed. 'Hey Garima, why is the song sounding so different? I think two songs are overlapping,' I yelled to my teen age niece enroute. When I reached within viewing distance I was in for a greater shock. I had expected to see a black and white scene in soft focus with the heroine gently singing. Instead I found three girls in various stages of undress thrusting their respective pelvises at the camera and gyrating away to glory.
'My, even the visuals have got mixed up. An old classic has got entangled with a soft-porn movie', I wondered to myself.
'Wha'. What is this?' I mumbled aloud.
'This is a remix number mama. It rocks doesn't it?'
'It certainly does. I feel like banging my head against the nearest available rock,' I snapped and walked out.
But it is not music alone which has fallen prey to the remix revolution.
Take the Indian economy. It started off with in a mixed avatar, then it soon became a 'mixed-up' economy and now it has donned the incarnation of a remix one. The public sector employees are being made to work like private sector ones, the private sector workers like multinational guys and the multinational 'stars' are being made to work so much that they don't have time to live. All this together is creating a crazy, chaotic potpourri, which can best be termed remix economy.
The generation next is the proud flag bearer of this remix revolution. Its language, culture and values - everything reeks of remix.
As far as the language is concerned it can only be described as Hindish or Hinglish : 'Ash kya cool lagti hai. Maan she's really hot isn't she?' my neighbor's son, declares to his friend. He is clad in carefully torn jeans and skin tight T-Shirt, a tattoo on his doley-sholey arm and his gelled hair is casually in place. A ring on one of his thick eye brows and a goatee on his fleshy face complete the picture of the cool dude. His paradoxical compliment paid to India's female icon is as weird as his sartorial elegance and after spending some precious moments trying to figure out its meaning I give up.
Culture too has become a weird medley. My cousin's wife observes Karva Chauth and breaks her fast with pizza from Macdonald's!
Ideologies and values are as straight as a jalebi. The leftist government woos private investors with a zeal that would put all the Romeos and Majnus and even our very own Salman Khan to shame. The urban rich who are as strange to hunger as a cannibal would be to vegetarianism unleash anti-poverty campaigns for Page 3 coverage.
So finally what is going to be the outcome of the remix revolution?
My answer is: Jaane kya hoga Rama re, jaane kya hoga Maula re. YO!!'