Bad Days in the Office
There are times in the professional life of everyone when one finds himself/herself 'Out of Work', while in a job'. These are strange conditions when you find yourself continually flabbergasted at your place of work and in a confused state of mind. You tend to think that you may be fired any day but you are neither asked to put in your papers nor given the responsibilities to make you feel as a part of the team.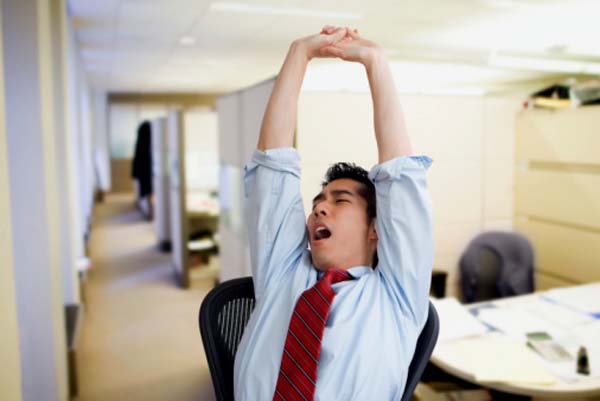 The verbal communication from the top slowly dries up, your e-mail inbox indicate no new mails, you eagerly await peons to brings papers to you for your approval, your subordinates regularly route themselves to your desk through your boss's cubicle. You are left with no challenging work except for some procedural work. Suddenly the routine work becomes much more monotonous than it actually is. You then spend the major part of your duty hours sitting idle grazing at the screen saver of your computer monitor or watching others at work.

Such days are "Bad days" in the office.

You must recognize possibilities of such days as early as possible, prepare your own self to mentally fight out this tough time and maintain yourself in perfect order, so that you are back to churning out the best when the bad days are over in the office.

How can you recognize the bad days in the office?

Let us examine the conditions due to which the days become genuinely bad at the office.
When there is absolutely no work for you.
When work is much less than the time available to you.
When you are not involved in jobs which have some bearing on your main work area.
When you are given some work but of lesser importance just to prevent you from thinking that you are an excess baggage for the company.
When information is regularly extracted from your subordinates even when you are available.
When your immediate superior is bent upon side-lining you in meetings.
When you realize that there are major differences of opinions about you amongst your seniors.
When you feel there is a significant change in the communication mode or tone of people while communicating with you.
When all of a sudden a section of people stop taking advice from you on official matters.
When you get an inherent feeling that your company is preparing to do without you.
What should then be done?
Analyze the reasons for the changes that occurred. Change yourself for the better, if the situation demands.
Try to understand / realize the real truth behind the happenings. It could be a part of your company's short-term strategy.
Make yourself stronger in at least one segment of your work in which your company has no option but to involve you.
Locate an un-tapped issue related to your company's business and try to device methods to solve it.
Utilize the relatively 'free period' during such "bad times" in increasing your knowledge base.
Try to engage yourself individually as a helping hand in some creative work related to your company's business, even if such a work does not fall directly in your scope.
Avoid giving justifications to your peers or subordinates about reasons of lack of assignments for you.
Recognize & make a selection of the people at your work place with whom you can team up anytime to accomplish some special assignment proposed by you or by any one else. Keep your eyes & ears open and jump to seize the first opportunity.
Open your old forgotten files & refresh yourself by going through your departments past records, data, communication etc. Try to extract some mileage from that with respect to the then existing scenario in the office.
Keep a corner of your mind open to explore possibilities of a new job.
11-Jan-2009
More by : Nikhlesh Mathur
---
---
| | | |
| --- | --- | --- |
| | Astonishing article for professional. | |
---