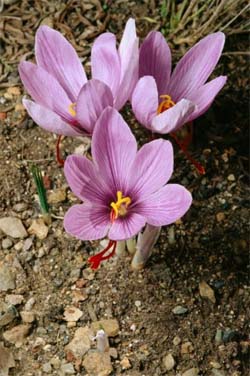 Come autumn and the Pampore Karewa plateau, about 25 km south-east of Srinagar in Kashmir, turns purple - abloom with thousands of saffron flowers. Saffron (crocus sativus; or 'kesar' in Hindi and 'zafran' in Persian) is an exotic - and the world's most expensive - spice.

It is an incredible experience to watch hundreds of peach-complexioned Kashmiri women, with baskets on their backs, standing in the midst of a profusion of purple flowers. As they pluck the blossoms, the lilt of their voices wafts through the air as they sing their folk songs.

The cultivation of saffron - a natural food flavoring and color that also has general panacea properties - would have been impossible without these women. In fact, of the over 12,00,000 people of Kashmir directly or indirectly engaged in the cultivation and trade of the purple crop, 50 per cent of the workforce comprises women. Come harvest season - the autumn months of late October and November - and that gender percentage rises to 90.

Saffron is cultivated in about 226 villages in five districts, including Zeewan, Balhama, Khunamoo, Yachnambal (Srinagar), Khrew, Ludoo, Dussu, Khonibal, Chandahar, Nablabal, Basru, Lethipora, Sambora, Awantipora (Pulwama), Nagam, Sarwin, Hapathnar, Kakewring, Char-e-sharief (Budgam) and Kishtawar (Doda). Kashmiri saffron bulbs, which give a six to eight year yield, flower for around four to six weeks during those two months.

But that is knowledge the women of the region have grown up with. Rubina Magray, 19, is a class 12 student. She is also a fifth generation saffron-plucker. Rubina has been plucking the flowers ever year, ever since she was a child, tagging along with her mother and aunts to the family's fields in Parampore.

"Every October, I don my grandmother's phiren (a traditional Kashmiri warm cloak-coat) and join my sisters and aunts in the plucking of flowers. We sing, chat and spend a few weeks together, harvesting as a family," she says.

Sipping hot Kashmiri kehwa (a local tea flavored with saffron), at least a dozen young women of Mohammed Yaqoob's family toss saffron flowers into the air before sifting for any impurities.

But much before the young women are given their share of work, the elderly women of the family have already carefully dried the flowers out in the sun, to rid them of moisture.

"Drying the leaves requires skill. One has to be careful that the flowers do not burn with excess heat. I have done it all my life, for around 60 years," says Marzana Begun, 70, Mohammed Yaqoob's mother. "I have been involved with saffron growing, drying and packaging from the age of four as my father was a saffron farmer and then I married a saffron farmer," she adds.

In the neighboring house of Abdul Ahad, there is a similar scene. Many women relatives from different parts of Kashmir have joined the family to offer a helping hand. "Women are the best choice for the job as they have the patience to take tender care of the flowers. When we need extra help, we only hire women laborers because they are dedicated and can work with the women of our family," says Mohammed Mir, who owns around 500 hectares of saffron agricultural land.

Once dried, tossed and sorted, it is time for the flowers to be handed over to the menfolk. Stripping away the insides of the flowers, the men grade the saffron, now ready to be packed in moisture-proof containers.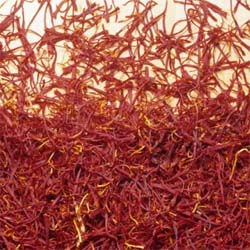 Cultivating saffron is hard work. This can be gauged from the fact that a kilogram of saffron is obtained only after about 150,000 flowers have been plucked, sorted and stripped for their stigma (the female part) and stamen (the male part).

Interestingly, each saffron flower has three red stigmas, two stamens, and a long white stem, connecting all of this to the main flower. The stigmas represent the purest saffron, known as 'Mogra Zafran'. The stamens yield the inferior and less expensive variety, the 'Lacha Zafran'. The other parts do not go waste: the petals are eaten while the stems become fodder.

Sammer Azad, who annually exports 1,300 kg of the queen of spices, claims that Kashmiri saffron has been giving traders from Spain a run for their money. (Spain, Iran and Italy are other leading producers of saffron.) Azad says that Kashmiri women are the "real heroines behind the whole saffron story". They might not come be in the limelight but everyone involved with saffron knows just how much the women strive for the crop: they till the soil, and, most importantly, pick and gently dry the flowers. This is an art that can only be executed by women because it involves a lot of patience and effort." Azad provides employment to over 700 people, most of them women, in a state where jobs are hard to come by.

Saffron has been the most important cash crop of Kashmir since ancient times. Compared to the near-rival Persian variety, Kashmiri saffron has a strong aroma and color. Its stigmas are long and thick-headed and deep red in color. The smaller Iranian saffron stigmas are yellowish in color and almost half the price of the Kashmiri produce. This year, high quality Kashmiri saffron sells at Rs.100,000 per kilo as against Rs 60,000 to Rs 65,000 for the Iranian variety (US$1=Rs 39.23).

Meanwhile, the government is contemplating the grading of the Kashmiri saffron to counter its adulteration and proposes to export it through the Spice Board of India, which is based in Kochi, Kerala. Further, according to G. M. Pampori, President, Saffron Growers' and Dealers' Association, the World Bank has sanctioned a huge grant - Rs 100 billion - in October for the Kashmir saffron industry. The money is expected to give a fillip to research, facilitate better irrigation and soil enrichment.