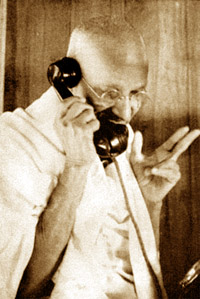 Not everyone who calls himself Gandhi, is a Gandhi. Not everyone who thinks himself patriotic is in fact rooted in his country. And, not everyone who wears a pair of jeans is liberated in his mind. It takes much more to be a Gandhi and flaunt Gandhigiri.
What does Gandhi mean to me? In one word ' Abstinence. Surprised? Read on.
The world knows MK Gandhi as the master mind behind India's independence, a formidable force the British finally had to give in to. True. They also know him to be the man who taught the world about the most active power, passive resistance ' Satyagraha. Go ahead! Do whatever you like! Show me you are violent. But! I will not retaliate with violence. I will not give you my other cheek; neither will I respond to you in the same way as you do to me. Satyagraha is mind over matter, in action. It is soul power that beats the psychology of the other and stops his hand mid-air and makes him retreat from his action and thought without harming him, damaging him. Without the least bit of violence delivered to him. It is inaction, in action.
Abstinence is a practice. It is not resistance. It is simply not giving mental space to an event or thought or action. As if it never existed at all.
MK Gandhi's mother was a very pious lady and fasted on many days of the week as all Jainas do. MKG was exposed to this from his very childhood. What we see as children, we learn better than what we are taught to do. So his mother and his religion Jainism taught him the value of abstinence even before he became involved in the struggle for human dignity, from South Africa onward. What has fasting got to do with Satyagraha? Fasting on a regular basis I believe increases strength of mind and will power. To abstain from participating in what we may be doing daily, is not so easily done as said. Satyagraha requires a lot of will power in the face of adversity. A simple practice, fasting, almost a daily practice among Jainas, may have contributed to the strength of mind.
Further, in his autography, "My Experiments With Truth", he gives us a taste of the kind of control he had over his mind. When his father passed away, he was in the inner quarters of his room, intimately connecting with his wife. When he was told that at that very moment, his father breathed his last, M K Gandhi was very repentant. For the rest of his life, he never engaged in sexual communion again. This is not to prove that he went into some, self-imposed quarantine. It just dropped from his head. Even as a feminist, I have not been able to argue for his wife. She, was him. Surrendered completely. Again for a person used to abstinence, this could have been just "one of those things". Nothing to really think about.
With regard to Gandhigiri, it seems it takes a lot more than just being vegetarian. Or saying you are patriotic. No, it is not about that I should think. Being vegetarian, if you are not born one, is a choice you make for reasons of health or as in my case, for reasons of sensitivity. I might have relished my fish and meat at one time, but today to think that a life must be killed and the meat eaten by me, seems to be unthinkably brutish to do. Besides, if you have had the misfortune to shoot a film in a poultry farm and watched those poor creatures, you would be short of only mad to continue to eat those birds. The hatcheries are different from the farms. In the hatcheries a queen chicken's only job is to lay eggs. The eggs are hatched in artificial incubators. The little chicks emerge out of the shell, white and chuckling and are rushed away to the farm where they spend three months, eating, drinking and sleeping and again eating, drinking and sleeping. For all of three months! They have been genetically engineered to do just that and your great Pharmaceutical companies pay the veterinary doctors to provide bird feed in their daily diet. The chicks know nothing. They eat and eat and eat and grow fatter and fatter until they reach through the distribution channel on to your dining table as dressed chicken carefully packed to appeal to your taste buds. Naturally, I chickened out of this deal never wanting to know about other meats either! Never, ever!
Regarding patriotism. For me one of the most determining factors that show character in a person, is the sense of pride one has about ones country. It is the most profound meanings we have in our lives, more than our families even. It is an identity I value more than anything else in my life. It brought tears to my eyes as much as it did in the eyes of many when Mahasweta Devi spoke in the Frankfurt Book Fair just a month ago. It gives us a sense of what it really is to be rooted in one's country.

So who then, is the Gyan- Doo? Let me put it like a Delhiwali will:
" Bus Wahi!"
" Kaun?" Her neighbor will ask. " Kahi uski baat to nehin ho rahi hai?"
In the meantime, someone else will ask " Kaun???"
" Wahi! Sabko pata hai Kaun."
" Oh Wahi?" She will say as if her bulb in the head has finally come on.
" Haan! Haan! Wahi! Ek hi to hai, sare desh mein!"
Someone else will nod and agree ' " Bus! Bus! Wahi! Usski hi baat ho rahi hai"
Just then, my friend from Bombay will get up and say in typical Bombaiya style -
" Who??? Gyan-doo??? Chal hut! Saali! Gyan marti hai!"