I had made up my mind at last. I was going to visit my home country again.

It was not an easy decision. I had planned this journey for the last forty years, but as the years went by, I was losing confidence, and my fears had increased. They were the typical fears of an older person, who to a greater extent, was home bound.

But the wish to see my country was stronger than all the fears and objections I was making. I finally booked my flight, and I was on my way.

It was not an easy journey, but twenty seven hours later I had arrived at my destination. Although I was not in my best form, I was still aware of the 'welcome committee,' which consisted of my relatives who were waiting at the airport to meet their 'exotic' aunt. So far I was only known to most of them through old photos of safari trips, which I had done with my husband, now long time dead.

From the very beginning, the reality was different from what I imagined it to be. My little niece Magda was now a middle aged woman who I had hardly recognized. She had a family of her own all of whom were strangers to me. They were all very nice to me, but I'm sure they were also disappointed by my image, as I was old and ordinary looking, not the young dashing Amazon woman from the photographs. Magda's husband Jan, offered to take me to a restaurant known for the best indigenous dishes, and my niece's son Mark, promised to show me the new glass buildings in town. I tried to convey my joy of being there, and to relive my past, but later on I found that the images imprinted firmly in my mind were not corresponding to the real ones.

In fact, everything was different. Neither the house I stayed in, or the street I walked on, or the town itself. I searched in vain for even a small sign of the past in my niece's house which was once my parents' home, which I signed away to her when I decided to emigrate. The family portraits and the old furniture were gone, even the Grandpa clock which faithfully struck hours in my youth was gone. The house was enlarged, and made spacious and modern, even the kitchen and bathroom were new. Outside the old fashioned garden was no more, instead a well trimmed lawn was visible. The apple tree orchard was gone, and in its place there was a double car garage. The street I played soccer with my friends now had a solid pavement, and there was no longer a rivulet, which was now probably well hidden under the cement. Besides, the street was too busy with traffic than for childish games.

I was bewildered by all these changes, and I was constantly irritated. My family was kind to me, but they couldn't understand my obsession with the past. Their lives were here in the present, and they were happy with the progress of their town and country.

One day, after my usual outburst of laments and regrets that all was gone and forgotten, my grandnephew Mark said to me, 'Auntie, I suggest you take tramway number 36 and ride to the last stop. I'm sure you'll find what you're looking for.'

'Don't be unkind,' Magda scolded him, 'young people think that the world belongs only to them.'

I was curious to know where the last stop of the tramway 36 was, but Magda just explained that the tramway takes a long route through the poorer suburbs of the town, as the metro does not go there yet. 'Rather go and see our glass houses,' she added. 'They are very imposing.' But I decided to take a ride on tramway 36.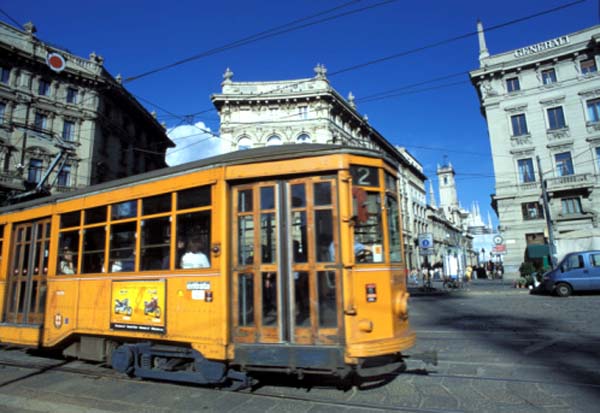 The tram looked so familiar to me, just like the one I used to ride in my youth. It was very old but brightly painted in white and red and had the number 36 was proudly displayed on top of the roof. I climbed the steps, which were rather high, and sat in one of the well worn out seats. We moved with a forward thrush, but I held fast to my seat. Off we went, stopping constantly, it was a slow ride with occasional rapid jolting, but I was enjoying my ride. Passengers were coming and going; I listened to their conversations and watched the streets and traffic outside my window. The further we went, the more the traffic diminished. I saw more wooden houses under thatched roofs. We were on the outskirts of the town; I saw the huts with small gardens full of mallow flowers and behind them fields of ripening wheat, with corn and poppy flowers. This sight brought tears to my eyes. This was the town I remembered in my youth.

At the last stop the remaining passengers left the tramway and even the tram driver walked out for a cigarette. I left the tram with the others and did not know what to do; I decided to have a walk. I crossed the tramway lines and headed in the direction of a nearby forest which I had noticed from the tram. But as I reached the trees I saw that it was all fenced off by a high iron fence, and that there was a gate locked with a padlock. I tried to see what was inside, but the trees obscured my sight. I looked around, the tram driver seeing my hesitation pointed too one of the huts and shouted that I must go there to get a custodian to open the gate for me. Before I decided on any action, I saw a man on crutches walking towards me. The old man was showing me the keys, and telling me to wait for him. He finally managed to open the padlock, and I found myself in a strange place. The first thing that confused me was the sudden quietness. It was like walking into a world not inhabited by anybody but only nature and its entire splendor. I stood in the high grass amongst some huge flowering shrubs; there were splendid birches and pine trees embracing me from all over. I started to notice tombs and graves, but they were mostly hidden in the grass and taken over by this uncontrolled greenery. I walked here and there, read some inscriptions, some of which were centuries old. The old man silently followed me on his crutches. Finally he asked me if I was looking for somebody in particular, because there were some graves from the Second World War.

'My parents were killed during the war far away from here, and I don't even know where they were buried,' I declared.

'If they are in your heart, you don't have to look for them any more,' the old man said wisely.

I was startled, he was right. I did not need to search for them or the long bygone days. I wanted to live now, in the present. Suddenly I could not take this silent world anymore. I gave some money to the man and hurried back to the tramway.

On my way back I thought, the memories, especially of loved ones will always be with me, but I will never allow them to replace the present. Tomorrow I will ask Mark to take me on a grand tour of the town, and later on maybe I will tell him what the town was like when I was a young girl, just for reference purposes.