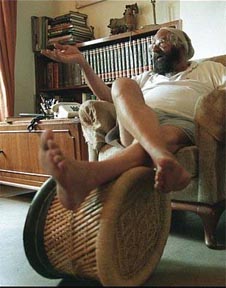 The man of wits and kisses, the womanizer, and the octogenarian literary genius whom all of us love to hate. Well you may ask, what for? For his brutal frankness, for his comments on the pseudoness of Indian public, and last but certainly not the least, for his crookedness. But at the same time we love this wily Sardar for his jokes, for his literary skills and not so common style of narration of events. The man who changed the face of Indian journalism and shape of things with "The Illustrated weekly and the adage go on. Now the question arises who'll gonna put his money on this Sardar whose reputation with liquor and woman is quite infamous.
Again for a second we imagine Khushwant Singh as an ad-guru, what place would he be fitting himself in? Pretending as an Account Manager he would literally blow up the clients with a flick of his moustache or drag them in mindless discussion convincing them to the core and selling an idea which only he could've generated during one of his summer siestas.
As a media planner he could end up crunching the time slots for a commercial and instead would go in for a program called Khushwant Speak !! And just imagine KS directing an ad-film for KS! He would end up using one!
As a copywriter he can kill anybody and the best part is he can slaughter the very product he was supposed to write the copy. The best you can find him sipping coffee and reading a book of his own jokes, while brooding about his next lecture at MICA about "The contemporary Indian Advertising and the Cannibal called KS: The man who eats words, drinks words, but sleeps with a better option (of course!)
As a guru one can imagine him sitting on a huge chair, giving shape to another wacky idea and polishing it with all his skills to sell it to the masses. Because he knows the masses in and out which is what you require in advertising to know the nerves and touch the pulse. And hold them tightly until they scream!
Selling a pack of scented KS and holding a bottle of Becardy along with oomphing babes at Goa beach is what my idea of KS as an advertising guru albeit from a different angle. As wild as the Sardar himself.
Well you folks sitting out there must've found this stuff a little bizarre. Frankly it oughtta be, 'coz the very idea of KS as advertising guru was bizarre....

Read Also: Age Cannot Whither Khushwant Singh