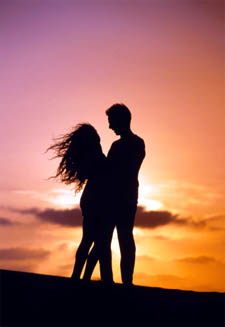 Samiara touched her eyes with the last stroke of maskara, a shade of blue she liked. She looked at herself turning around from left to right and right to left.

" Enough. Just right." She thought to herself.

She was attending the promised party ' twenty years after they had all left college, the entire gang of friends who passed out in the same batch.

Vijay dashed out of his car. His wife would have left for the lady's single party. He shaved and had a quick shower. He pulled out his Levis jeans and pulled a T-shirt over it. Never a fastidious dresser, he was happy with his clean- looks. He slipped into a kholapure chappal, rushed back to his car and arrived at the appointed place for the reunion party. As he parked his car, a thought passed his mind ' would she be there at the party after all? His Samiara?

Vijay felt the stirring in his belly as he entered the room. In fact Samiara had arrived only minutes ago. Their eyes fell upon each other after twenty long years. Vijay was the first to come forward and wrap her around his arms.

Samiara had thought very carefully about this party ' meeting all her friends from college after so many years. Would it be possible that Vijay would be there? She was afraid to stir up emotions she thought she had laid to rest long ago.

The innards of her being trembled to see his face 'her Vijay, lost in time and career pursuits.
" How have you been Sammy?" Vijay was saying.

" How have you been?" she repeated his question with a smile.

Old numbers from the 70's belted out with vigor but could not drawn the voices and laughter of the people around. A get-together of friends after all these years. By now all were partnered, divorced or had never married. But tonight it was a night of the singles ' everyone was there without their partners.

Samiara and Vijay had gone stead with each other for five years in college and university and parted not because of disharmony between them but because they went to two different professions. Vijay married and so did Samiara.

Samiara met Major Deshpande on flight. It was her major crush at 23! One thing lead to another and in a matter of a month they were married. Samiara liked the regal life in the Army. Her meeting with Vijay in college and subsequent love had grown slowly. Meeting at the college canteen, spending hours together, walking to the bus stop together and taking the same bus home ' slowly and steadily the love grew. When it ended it did so without much fuss as well ' just that they had two different careers and hardly met ever. She was flying; he was into his own business. Yet, there was something between them that had not been called off completely.

Major Deshpande had happened a year after that. If she missed Vijay at all in all these years, she was not aware of it. Until now.

High spirits and hazy smoke blurred vision on the one hand and inhibitions on the other. After all it was their night, tonight after so many nights. Everyone was on the floor. Dancing with Vijay, her steps closely following his, her body close, but not quite, the old emotions stood at the doorway, nudging to open up. Her mind recognized innumerable memories, her body had stored. Sammy was strong woman but when Vijay settled his head in the cradle of her neck she was unable to resist it. Nor was she able to withdraw herself when she felt his lips behind her ears. Her gut somersaulted like old times and she knew instantly, where it was headed but she was unable to hold back. The well known signs of desire were rising - she could feel his on her belly ' hard facts that always made her aware of hers as well, albeit more hidden but not imperceptible to her and to Vijay. She thought of Major Despande her husband'she tried to extricate herself from Vijay's grip of desire ' No hers!
And even before they locked themselves in the guest room, she stood naked of all inhibitions, prohibitions, norms and regulations, social taboos ' these clothing lay on the floor as her mind undressed inspite of herself. Should she? Can she? Must she? Vijay was raw'he never was anything else before her.

So many years of naked passion took shape, while the dance floor rang with music, their bodies vibrated with wild abandon ' she touched his face with her hands and covered his lips with the peach of her lips ' her body opening out to accommodate him. Forgotten desire now flooded her mind with memories, the outer contours of her inner body reminding her of sensations, feelings stored in the tissues and muscles ' she was unable to control it's language of expression. She clung to Vijay, as if his body was the only solid reality that existed within her grip. She wanted it; her body longed for this. And as Vijay stood at the outer rim of her inner body, firm in his statement of desire for her, she thought only once about Major Despande ' would this overwrite the longing he had scribbled there, over and over again? Yet, he had not been able to overwrite the story of love written by Vijay in the years in college. These memories outlasted even the memories and impressions in the mind. And even as she queried she realized her body had already allowed Vijay to enter, even though her mind stood questioning. So strong was the voice of her body, so real. It had a mind of it's own. It never lied.

" Shall we'?" Vijay had whispered between kisses " Shall we?"

Her mind forgot words. Her body whispered '

" Play it again Sammy".