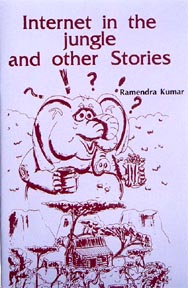 When an earthquake strikes a town in Gujarat, Munna not only forewarns the residents of the apartments where he stays, but later runs around the neighborhood performing the rescue act. Kananvan Zoo is struck by a cyclone. The birds and animals are terrified until Gajapati swings into action and leads the creatures to safety and freedom. Two thieves break into Surya's farmhouse in his absence. They are about to escape with the booty when Bamchik leads an attack and saves the farmhouse.

Munna, Gajapati and Bamchik - they are not human superheroes - rather they are animals with qualities of rare courage, determination and initiative. If you want to meet these tough and trustworthy characters then you'll have to pick up Ramendra Kumar's 'Internet in the Jungle and Other Stories'. The book is a delightful collection of nine stories based on animal characters and is ideal for children in the age group 7-12. Concerns which are common today like the problem of match-fixing, the popularity of internet, the exploitation of animals et al are all dealt with in an interesting and evocative manner. Human values are brought out through the animals characters in a subtle way leaving a lasting impression. While the book comes up trumps on most counts, the illustrations are a bit of a let down.

Ramendra Kumar, who is a familiar name for the readers of Boloji.com, is the Joint Editor and Coordinator of the column Natkhat.