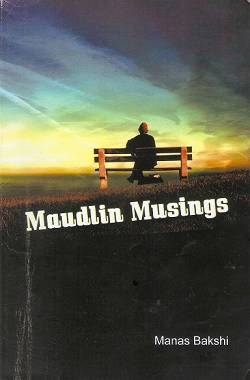 The poet being a creator creates from his personal experience. With his imagination and his skill – both god-given and intuitive, he puts across his emotions and feelings in a scintillating way to illumine, enthuse and entertain his reader. Poetry is read the delight it delineates. Poetic skill is a spark, holding in mind a flash of lightning which leads to a revelation. Manas Bakshi now beyond sixty is imaginative and at times a visionary and a sufferer. So far he has published ten collections, and won accolades and encomiums for being an exponent of the value of Indian English poetry.

The thing starts with a spark and opens up a vista.. The flash has to be expressed only in words and words need chiselling, colouring and polishing too to be presented as perfected artefacts.

The latest of Manas Bakshi's book is a unique presentation to his readers. It is titled Maudlin Musings. These very short poems – sometimes, three, four, five six - or sometimes, even seven or nine – are flashes feeling called musings. It is a surprise why the musings are called maudlin. Maudlin has an unsavoury ring and is an uncomplimentary word to indicate something not praiseworthy. The feelings communicated are not sentimental in a silly or tearful way. Perhaps the poet's idea is that they are not poetic in the number of their lines. He tells the reader that these dwell on feelings and frailty – but they are both human and imaginative.

Bakshi is serious minded and a devout person. In the first page he quotes Rumi, the Sufi: 'The time as come to turn your heart into a temple of fire. Your essence is gold hidden in dust. To reveal its splendour you need to burn in the fire of love.' Evidently the trope is for emphasis. In fact love cannot be fire generating heat. It can only be cool, soothing and fragrant.

The subject and essence of these verse clusters are one of these many aspects to cite a few: contemporary scenario, philosophic and mystic, revelations of sincere and deep cerebration, actuality, nature and eternal verities.
The following are philosophical:
Sea returns
All that it takes --
Does mind ever? (1. p. 9) (The first is the number given by the poet.)
Tolerant as the tree
Endearing as the earth
Is but one
Who gives birth. (35.p.16)

Untouched beauty
Everyone's dream
Unclaimed dead body
Wind alone screams. (63.p.23)
Contemporary scenario makes the poet strikingly expressive while saying these:
City park
Lovers' heaven
In the dark. (p.9)

Peace today's sought
Bt the meek and the weak
Failing to combat
The powerful hypocrite. (32. p. 15)

Political mileage
A tool sought for
Hiding he lack
Of moral courage. (34. p. 16)

Scams and scandal,
Justice denied!
Victims throwing
Befitting sandals. (43.p.18)

Rape of child
Burning of bride
Selling conscience
Ring no more
That much surprise. (115.p. 36)
Here are pictures of actuality delineated by this humanist-poet:
Death to life
Enemy at an unknown distance
Portending prelude. (13.p.11)

Eyes full of dream
Left to moan
When there's awakening. (20. p. 12)

Darkness beneath the lamp
Laments as it should
Why for it alone
Light appears so rude. (29.p.15)

Birds after the storm and rain
Sing their own song
Meaning life is not all
That appears stormy, dismal. (30.p.15)

With the moment
We come
Here, on this earth
Our return ticket is confirmed. (104, p. 33)

Grey leaves –
Till they drop
Salute nature
For allowing so far to throb. (111. p. 35)

Old age loneliness
Mindless wandering –
Endless reminiscence
Of what one will never
Get back again. (130. p. 40)

Diktat of time
Everyone
Has to follow –
Always unpredictable
It is, although. (162.p.48)

A photograph kept
With care and caution
Against moisture
Still fades into haziness --
An imprint
Of merciless time. (215. p. 64)

I'm not
What I look like.
Likewise, you too –
It's only beating
Our own drums
That makes is buzz
With ego-fed charm. (225. p. 68)
Some of the poems reveal intense cerebration:
Music overheard
In the silence of night—
Waves of resonance. (17. p. 12)

Memory makes us suffer
The agony of untold words,
So close to mind
Still, physically afar. (52. p. 20)

The murmur
Of falling leaves!
The stone is deaf –
Can you hear me? (80. p. 27)

Passing a day
Trivial or golden,
Another step
Towards death. (84. p. 28)

Eternity – a luring word,
Life – a true reward
Of five elements throbbing
With a soul-like spark. (89. p. 30)

Faltering at ever step
One day I realize:
What eludes me
Is not the rhythm
But the real grammar of life! (122. p. 38)
The divine quality of worshipfulness is evident in the poet:
He in me
Like soul in life –
A life-time waiting
Only to be countersigned. (71. p. 25)

Even the golden afternoon sun
Melts in the warmth
Of Your love –
I am but a human being. (81. p. 28)

Inscrutable although
The very moment
All are destined to go
To His peace abode
Either today or tomorrow. (171. p. 50)

Why cry for yourself?
Cry for others
You come across –
For, God always
Moving you for
An inscrutable pause. (181. p. 53)

His unfathomable presence
Behind all our
Laugh and cry –
An unknown realm
Transcendental
But synchronises
Our deeds and misdeeds. (238. p. 74)
We find no poet who has at some or other postulates, sings and makes much of LOVE. Manas Bakshi is a poet of love too:
When blooming in love
Each word from her mouth
Al
He feels proud. (69. p. 25)

Love seems
A lattice-work
Of feelings inside
A sensitive mind. (79. p. 27)

Love is a feeling
That can't be grown –
Spontaneous, always on its own. (99. p. 32)

Drawing her lips into his
When a moment churns up
A sensual wave,
Eyes speak some untold words
And both appear voiceless. (119. p. 37)

Love in the 21st century
A scratch on the sandbank
By emotionally moved
And sensually exploited
Moments of delight. (121. p. 38)

Be lively as a river
And not a feigned poem
Of failing words
In the life
Of your loved one. (134. p. 41)

Torrential rain
On a turbulent sea –
Your sudden
Disappearance
From where
You were to be. (199. p. 59)

She tried utmost
To feel the monsoon rain
From her window –
Her mind suprrssing long
Unseen tears …
Overflowed in silence. (205.p. 61)
While praising the work of the poet already acclaimed a 'Progressive Humanist Poet' it may be said in conclusion that sometimes some of these poetic utterances enthuse the reader to make small well-intended modifications to make the poetic flash possibly more scintillating. A few examples would suffice to illustrate my feeling:
Twittering birds
Locked in love
With feelings conveying
Wordless sounds. (Sounds for words) (38. p. 17)

Tear do not (Tears for tear)
Always drop
The convulsion inside
Sometimes makes it stop. (them for it) (53. p. 21)

Love and lust
Weaved in a wedlock (woven for weaved))
As straws and twigs
In the making of a nest. (66. p. 24)