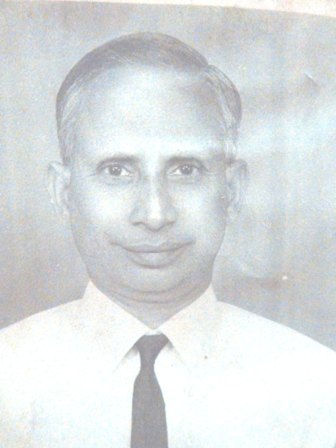 Of late I was watching Hindi movies PK and OMG. They involved some questions on the god. Returning home, I wondered my revered father was no different than the protagonists in the said movies. Why, he even exceeded them by a good measure. The subject of god is very personal, and so I don't want to tread on any controversial lines, but just narrate the connection my late father had with 'his god'.

One day he was walking towards a temple entrance. His wife followed him, a few paces behind. And that was the norm for a couple out in the open in those days. He felt a shower falling on his head. He checked with his wife and she acquiesced, like always. Lo, he boasted to one and all that it was the god who sprinkled on him the holy water from the nearby temple tank.

Like a doctor with some reservations on the purity of water bodies near temples, he avoided them, although he never questioned their holiness. He used to narrate scores of such miracles to whoever he interacted with. Some of his tales happened to be real (namely fortuitous I say rather), and some were purely concocted. Yet we all 'believed' him nevertheless, for he was a simple and credible man with a sound value system of his dos and don'ts while keeping an honest track record. Not believing him would amount to doubting his integrity and also discounting all the faith that the society bestowed on him.

All our kith and kin consider him as a cult figure even till date. He is a holy man by his word and deed which he proved all his life. He used to practice what he preached, and never was off his guard even in sleep. He used to be a disciplinarian—up to 90 percent of time. With regard to the rest of the time, well, he blamed it on certain circumstances and people in his life whom he detested badly for no known reason. Ironically, his list 'persona non grata' used to be dynamic, with the names changing every now and then.

Many of his idiosyncrasies apart, I had to bear with his senility in his later days. But I should say he lived his life to the full and scripted his life story in all the minds and hearts he knew, including the door-to-door salesmen in his affable and unparalleled ways. He had no regrets about what life did not give, yet he wanted to settle his score with god for not granting his 'bucket list wishes' which are mostly hypothetical. He used to defend his views on everything under the sun and say that his words were no less than Vedas and he found no one as pious as him and also that he was none else than "god's eldest son". All these he used to say with a straight face.

To my father (May he RIP), god was created for his convenience, lest he should be no god. He worshiped his many gods in the temples and home alike. He followed some self-styled procedures in prayers, which were like the way he dressed, dined and walked about. Sometimes he bathed in the mornings and other times in the evening. He would appease the souls of his ancestors on their death anniversaries by engaging priests religiously and sometimes did the rites in freestyle by himself.

As children we had to face an unpleasant situation at our school, when the priest at a temple, who was our math teacher so doubled up, scolded us for having received my father's wrath while he was at the temple. In the sanctum sanctorum my father took from the pundit the holy theerth (holy water). But soon after our dad complained to the temple management that the said priest distributed his sweat along with the holy water, from out of the silver container he held near his armpit. Since my father was a senior government doctor, the temple suspended his priest duties. Whenever a religious ceremony was conducted, we underwent some tense moments that my father might find fault with the way the mantras wrongly recited by the priests, as was his wont.

My father went out of his way to give succor to many a needy patient by doling out expert medical help, along with money and personalized services besides shelter, food, etc. My father rose from humble beginnings, and through his sheer conviction and perseverance became a medical doctor around the time India got independence. He was about five feet tall and wore 'unassuming' but traditional clothes at home. When patients strayed into our home for the consults instead of the regular hospital, he used to make them sit in our front room acting like an usher. After dressing himself elaborately in tie and white shirt he would go back and announce himself as Doctor so-and-so. For him work used to be real worship and he never tolerated the faults of his colleagues.

His library consisted of diaries, bounded snail mail saved from his childhood days along with the bills and receipts, a Merck manual, and Hindu prayer books. There used to be a copy of bible and some astrology books with his own scribbling on them. I am skeptical about his interest in the latter, for I never saw him forgiving anyone totally, nor followed any auspicious moments to begin anything new.

In his opinion, if a man or woman had faulted in his case, there should be no room for clemency from him, and reconsidering his opinion on them would be a bigger sin by itself. But when the time comes to help them he would forget the list. No one had the gumption to question his logic.

He had his way to the last till he was in his seventies. He refused to go to the hospital to get examined for his health. He used to say that he himself was a doctor and the god-like persona in him corroborated his self-diagnosis. On one late evening he stepped out of my home with the aid of his walking stick to crosscheck with his doctor friend at the latter's clinic for his suspected gastric pain and succumbed to his heart attack in the ambulance on the way to a bigger hospital. In his mind he was an Alexander and Asoka in one. He never owned a vehicle or house, but he never deprived himself of good food and minimum comforts. He was a common man with great intellect.

He saved many lives by pulling his patients out of near-death events as an anesthetist. To him god was an entity supreme only in the mind and all those serving Him must be His agents on board.