Pankajam. K. Sum and Substance, Authorspress, New Delhi, 2014, Price Rs 200/-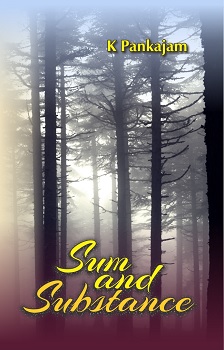 It is a welcome development and the most desired on too. Now Indian poetry written in English has been undergoing a paradigm shift in the choice of subjects, imagination and expression which are near our cultural ethos. The contemporary actuality around us has been the basis of thematic content. The language is English but the imagination is Indian. Poems written in English are about our culture and our way of thinking..

Sum and Substance the title of this collection is not yet the summum bonum since it is not the end piece. The pith and quintessence may appear more piquant in further efforts. As a poet goes along the freshness of feeling may reveal further depth of understanding, poetic imagination and expression.

The first poem Sum and Substance is about the delectable quality of words which have fragrance, coolness, smiles, caressing in a life like a flowing river.

'Words are like feathers
dropped by birds
to remember you were here;
love, like forest breeze
scented by sandal trees;
smile, the summer showers
patting, cuddling, caressing
and life, a flowing river
carrying all the silts at its depth.
'Sum and Substance.

Poets are sculptors too and what they sculpt in words in the past, present and future surely live longer than the poet in flesh and blood.

if they survive in all the three
they live longer than me.
'Sculptors',

The nature of love it is to know what goes on in the loving one's mind. Knowing that brings the other party in the duo a very sweet, pleasant feeling called surprise.

I kept gazing at the sky
thinking if I could buy that earring
the one I could not pay for.
Responding to a loving pat
and a birthday gift nicely packed
I opened it to my pleasant disbelief
How could he guess my wish so precise?
'Surprise'

This poet has set an example by displaying the theme statement right under the title of the poem. Under 'Resolutions' is the theme statement (We all have the same 365 days in a year. The only difference is what we do with them.), under 'Three in One' (The race is not over, because I have not won.) Persistence is a positive quality in putting forth effort till its fruition. Under 'Faith' there is this: (Sorrow looks back, Worry looks around, But faith looks up!) The conclusion of this poem is memorable.

It's there in the
firmness of the first step
for journeys to alien lands
and our expectation of a daybreak
after pitch-dark nights,
while our existence next moment
seems beyond prediction.

'The Pipal Tree' has the statement of St. Bernadette of Lourdes as an epigraph -
(For those who believe an explanation is unnecessary. For those who do not believe an explanation is impossible.) This is the finest of the poems stating the faith and practice of our women folk. The Pipal is the child-bestowing goddess. A custom in our tradition is presented here:

women circumambulating it
with prayers for offspring,
hang cradles on its branches.
Its heart-shaped leaves
napped in the sea breeze
dwell with loads of faith
unaware of the stories behind.

'You are (not) a Working Woman' is a poem about the way the un-salaried women undergoes trudging drudgery with no let-up. The poem is a graphic portrayal of the housewives who are supposed wrongly to be workless for the simple reason that they do not bring home a salary on the first of every month. It is only a woman who can bring this to the fore to educate male lords and even wrong-headed mothers-in-law.

Mother's Grief is a poem which makes the pain of the mother intense and unbearable.

Earth beneath, mute
receives cadavers,
but can't peep into
a mother's heart.
The place
her little one rests
is sacred to her.

In 'What is in a Name?' the poet brings in the significance of the name referring to Hindu deities: the lotus the seat of the Goddess Lakshmi and then takes the reader to Lord Shiva:

A flower in whose velvety petals
Lord Shiva took asylum, morphing into a bee,
to escape the wrath of Saturn,
that adds to its divinity.

'What I Overheard' is an enthralling dialogue.

Wind: How do you look so gorgeous?
Jasmine: The delight of others gets reflected on me.
Jasmine: How do you blow so gentle?
Wind: The melody of mine I want you to enjoy.
Sea: How can you sing and dance all the while?
Waves: Feel great in amusing the viewers.
Waves: How do you look bluish and beautiful?
Sea: I am happy taking away the viewers' grief.
Cloud: Why do you chase me till I dispel?
Wind: I want you to be blessed gifting life to all.
Wind: Why do you change colour and content?
Cloud: The aim of my birth is so fulfilled.
Sky: Why do you take flight to the skies?
Birds: The flap of our wings fills music in the space.
Birds: Why is your space so open and still?
Sky: It appeals to be modest even at this zenith.

The speaker describes her passion for the daily newspaper in the poem 'Before the Ink Dries' is about the normal first thing almost all of us do in the morning. She says

I grab the day's newspaper.
Words smelling fresh ink
plead for my eager watch.
Do they speak to me…?
Yes, I hear them.

'The Music of Soul' has this as an epigraph. – 'You don't stop laughing because you grow old. You grow old because you stop laughing.' (Michael Pritchard) Here is the poet's advice:

Roll on the floor like a child and laugh,
let the silver bells drop and clang
till your belly aches and you gasp.
Your mirror will show you soon
roses on your cheeks in bloom,

The merit of Pankajam's poems is in their simplicity and most of the time she makes her reader a listener listening to her intimate personal feelings trusting that the reader loves to listen to the poet's feelings and experiences with affectionate concern. There is humour and good understanding in human weaknesses too. 'Bus Journey' stands testimony:

In peak hour metro bus journeys,
flanked by people like sticks in a matchbox,
keep an eye behind your back,
make sure the one behind is not a pervert.
You may be caressed for free
target bare skin, an open massage,
and at that moment
you can't but envy the women in burqas.

Usually all of us wish that we walk back and become a kid but unfortunately Time has a one way movement. 'Language of Childhood' is a poem revealing that one can never become a child again for the simple reason that one has no grace or ability for that. We have lulled our feelings to sleep or even stopped to think of them accepting certain things are not true. The poet speaks about signboards and we don't think of the possibility to act some way. Many of those public notices are noted in this poem for the readers to grin and bear them. "May I help you?" "In Case Of Emergency Please Contact ______"

"No Entry", "Drunken Driving Is Punishable" "No Entry".

The poet has a good sense of humour and she displays it sumptuously. 'Rain Skills' makes the reader giggle that these experiences are not giggle-worthy when they have to be experienced in the first person:

Step in cautiously with toes first
and then drag your legs slowly
one after the other, as if injured,
else you may soak fully
or even nosedive into their open cracks.
And once you reach home
don't forget to check the wet shoes
now twice in weight
whether they are good enough
to bear the same ordeals the next day

'A Monument' is a chair used by the speaker's father long ago dead. Sentiments have their place in life for those who have the habit of cerebration. The bereaved woman holds the chair dear:
She sits by it every day, wipes it with her own cloths(sic),
her way of reverence, to last till the day of their reunion.
…the chair has become
a monument filled with memories and sentiments.

A married woman's daily household chores are innumerable and 'Morning Blues' are part of a housewife's every day living. Almost all the poems are fair-sex based or related. 'Sum and Substance' is a little compendium of feministic tribulations, the small beauties and pleasantly laughable situations in the actuality of a modern woman's life in our country. The poet ranks high in the domain of women's poetry.