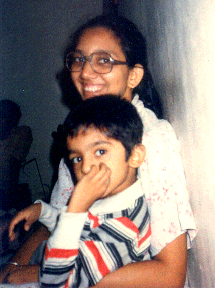 "Apne Jaaye Aap Paalo" thus in its message of blessings, is a protective shield to make our marriage and in turn family a happy and harmonious place. The saying is also a challenge, in that it compels us to be accountable and responsible for our role as parents.
These are the concluding lines of my father's article on the meaning of marriage, and an opening to a world of wonder for his beloved daughter.
The role of parents in today's society, whether it be here in America or there in India or anywhere, is more important than it ever was before. Today, teenage starts at 10 rather than 13, sex is a matter of fashion rather than purity and love, and adulthood is primed at the innocent age of 16 or 17. For me, watching the world change so suddenly is amazing. It was only 7 years ago that I was entering my teen years. Here I am at the brink of full-blown adulthood and I fear for the life of my kids. Little girls, who should be playing with dolls, are putting on make up and tight clothes, couple dancing in the midst of Lincoln Cente's Midsummer Night Swing. Is this what our parents had in mind for the 21st Century?
I am pro active parenting and knowing what your kids are all about. My mom used to watch Beverly Hills 90210 and Friends with me just to keep up with the world and keep up with her children's way of life and thinking. She always knew what kind of music I was listening or what kind of movies I liked. My mom and dad never really stopped me from doing anything, but they always drew a line. A solid line of bounds, which, if ever crossed, would bring severe damage to the energy of our house. This is one of the most precious gifts my parents have given me - the art of drawing a line.
Today's parents treat their children like they are adults, and then wonder why the youngsters behave the way they do. They forget about that very important line, one which their parents had drawn for them. You give them an inch and they want a mile. You can't give them a mile and expect them to take an inch. Where is the logic in that? The other day, at a beauty salon, I watched a 7-year-old child yell and scream at her mother for having treated her father with disrespect. I never dared talk back or utter a word of insolence towards any of my elders, until I was 17 or 18 (that's when I thought I was all grown up). I sat there in awe and watched the two at work. Somehow, I was the only one there who did not blame the child. Though my silence could not be broken, my heart definitely was.
Is innocence really lost? Are we a gone case? Will our children face the horrid of the 21st Century? I think innocence can be found in Love. My parents love my brother and me extraordinarily. They never lifted their eyes from our lives. They never selfishly neglected us. Because of their love for us, we were able to become who we are today. Love brought my parents together, and love made my brother and me. Love allowed them to grasp their responsibility and thrive with it. Love made them the best parents a child could ever have.