Recently I had visited to Ahmedabad after a long gap of almost twenty years and well before this visit, I had resolved to pay my homage to Sabarmati Ashram too during my next visit to Mahatma Gandhi's Gujarat. So there was no way that I would return empty handed without visiting to Mahatma's favourite place where he spent for so many crucial years of his life.

Going by the history, the Ashram was formerly known as Satyagrah Ashram and is located at the Sabarmati suburb of Ahmedabad, Gujarat on the banks of the river Sabarmati. Gandhi had stayed there for several years (1915 to 1933) and the place was a witness of many historical events. For illustration, it was from this place that he started the famous Dandi march that is also known as the 'Salt Satyagraha' in the modern history of the British India. The Ashram was established by Gandhi with the stated twofold purposes of search for truth and creating a non-violent group of workers to secure freedom for the country.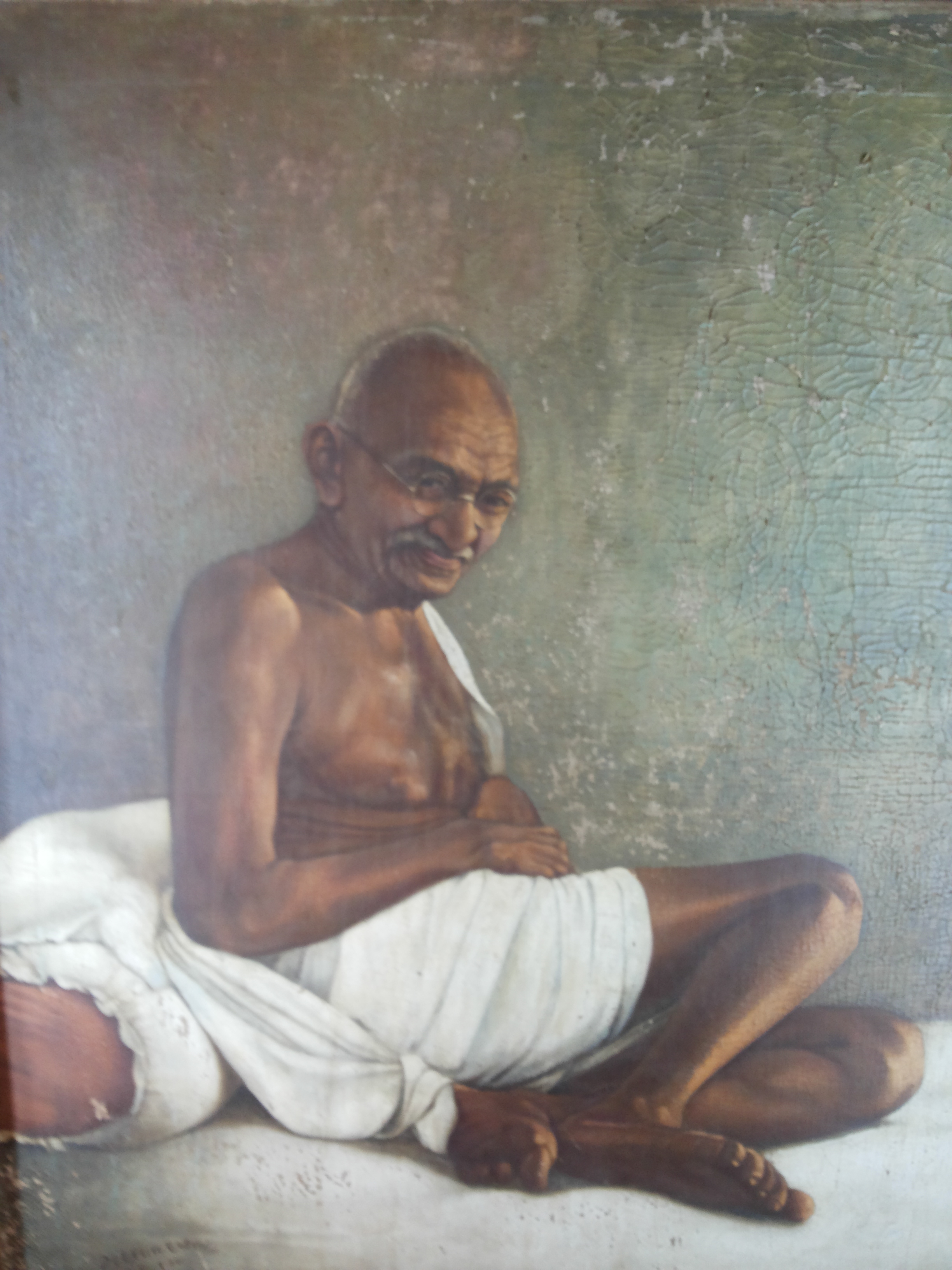 1. Gandhi in 'Hridaya Kutir'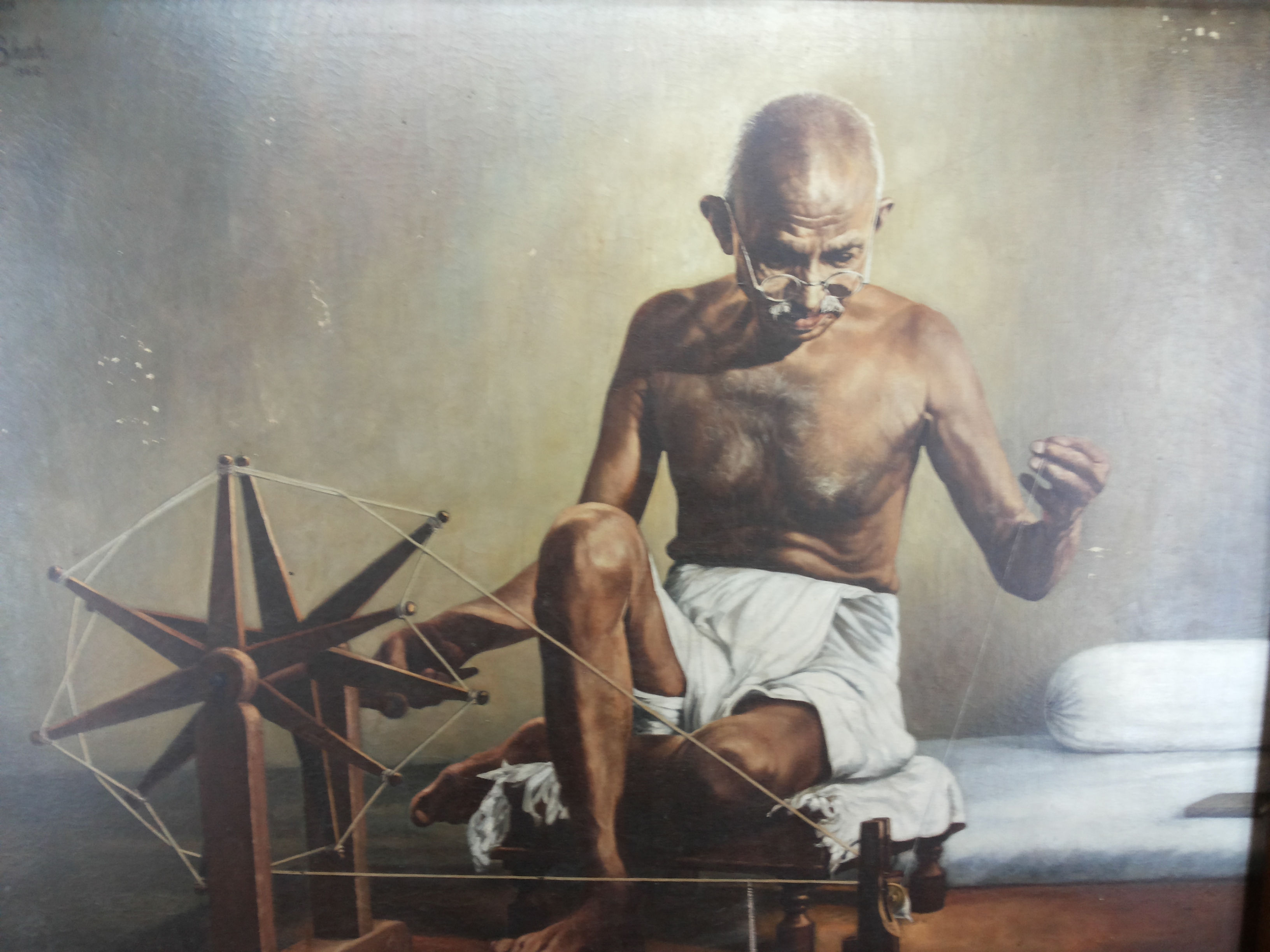 2. Gandhiji spinning yarn (khadi) on his favourite charkha
As I had kept sufficient time in hand, I reached there around 10 AM and spent more than two hours to go around and observe almost every point of some interest. Apart from Sangrahalaya (Museum) which of course is of major attraction, the other buildings of significance included Hridaya Kunj, Nandini, Vinoba Kutir, Upasana Mandir and Magan Niwas. These buildings and structures are basically of ordinary and humble origin from architectural angle and their significance is mainly on account of the historical legacy.

Hridaya Kunj is a small cottage of historical value where Gandhi used to live during his long period of stay of almost eighteen years. One can see some of the personal relics of Gandhi meticulously preserved such as one of his khadi kurta, a yarn spun by him, a writing desk and a few letters. Not a very impressive structure as such but it gets significance because of the reverence with which Gandhi is remembered in independent India.

On the right hand side of the Hridaya Kunj is located another small building, the old guest house Nandini, where Ashram guests and visitors from other parts of India and abroad were lodged during those days.

There is yet another cottage of significance viz. Vinoba Kutir named after Acharya Vinoba Bhave who used to stay while in Ashram. This kutir was later also called Mira Kutir after Miraben who was a famous disciple and associate of Mahatma and the daughter of a British Rear-Admiral.

Then Upasana Mandir is an open-air prayer ground located between Hridaya Kunj and Magan Kutir. This was a site where reportedly after offering his prayers, Gandhi used to listen to individual questions or doubts of his followers, analyze it and give his solution of their queries. On one side of it lies another small building namely Magan Kutir where the Ashram Manager Maganlal Gandhi used to stay.

Of course the most important part of the Ashram is Gandhi Smarak Sangrahalaya (Museum) where I spent the maximum time. It was completed in 1963 as designed reportedly by an architect namely Charles Correa and inaugurated by then Prime Minister Jawaharlal Nehru on 10th May, 1963. Currently, it has five units, library, photo-galleries and auditorium. It houses several life-size oil-paintings and exhibition of rare photographs and letters collections on Gandhi's life.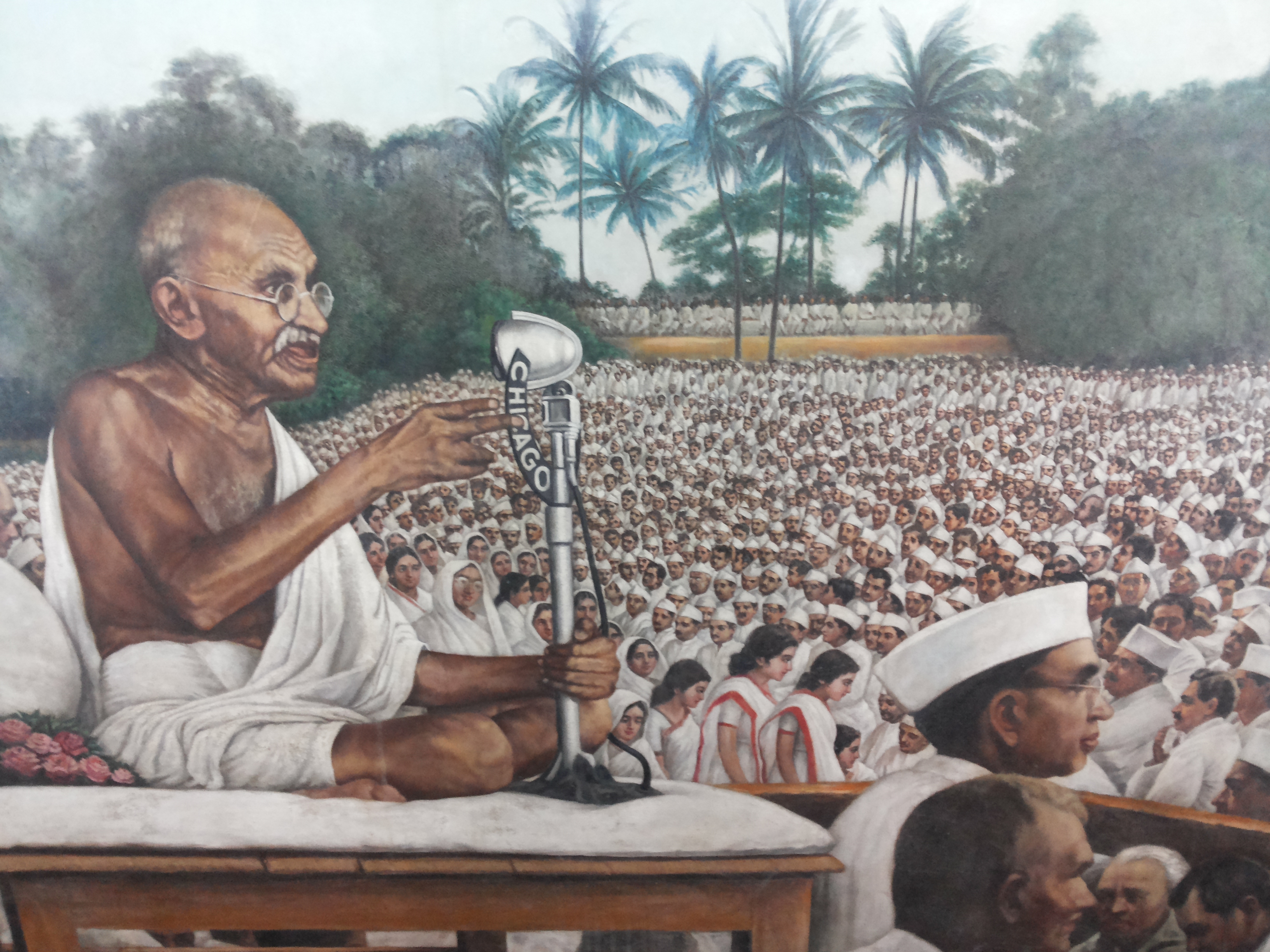 3. Gandhiji addressing his followers at Upasana Sthal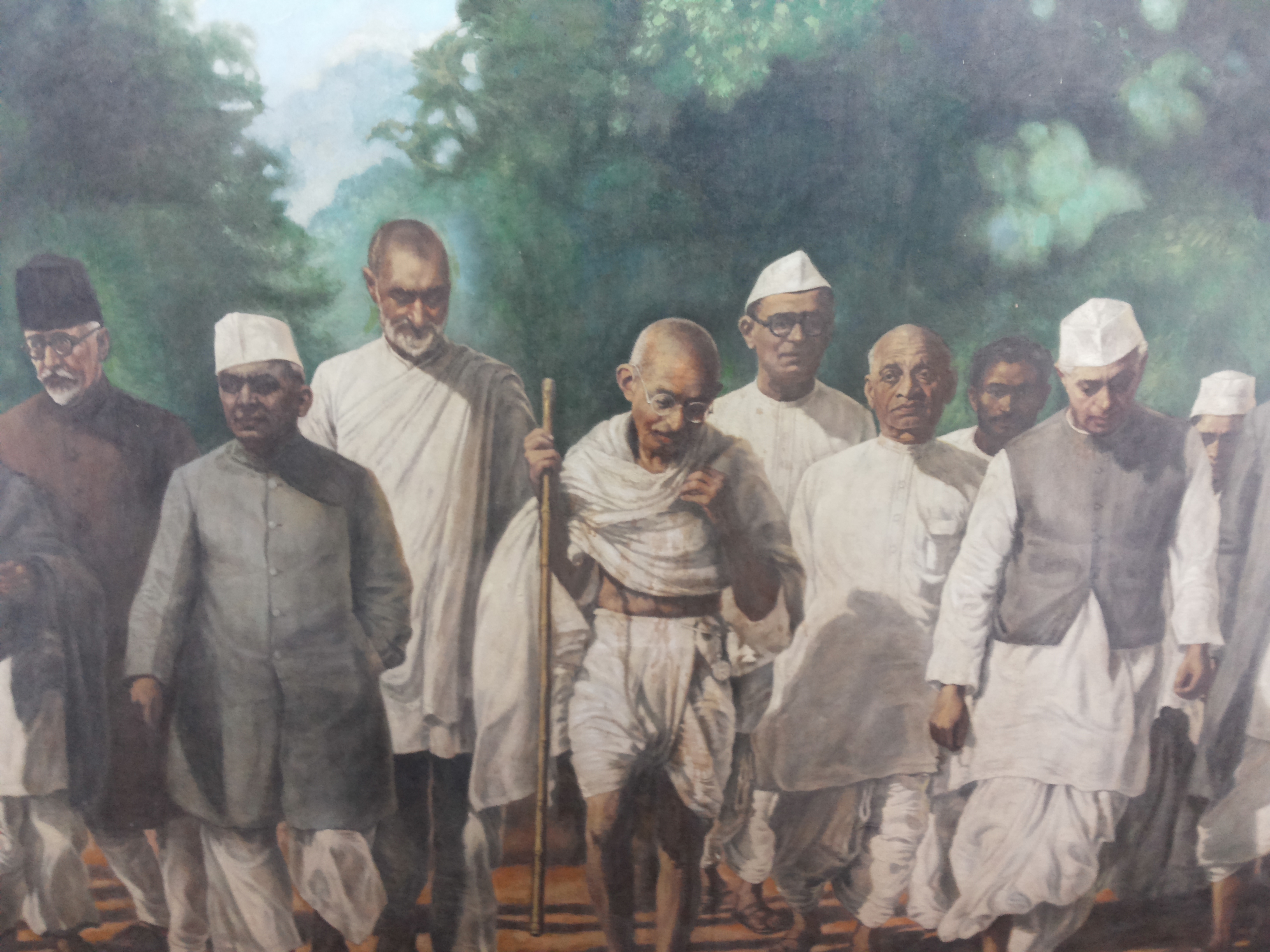 4. Dandi march - Gandhi and his associates
Reportedly, the museum houses nearly 34,000 letters of Mahatma Gandhi, over 8700 pages of manuscripts of his articles and over 6,000 photographs of Mahatma and his associates, a large number of microfilms of his writings and films on Gandhi and freedom struggle. Besides the museum also houses memorabilia of coins, postal stamps etc. I was really impressed with some of the paintings and photographs. The library has a collection of about thirty-five thousand books on variety subjects like Gandhi's life, his work and teachings, events of the Indian freedom struggle and allied subjects and numerous letters (over 150) of felicitations received by Gandhiji.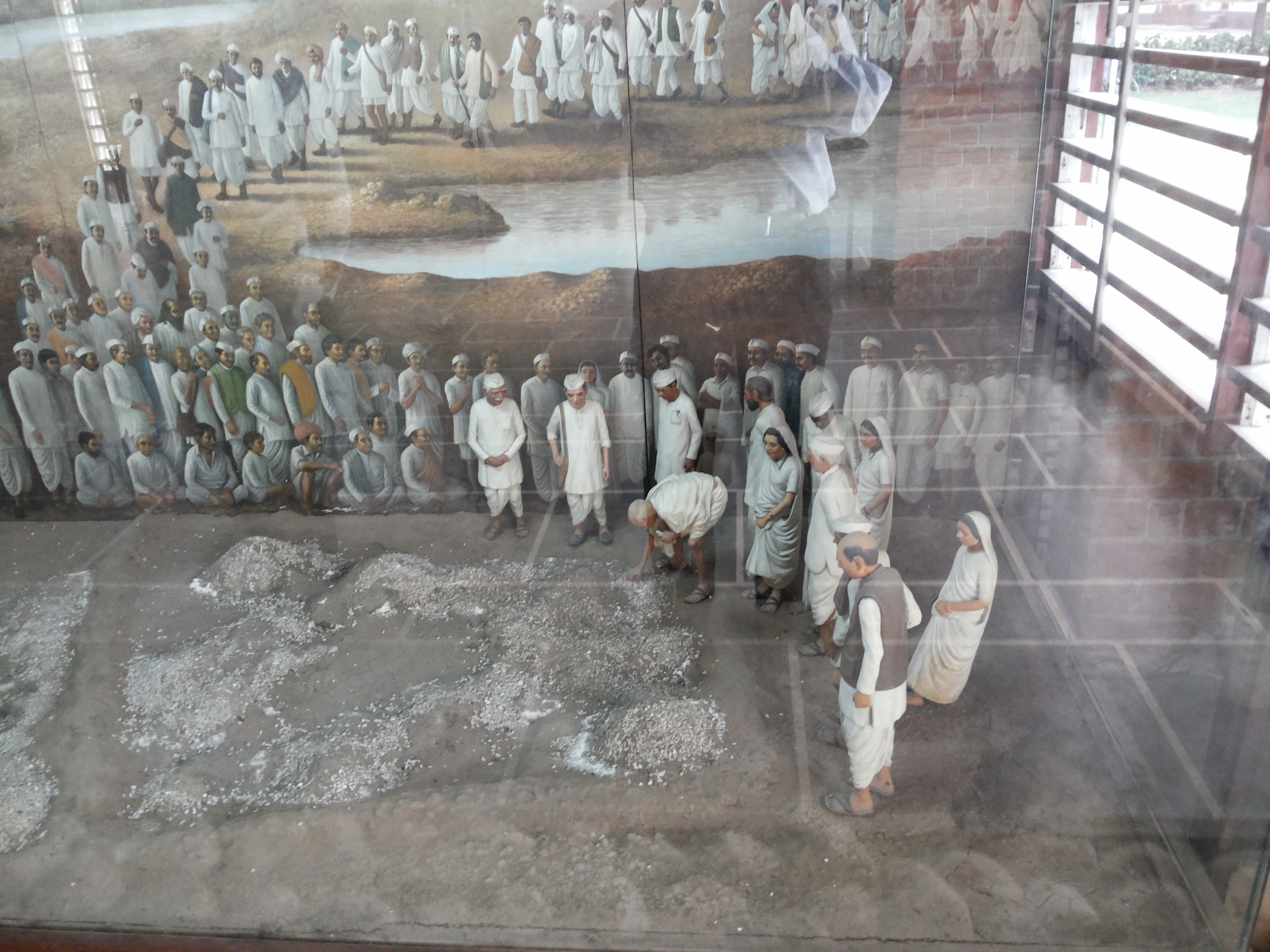 5. Salt Saytagraha - Gandhi breaking salt laws with associates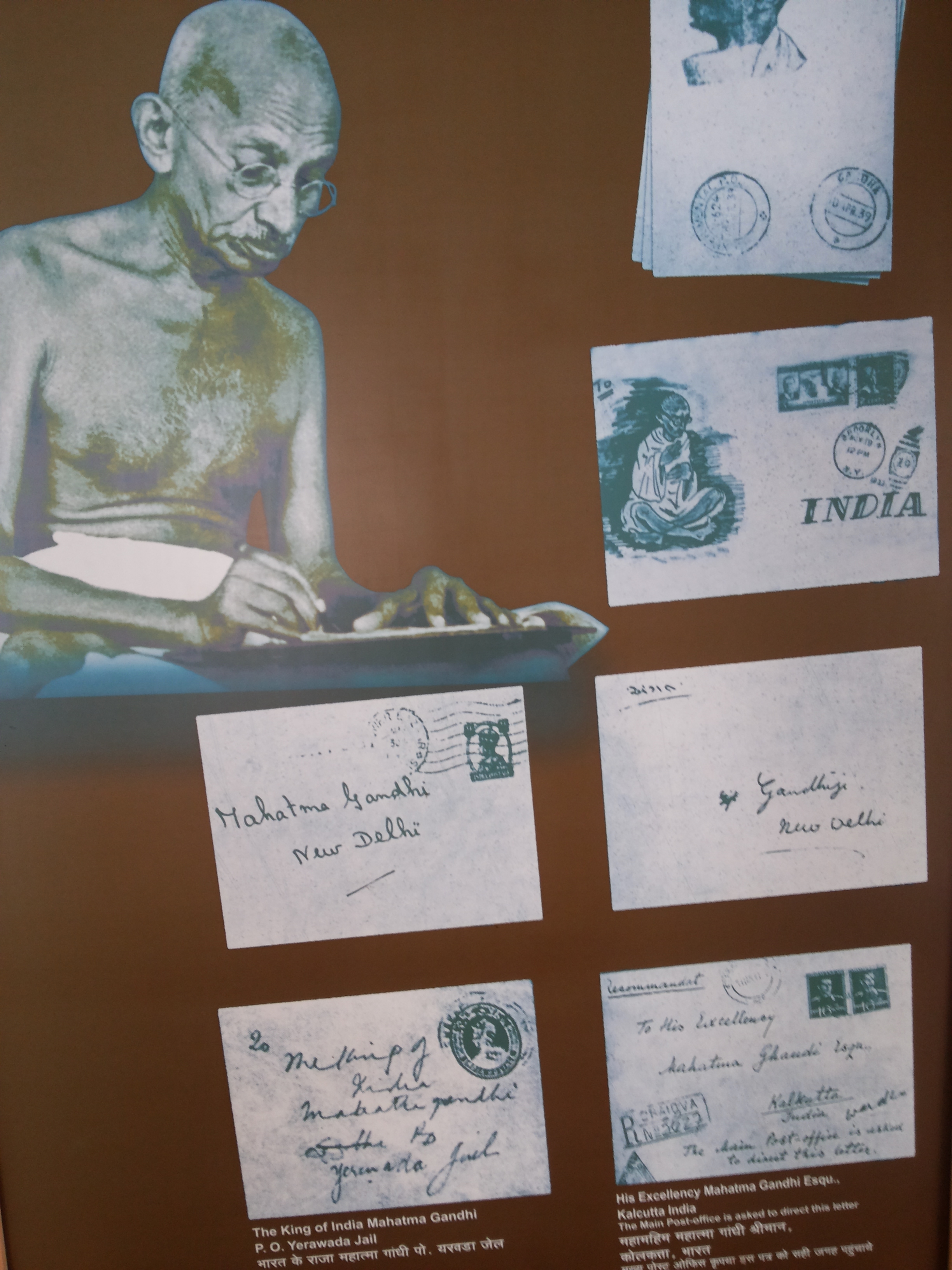 6. Gandhi's Memorabilia
The Museum opens at 8.00 AM to 7.00 PM for visitors on all days including week Holidays and entry is without fee. As informed by some Ashramites, the Ashram is visited by about seven to eight lakh people annually. Some of the priceless possessions in the Ashram include the charkha used by Gandhi to spin khadi as also the writing table used by him for writing letters and articles. The Ashram activities include collection, processing and preservation of archival material, microfilming, lamination and preservation of negatives, arranging exhibitions on Gandhi's life, helping the study and research on Gandhian thought and philosophy, and so on so forth.

During the visit, I didn't carry a good camera but was tempted to take a few mobile photographs of some of the oil paintings, Gandhi's quotes and opinion on some the contemporary subjects, photographs of Dandi march and some memorabilia. Quality of these photographs may not be up to the mark yet I am tempted to share some of these rare photographs and his thoughts with readers as mark of my respect to the revered Father of the Nation.

On Democracy

My notion of democracy is that under it the weakest should have the same opportunity as the strongest...No country in the world today shows any but patronizing regard for the weak. Western democracy, as it functions today, is diluted fascism…True democracy cannot be worked by twenty men sitting at the centre. It has to be worked from below by the people of every village.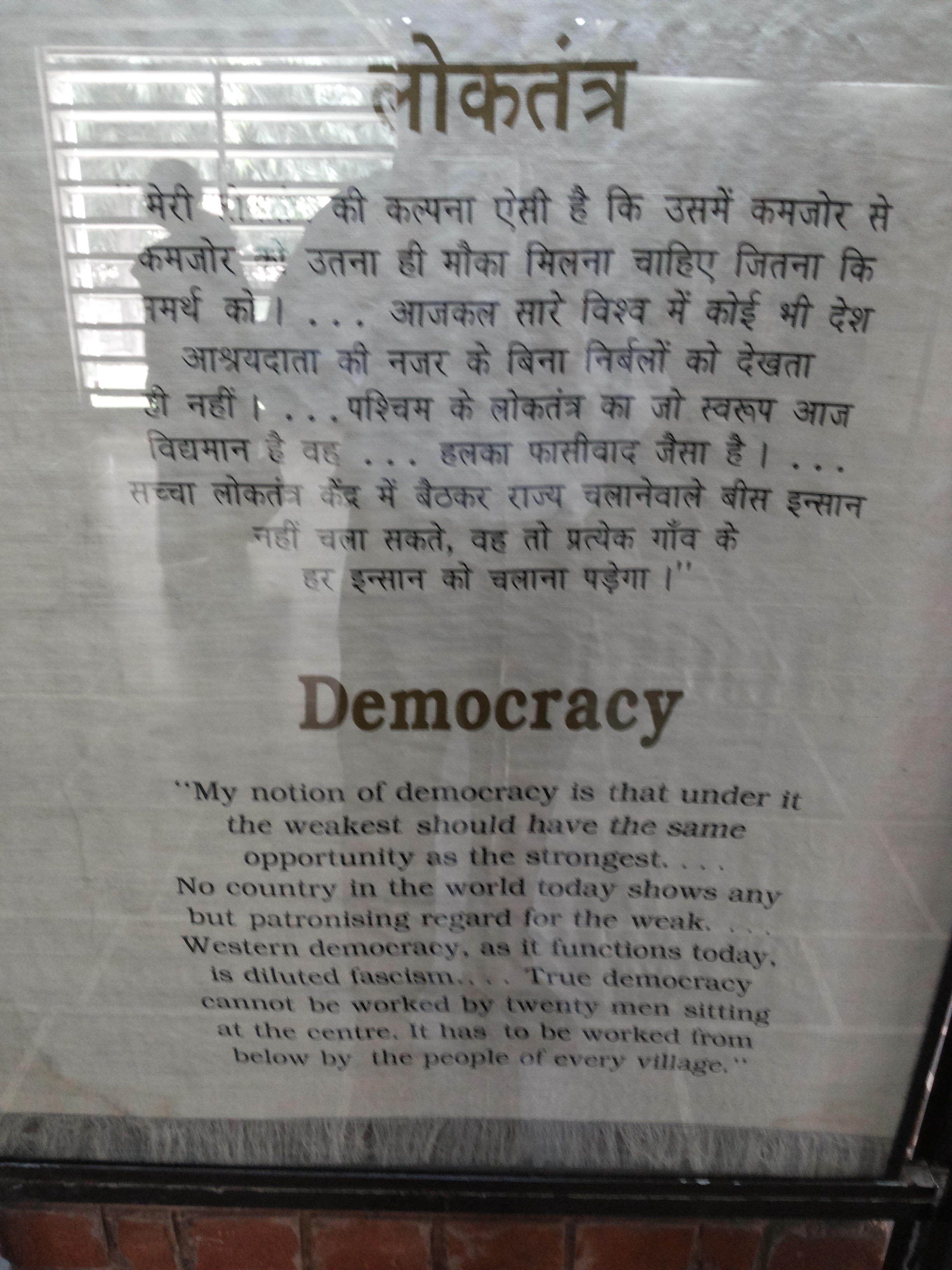 7. Gandhi on Democracy
On Economic Justice

The economic constitution of India and the world should be such that no one under it should suffer for want of food and clothing…just as all have, or should have, equal rights to air and water…Their monopoly by any country, nation or group of people is unjust.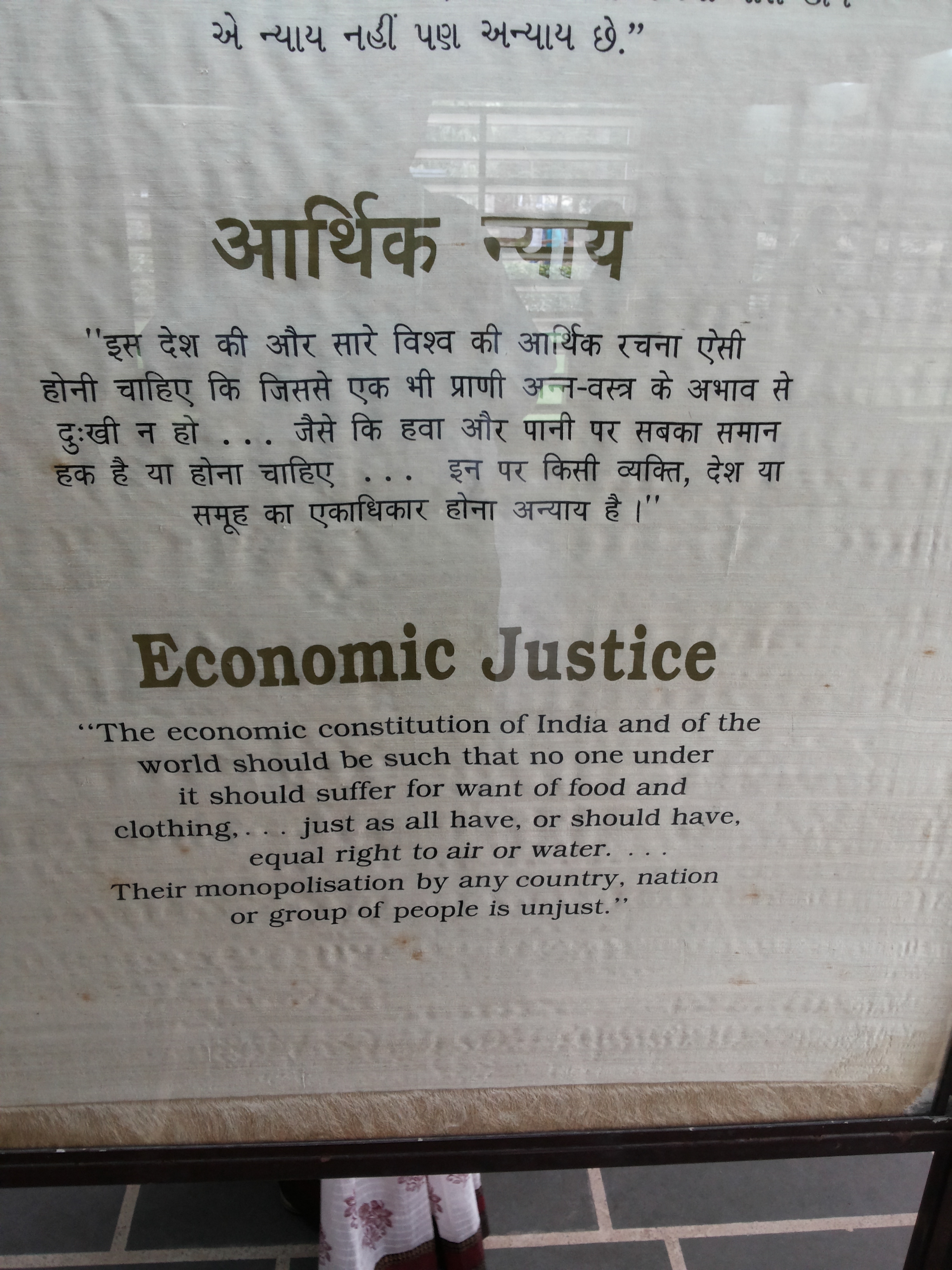 8. Gandhi on Economic Justice
On Civil Disobedience

Civil disobedience is opposed to criminal or immoral disobedience. Civil disobedience, therefore, can be confined only to those laws which do not carry any moral sanction…But a Civil Resister will hesitate to commit any attack upon the right of other…A civil Resister will therefore not impute motives but examine each act on merits. Civil disobedience is therefore based upon love and fellow-feeling.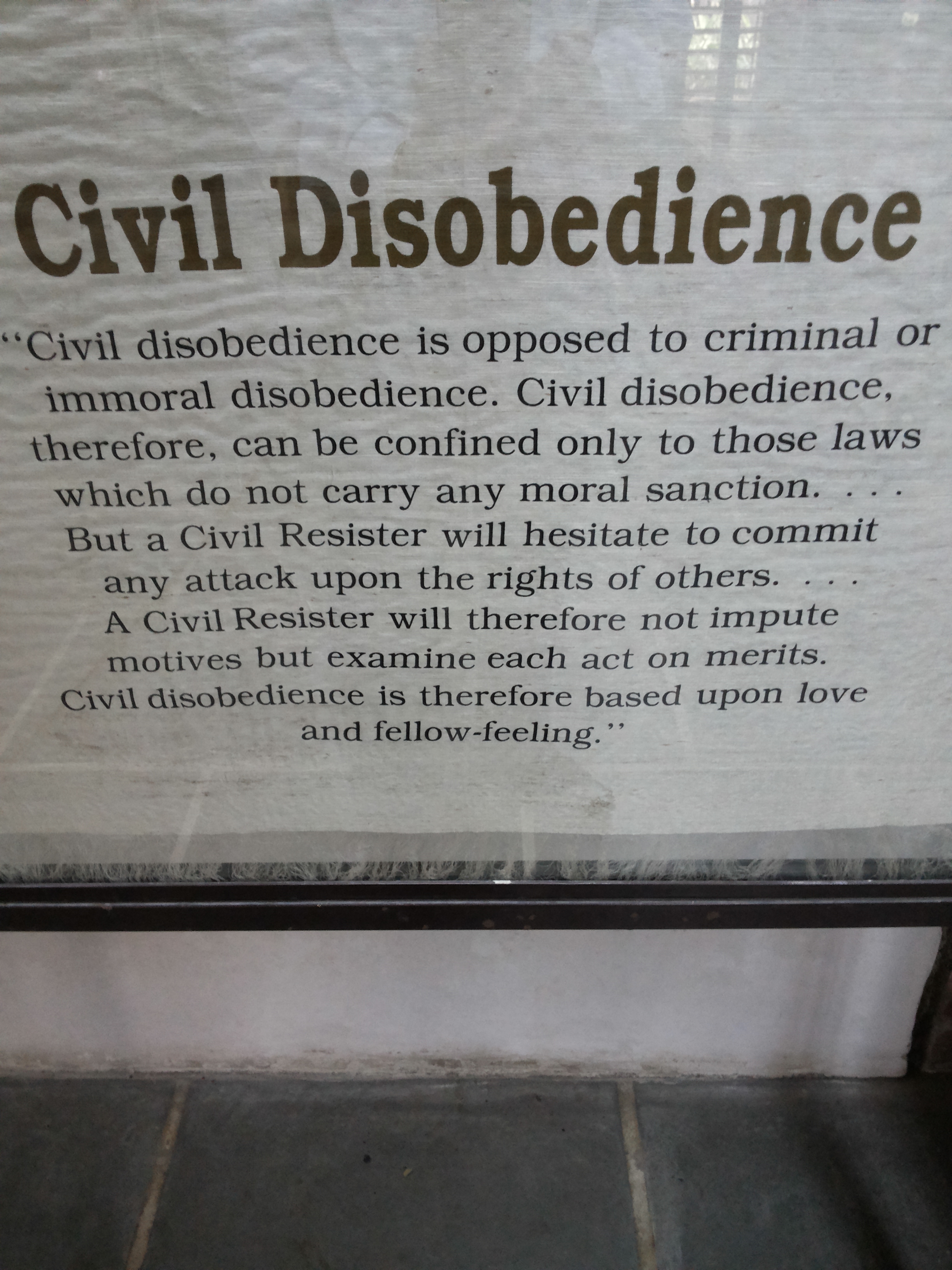 9. Gandhi on Civil Disobedience
On Civil Liberty

I do not want my house to be walled in all sides and my windows stuffed. I want the cultures of all lands to be blown about my house as freely as possible. But I refuse to be blown off my feet by any.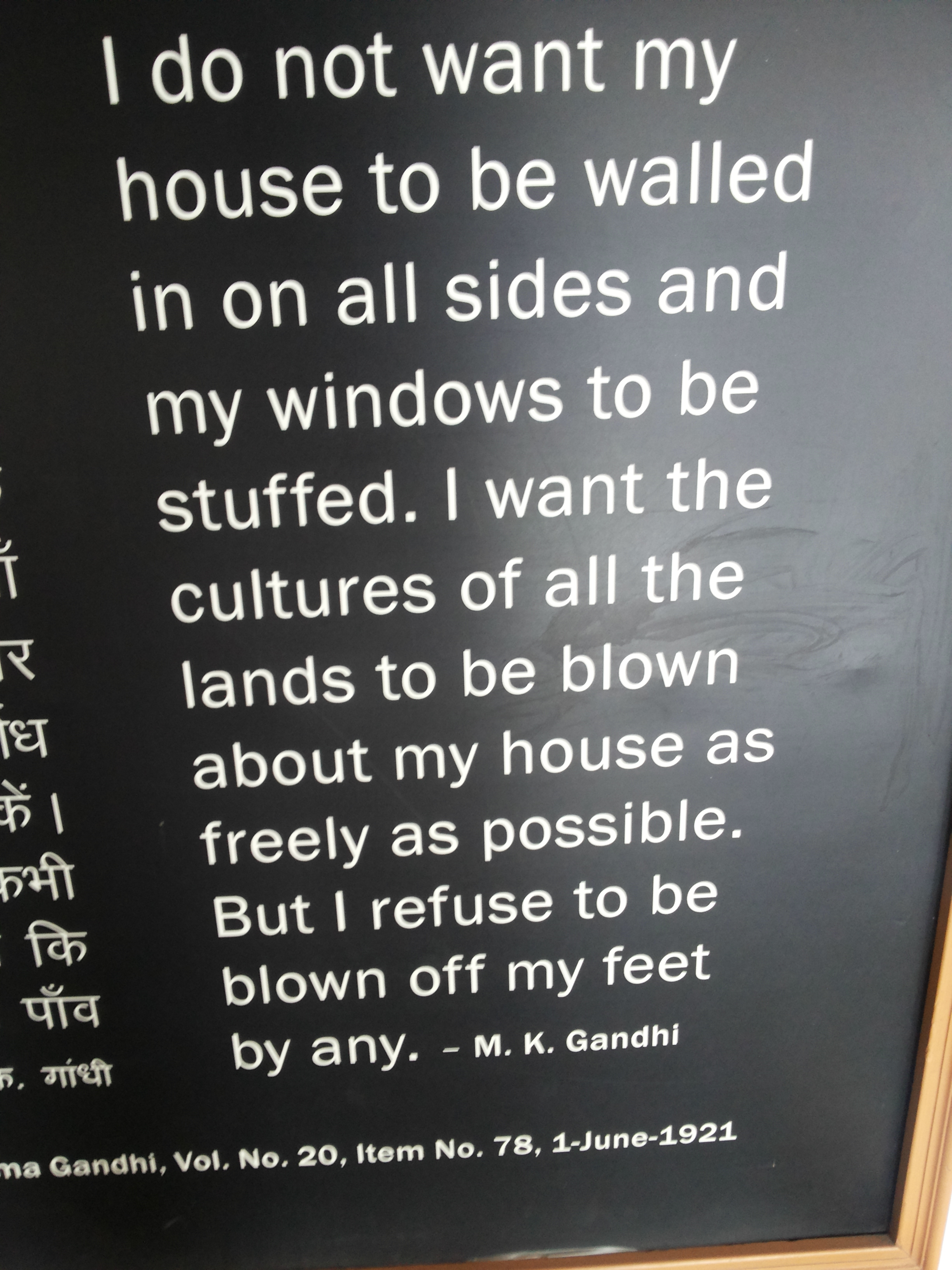 10. Gandhi on Civil Liberty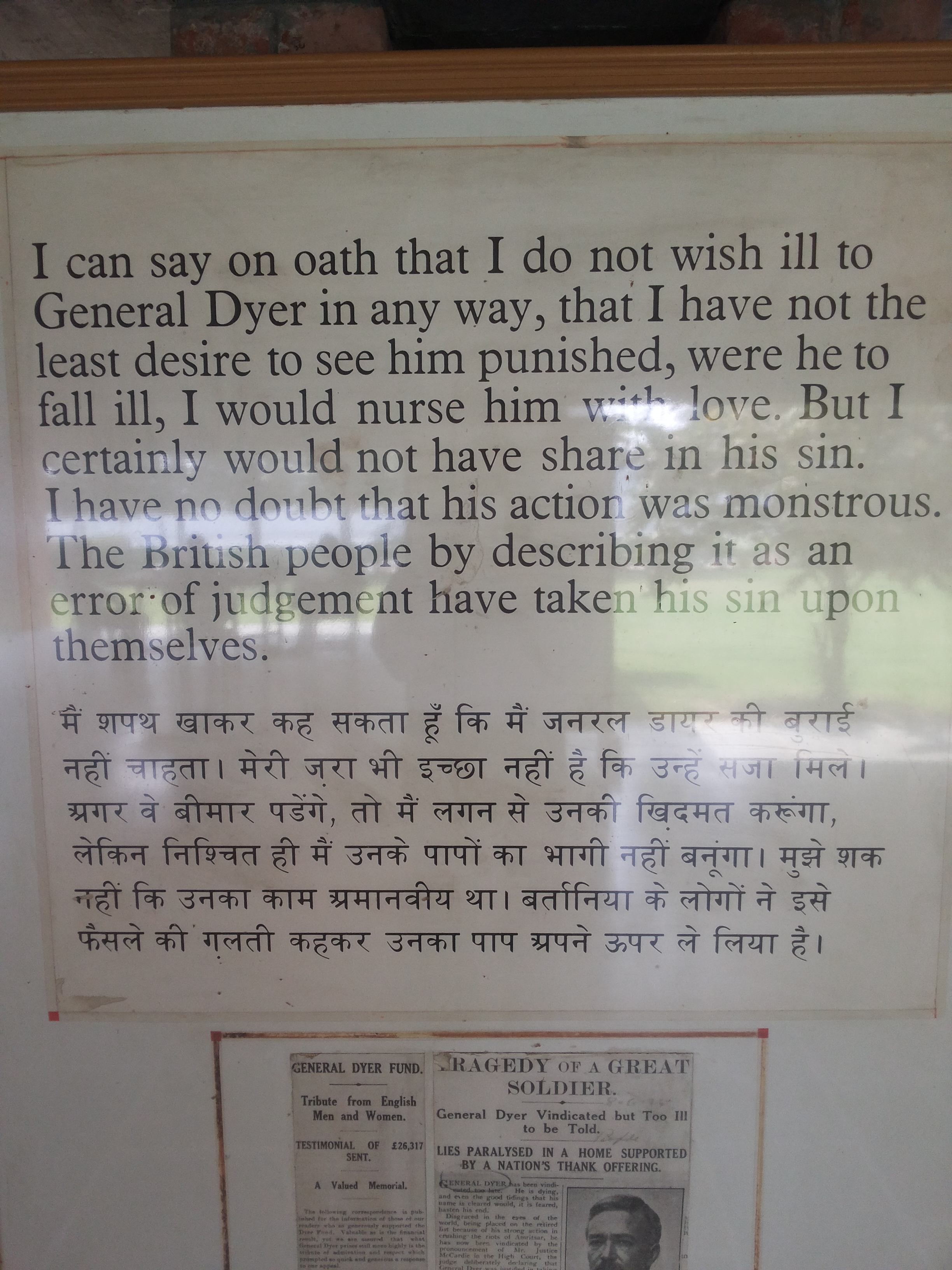 11. Gandhi on Sin and Sinner
On Sin and Sinner
(After Jallianwala Bagh Massacre)

I can say on oath that I do not will ill to General Dyer in any way, that I have not the least desire to see him punished, were he to fall ill, I would nurse him with love. But I certainly would not share in his sin. I have no doubt that his action was monstrous. The British people by describing it as an error of judgment have taken his sin upon themselves.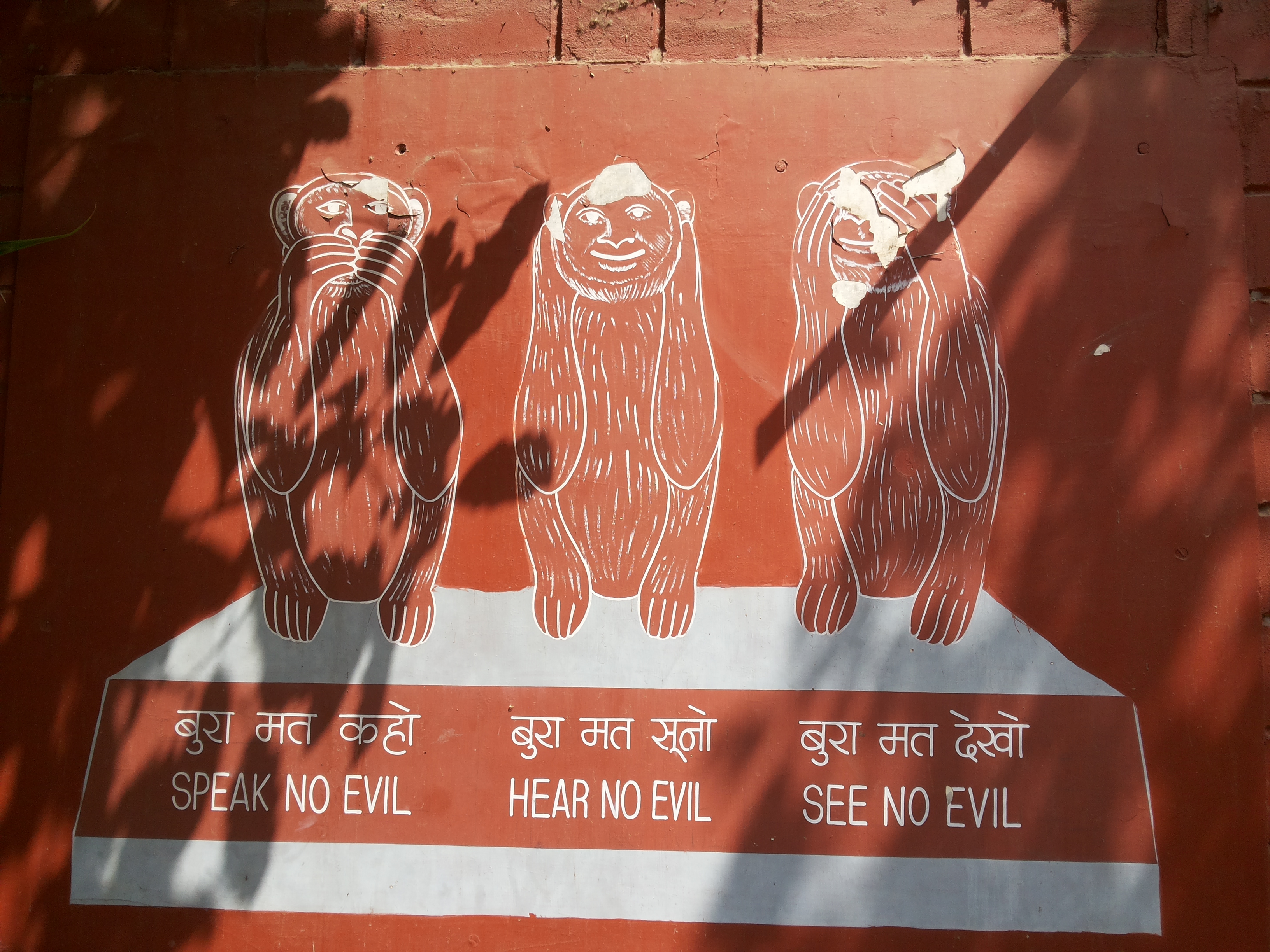 12. Gandhi's famous three monkeys
Foregoings are the illustrations of some of his numerous quotes and thoughts on variety subjects that only vindicates greatness of his soul and why people world over hold him in high esteem. Then who can forget his famous three monkeys with 'speak no evil', 'hear no evil' and 'see no evil'. While talking of revered Gandhi's Sabarmati Ashram, it may be unfair if I do not mention a bit about the modern city of Ahmedabad and the Sabarmati river. While Ashram has not changed a bit over a period, the city and river has experienced almost a transformation with the time.

The Sabarmati river is one of the major rivers of Gujarat. With its humble origin in Dhebar lake in Aravali range of Udaipur District in Rajasthan, it runs south-westerly through the part of Rajasthan and a major course in Gujarat ultimately flowing into the Gulf of Cambay in Arabian Sea, with a total length of about 370 Km and a catchment area of approximately 21,675 Sq Km. Its main tributaries are Wakal and Sei rivers.

Though it is still considered to be one of the more polluted rivers in India but special efforts have been made by Sabarmati River Front Development Corporation (SRFDC) in Gujarat over a period of time to develop Sabarmati Riverfront along the banks of the river in the Ahmedabad city. The Corporation endeavours to keep it clean and beautify an stretch of over 10 km in the city and surplus water from the Narmada main canal is diverted to retain enough water through the stretch perennially in the otherwise seasonal river basin.

Today Ahmedabad is among the fastest developing and the largest city in Gujarat situated on the banks of Sabarmati river. In the past, it also served as the state capital but in seventies of the earlier century, the state capital was shifted to Gandhinagar in the vicinity. Being a base of several industries, it functions like a hub of trade and commerce in Gujarat. An erstwhile home of the textile industry, it is coming up as a popular destination and base for higher education, information technology and scientific industries.

The city with its many monuments also reminds its great historical and cultural past. Ranked high on the scale of living comfort parameters, the city of Ahmadabad is now a preferred destination for having a home among Gujarat people as also people from other states, and this has led to massive increase in the construction and housing activities in the recent past leading to the development of roads, high rise buildings and skyscrapers.
Image copyright Jaipal Singh