Rupesh Singh's
The Wind Knocks at My Door & Other Poems:
A Synthesis of Romance and Mysticism
(Authorspress: New Delhi, ISBN: 978-93-5207-120-3.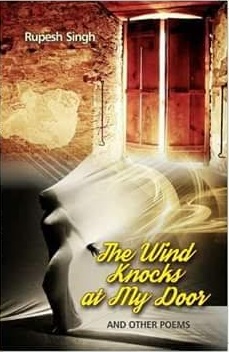 The Wind Knocks at My Door is the maiden poetry collection by Rupesh Singh who is a budding poet, a PhD scholar of English Literature in University of Allahabad. Writing poetry is a passion for him as he is writing since his teenage from16 years. He writes in English and his poems have been published in many literary journals and anthologies across India. He is greatly inspired by nature which is being reflected in his poems. In his quest for deeper truths, he is inclined towards reading religious texts not only of Hinduism but Christianity, Islam, Buddhism and other religions of the world.

Rupesh has dedicated the poetry collection to his mother with respect and dignity. He has divided the collection into two parts. The first part is entitled as 'For Love' comprising of 18 love poems and the second part is 'For God' consisting of 22 spiritual poems dedicated to God.

The very first poem of the section, 'For Love' is 'She Walks in Beauty' shows an intense love, eagerness and passion of a lover to meet his beloved. As the lines reflects:
Where have you gone? O Lovely Oleander!
I am searching for you in this vacuum and vast sky
Where are you? O' life giving sun!
My heart has been thirsty for long ages
Would you not come? Like the flowing river!
The poem though sensuous in nature also depicts a heart longing to meet his beloved. This love, longing, passion and eagerness are further carried in other poems of the section as, 'With Palpitating Breaths', 'Search of Beauty', 'Beneath the Blue Carpet', 'Without You' , 'At My Open Casements', 'The Evening Flower', 'Separation', 'I Miss You' , 'The Consecrated Love' and so on have the same theme running parallel in all the poems.

In his love poems, he has used various natural symbols like, 'comely rose', 'daffodil', 'sublime moon', 'gentle-breeze', 'nimble air', 'azure wind', 'oleander', sun', 'flowing river', 'nocturnal flower', 'tree', 'hill', 'flapping leaves', 'ocean', 'stars', , 'cuckoo', 'lark', 'piercing rain', 'red rose', 'immeasurable sea', 'fish for water', 'flower', 'tulip', 'lotus eyed', 'mellow breeze', 'fountain', 'dove', 'mountains and rocks', 'pole star', 'marigold', 'foggy darkness', ' addressing his beloved and conveying his love for her.
It seems that poet is greatly inspired by romantic poets especially by John Keats. The poet has handled the theme of love in his poems very artistically pouring his spontaneous emotions in each verse. His poems reflect life and broad humanity with a definite appeal being simple in style. He concentrates on romance and nature as his main theme in his verses which reflects his inclination towards Georgian poetry.

In the next section 'For God', each poem has been crafted beautifully with philosophical blend of mind telling us about the spirituality and divinity of life with a simple and mystical tone. This shows the philosophical attitude of poet towards life. As the lines of the poem, 'Invocation' depicts:
I do need not other pleasure or weal
All I need is your love and Bhakti
Which is perennial and eternal
And the utmost truths till the burial.
The poem is highly philosophical in tone and reflects the Indian spiritual tradition of writing poetry. It seems that he is greatly influenced by Vaishnav Cult of Bhakti movement as many of his poems seem to be based on this philosophy. The other poems of this section, 'Invocation', 'O Light! O God!', 'Divine Relume', 'Let Me Confess', 'Rekindle', 'O God!', 'My Annihilator', 'My Cuckoo', 'My God' and some other verses reflects his divine love for God and he is pursuing the almighty as a seer and a devotee.
Poet has deep love for writing poetry which is quite visible and his poems are enriched with passion and emotions. He seems to believe in emotion rather than intellect. Almost all the poems in the collection are written in free verse. In every poem, there is longing and pining either to meet beloved or to meet God. Reading love poems of The Wind Knocks at My Door is like watching a medieval romance and reading spiritual poems is like going on a mystical journey. All the poems in the collection highlight poet's imagination, feelings and mystical attitude reflected in the form of beautiful verses. As a maiden poetry collection it is highly appreciated.