Brain-rinsing
Skillful Demagogue
Times They Are A-Changin'
Not that Sudden
Diesel is the Villain
Family Fief
Bombast of the Year
To Ponder Over
Brain-rinsing
I've a long-standing fascination about the origin of words and phrases. Of late, the term brainwashing has obsessed me. How I wonder can the soft nervous tissue contained in the skull of vertebrates, functioning as the coordinating centre of sensation and intellectual and nervous activity, be washed. But that's what the term suggests.

My research led to the conclusion that the word has existed in the English language since circa 1950 and it has something to do with communism, the political philosophy that most of us in our youth hobnobbed with. So, it is a cousin of double-speak. Possibly, it has its origin in the Chinese Communist Revolution of 1948. It involved the use of extreme methods, the process known as re-education in corrective camps. Even Deng Xiaoping who really shaped modern China into what it is today, had to spend some time in one these centers to purge his thinking of undiluted capitalism.

The word, you'll agree, is heavily over-used in western society these days. But there are a lot of institutions, particularly religious ones, which apply a form of subtle pressure, and a well-honed condensed rationale, which is presented, sometimes to young and inexperienced people, offering the possibilities of some form of utopian thinking, or lifestyle. And these are said, exaggeratedly, to be guilty of brainwashing.

Is there another word, short of brainwashing which refers to organizations gaining control over people's thinking and belief systems?

Even newspapers and TV play this game, and day after day.

May I call that as brain-rinsing. Well isn't it a brand new term which merits entry into the language?

There is a well-known story (though of doubtful authenticity) about the word quiz. It's said that in 1791 a Dublin theater owner named James Daly made a bet that he could introduce a word into English language within twenty-four hours. He then went out and hired a group of street urchins to scribble the word "quiz", which was then a meaningless word, on walls around the city of Dublin. Within a day, the word was common currency and had acquired a meaning (since no one knew what it meant, everyone thought it was some sort of test) and Daly had some extra cash in his pocket.

I'm too old to try my hand. Will any one of my readers venture forth and be called, the Daly way, the author of brain-rinsing
United States is famous for campaign rhetoric in the year preceding presidential election. And why not? After all, it is one of the keys to a candidates' success to obtain the nomination of his party and possibly, spend four—even eight –years in the White House.

Whether you know it or not, there is a full-fledged scholarly study on the subject; it is called The Rhetoric of Heroic Expectations: Establishing the Obama Presidency. It grapples with these and other important questions. The author is Justin S. Vaughn.

Let's look back a little. Barack Obama's election rhetoric aimed at articulating Martin Luther King Jr.'s vision of the "long arc of the moral universe . . . bending toward justice." And after many a political convulsion following terrorism, war, and economic downturn of the previous decade, Obama's spell-binding rhetoric highlighted broad visions of a change in the direction of American life. The purpose was to create expectations that would shape the public's views of the incoming administration. That peoples' high expectations, in turn, became a part of the president's burden after assuming office, is another story.

The famous (or infamous?) December 7 "Statement on Preventing Muslim Immigration" of Donald Trump has attracted worldwide ridicule. I hear good five lakh Brits have signed a petition asking their government not to let Trump enter their country. Within the US, Trump's comments have been almost universally condemned by both the Republican and Democrats. But don't forget, whatever the fallout, Trump's real purpose has been served. It got him the publicity he was seeking and that's the aim of campaign rhetoric.

Indeed, Trump displays an arrogance and volatility that makes most voters recoil. But he has maintained – and very successfully – a grip on a segment of the Republican base that – at least, for now – seems unshakable. And that is, let's not forget, the purpose of a demagogue.

Trump is not the first demagogue in American history to have practiced what's being dubbed as playing on people's hidden, undeclared fears. He appeals to voters' fears by depicting a nation in crisis, while positioning himself as the nation's hero – the only one who can conquer America's foes, secure their borders and "Make America Great Again."

And there have been, in American history, polarizing figures like him before. Have you forgotten the names of George Wallace, Joseph McCarthy and Father Coughlin?
If you wanted a proof that the times really are a'changin, here are at least two.

Her Majesty Elizabeth II has held the title of supreme governor of the Church of England for nearly five centuries i.e., since the days of Elizabeth I. But it was only in the Year 2015 of our Lord's Grace that the Rev. Libby Lane became the first female bishop of the Church of England. Her consecration, like most things in England came amid controversy between liberal and conservative factions of the Church, which claims 85 million followers around the world.

And now to the second. Twenty women get elected to municipal bodies. Is it a news, you may ask, and a startling one at that? By itself perhaps 'no'. And yet it is unbelievable. Why? It is because it happened of all the places on the planet in Saudi Arabia where hitherto women must live strictly confined in purdah. It they stir out, it must be in the company of a male.
Most people were taken aback at the suddenness with which Prime Minister Modi chose to initiate dialogue with Pakistan to find some sort of workable solution to the ongoing Indo-Pak imbroglio. What took almost everyone by surprise was, everything considered, something was in the making for quite some time. My assertion is based on the innocuous press report of Modi-Shariff meeting at the Paris Climate. They met, it was reported for a few minutes. But look at the picture below.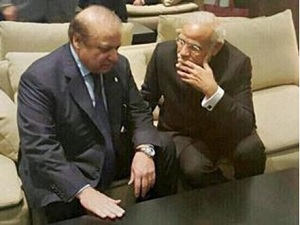 To jaw-jaw is always better
Image courtesy: Hindustan Times
Anyone who knows anything about body language will infer that it was no courtesy call to ask: "aap ka miraj-sharif". Modi seems deeply engaged in listening to the inner thoughts of the Pakistan leader. In a perfunctory meeting only cheek muscles come into play. Here both seem to be deeply engrossed to find a way out.

Modi seems to be reminding Sharif what that inveterate war veteran, Winston Churchill said "To jaw-jaw is always better than to war-war." (Incidentally, I checked Sir Mar­tin Gilbert's eighth volume of Churchill's authoritative offi­cial biog­ra­phy, "Never Despair," . It reads, "Churchill then told the Amer­i­can legislators…that con­fer­ences of this kind were vitally impor­tant, that meet­ing jaw to jaw is bet­ter than war."
Pollution watchdogs and environmentalists - and they a aplenty in the town - welcomed the Supreme Court's order calling for a three-month ban on registration of diesel cars and SUVs beyond 2000 cc. Isn't it a case of too little and too late? Given the gravity of the situation, the ban should have been made a permanent one and operative with immediate effect if the authorities want to make Delhi's air cleaner.

Over 90 per cent of those hybrid monsters called SUVs, 34 per cent of small cars and 70 per cent of large/medium cars plying on Delhi roads are diesel-driven. An assessment of air pollution by the Central Pollution Control Board found that air in Delhi was below the desired quality standards almost every day. And yet everyday1400-1500 new cars get registered.

Let's see how the powerful automobile lobby defeats the far-from-adequate remedial measures, including Kejriwal's odd-even experiment.
When Womesh Chandra Bannerjee presided over the first session of Indian National Congress way back in 1885 in what was then called Bombay (Now Mumbai) could the old chap dream that the body so created will one day morph into a family fiefdom with a life-time President? And the news that the fief was being refurbished, appeared vastly exaggerated like Mark Twain's death.

The drubbing that the BJP got in Bihar elections made it look like a rising tide that might lift all anti-Modi boats. Far from that in case at least of the Congress.

And Rahul's coronation as head of the party which has been in the works for the almost a decade, now looks like a pipe dream. Every time Sonia Gandhi planned to take a plunge, the royal family astrologers said the stars weren't favorable. You can well imagine the frustration of 69-year-old mother, Sonia, suffering from some mysterious disease. How desperate she must be to pass on the stewardship of family fiefdom and deny herself the privilege of presiding over the liquidation of the Party.
Delhi Chief Minister, Arvind Kejriwal believes himself to be the custodian general of integrity and probity in public life. And anyone who dare question this stature of his is either downright corrupt or has a as-yet-undiscovered skeleton in his cupboard.

But when he goes to Bihar to felicitate Nitish Kumar who put BJP and Narendra Modi in their place, the very first thing he does is to give a real bear hug to Lalu Prasad and raises his hand locked with Lalu's to commemorate the Bihar victory. Everyone knows Chara Chor is the second name of Lalu who now is Kejriwal's chum . Who said: a man is known by the company he keeps?

Kejriwal has long been grandstanding about his unimpeachable integrity and transparency. Can he explain why despite receiving several complaints about the alleged corrupt dealings of Rajinder Kumar, he appointed him as his principal secretary. And it has been reported that the recent raids at 14 locations across Delhi by the Central Bureau of Investigation were related to a complaint in June to the city's Anti-Corruption Branch against Rajinder Kumar by Ashish Joshi, who was summarily eased out as member secretary of AAP's Delhi Dialogue Commission. Joshi had accused him of setting up private firms and awarding them contracts worth crores without competitive bids.

Earlier, in May, Transparency International a body of impeccable credentials brought to Kejjriwal's notice the serious allegations against his Principal Secretary. Why did the Messiah of honesty chose to ignore?

And when the CBI raided Rajinder Kumar's office Kejriwal lost all sense of proportion and resorted to street level brawl by calling the Prime Minister Modi "a coward" and "a psychopath." This is not only uncivil but most unbecoming of a Chief Minister. After all, there is a method even to a politician's brinkmanship.

Given our increasingly combative politics, it is also conceivable that the conflict between the Centre and the state will only sharpen further. Kejriwal has sounded the bugle. "I'm telling you, Modiji, you have scared others using the CBI. But Kejriwal will not be scared. You've no idea what substance I'm made of. Kejriwal will not be scared."

The enchanting mix of the first and third person in what may go down as the bombast of the year, also reveals an unmistakable streak of megalomania in Kejriwal's personality.
Are whisky and whiskey the same? If not, what's the difference.