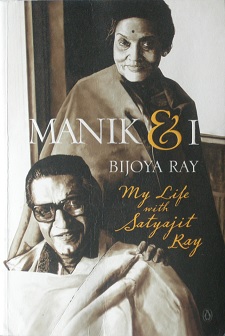 The book is a result of the diary maintained by the wife of the renowned filmmaker Satyajit Ray for over four decades. A 600 page book can be quite daunting but what makes it engaging is the easy style of the author. This is quite a personalized account.

The initial 100 pages or so dwell on the family background, the bloosoming of a romantic relationship between the author and her close relation who became her husband and was destined to become India's most famous filmmaker internationally. This segment also recount their travel throughout Europe and how Satyajit Ray gave up a stable career in advertising to concentrate on his passion - filmmaking.

Unless you're a big Ray devotee and willing to lap up every titbits on the lives and the happenings in the illustrious Ray family, the book can be rather uninteresting for a more serious film buff. For example, there is no mention of what Ray thought of other Indian filmmakers except a passing reference to Ritwik Ghatak's brilliance on the occasion of passing away of Ghatak . We do know that Ray wrote a book OUR FILMS THEIR FILMS wherein he discusses that but the book in question eschews that totally.

The book is littered with effusive praises showered on her husband barring a single mention of a relationship Ray had with a well-known actress which left the author deeply scarred.

One can discover several interesting facts though - that Ray once contemplated to make a film based on the childhood of Mozart, that once renowned director Buddhadeb Dasgupta turned his 15-minute interview session with Ray into an affair lasting more than three hours and which eventually caused Ray a heart attack ....

What comes through the pages was that Ray was quite a family man who loved his wife and son and during his last days his grandson dearly. He travelled extensively across the globe attending film festivals and receiving honors galore from various foreign universities.

It is also amazing to read that India's most famous filmmaker didn't have enough money to buy a house for himself and his family. Ray suffered greatly during his last few years on account of his failing health.

The last few pages are quite touching especially where Ray on realization that he would be gone and unable to find strength to converse kisses his son Sandip affectionately - a muted expression of farewell from his loved ones.

Overall one does get a glimpse into the life of the celebrated filmmaker and his artistic celluloid journey.