Chitra Lele, Divine Decorations, Authorspress, New Delhi, 2016, Pages 103, Paper Back, Price Rs 250/- $12/-
Divine declarations are waiting
To be found on innate meadows,
Which will overcome all shadows?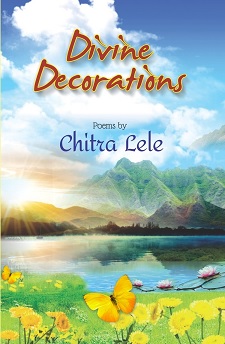 Faith is devotion and devotion faith – this is all there is to learn and realize. Meadows and shadows are just meant for reference only. The two may be the two sides of the same coin, if understood deeply. We are not unaware of child prodigies and kids who were born devotees like Prahlada, the son of King Hiranyakasipu. Young poets are known to have scaled great heights of both imagination and expression. There is a saying in Telugu – The flower exudes its fragrance the moment it blossoms. The book of poems under review is by Chitra Lele, a very young woman. The book is best opened on page 31 for judging the poet personally. The basic theme of this work is expressed in the poet's dictum in the epigraph above. There is a saying in Sanskrit: baalaadapi subhashitam. Wise words can come even from children (and such words should be accepted). This poet is young but her thoughts and words are great.

This book of five parts starts with Mother Nature's Miracles. This is a raise for the abundance of the life-giving and life-sustaining gifts of the mother dealing with the bond between Nature and Man.
Gazing at the wonders of His creations –
The rising sun, the azure waters
the striking butterflies an
the green mountain tops,
I experience endless elations.' (p.33)
Says then the poet
'Nature is full of wonder –
Worth the wandering
To discover charming miracles,
Both new and old.' (p.38)
Peace and bliss are everywhere for the saintly mind. This understanding leads mysticism. The poet is deeply thoughtful and attains realization which dispelled her nostalgia and hardships. "Let Nature be your teacher' is the outcome of intellectuality. Dreams can make or mar fine feelings and sweet experiences. For this poet,
'My dreams sing
Through all night
To shower stars, bright
And enlightened delight. (p41)

'Faith streams
On winged words—
These are angels of sunbeams
That transmute the dark extremes
To merry themes.' (p.43)
The second part Beyond Borders is about the sublime ideal – about the world as one single family. Seeking universal brotherhood is the loftiest of ideals. In 'Seamless Cohesion' the poet says:
Together we can create
A seamless world without barriers
And perennial unity without frontiers.
At the end she says this:
One is for all and all is for one is our motto.
Take my hand and walk with me
Rise to the occasion, it's not too late
To renew the bonds of camaraderie. (p.48)
There is a goal which we have to reach immediately:
The Power of One..
...All battles would be won
...All sufferings will be gone'. (p.53)
This poet sees through blood stained windows vistas of hope and says
I crave to establish on earth peace
For then barbaric acts will cease. (p.54)
She says with ecstatic passion:
These sharp, artistic swords
Sheath all precious moments
With celebrated legacies, unsaid
That are one by one and all read and re-read.'(p.55)
The third part Sacred Sanctum has a solid, well-intentioned piece of solemn advice: 'Experience new flavours of the inner essence.' The poet speaks of her inner sphere and says
'I know you are a gift from Him,
Filling me with fervent hope to the brim
I begin to discover the essence of a new me
As I re-connect with Thee' (p.59).
In 'Wholeness of the Wheel', she says that the wholeness is surreal.
It is magic circle of zeal'. (p.62)
SShe speaks of an aura too. In 'Sweet Chrysalis she says:
'The aura of sublime
Faith, extols honey of luminous moon,
Which flows out as the ocean
Of insight and devotion.' (p.64)
The fourth part Treasure Mines of the Mind there is the belief that that only through realms of the mind the treasures can be dug. It is the only way to taste the manna. 'Sunny Thoughts' are full of fertile and fecund hope.
We sun-kissed, sun-blessed souls
Know for sure we will make it
and overcome this duality split.' (p.77)
The poet also speaks of the long journey, an odyssey:
'I discover a route to golden experiences,
The seventh heaven of euphoria
And gateway to His glory.' (p.83)
The last and the fifth part Live Life with a High Five ccontains an advice that life has to be experienced in all its ups and downs. We are told:
I travel with my violet flame
That blocks the inroads of blame,
By performing unction
And granting a sense of true direction.
And there is more:
I travel with my spirit's angels
The obstacles on my way they trample.
As I get through the tumultuous junction,
They soar high in the skies of gumption. (p.87)
Then there is about the target:
'Seeing the big picture
Enlivens the future.
Do not let life go astray.
Strive to make each day the best day.' (p93)
Only intellectuality enriches devotion and fortifies faith. Chitra Lele's poems are illuminating, inspiring, faith giving and devotion sustaining. This book is for the people of serene and sublime thinking and high living.