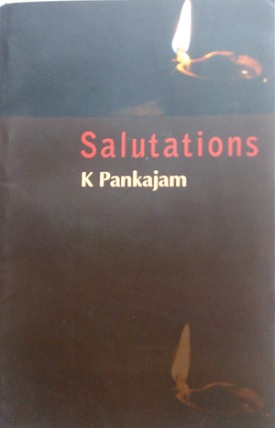 Pankajam.K "Salutations",Authors Press, New Delhi, 2016,
Price Rs. 250 $12/-, pages 132, Paper Back
ISBN 978-93-5207-215-6
'Salutations', published in 2016 is dedicated by the poet Pankajam to her teachers. Indian tradition is to worship teachers, for our salutations is to mother, father, and acharya, the teacher, in that order in the trinity. The book is offered in eleven sections.
The first section is "gurudakshina' an offering of coins in gratitude to the teacher, the preceptor. The poet's eyes brimmed with tears:
His big eyes
once filled mine
took the turns
as he placed his hand
upon my head
again making mine
well up to the brim. (p.16)
The poet feels that the teacher's delight is immense when his/her student scales great heights. When a student reaches a summit, the teacher realizes with a kind of glee
Little could he predict
the shy humble bou
who kept away from crowds,
and neutral in conducts
would conquer the heights. (A Teacher's Delight, p.17)
There is a poem in this section about a salutation offered in deep devotion. The teacher is the ladder, the tool to go climb high.
Knowledge is strength
but it can be folly without sense or graced
and the ladder that leads us to the summit
deserves to be revered till our breath last. ( Namo Vaakam Brumo. p.19)
'Kid's Corner' is an appreciation of the young one with a sense of joy beyond measure:
As I look at him
with a heart full of love
his joy
gets transmitted to me. (Beyond Measures, p.24)
Here is another poem which makes the parent sad, his age shrinks. The little one remembers seeing the local brand Barbie doll he was presented by his dad:
The kid mumbles;
"Riya's Dad is wise
He knows what a Barbie is." (Contrasts, p.26)
Here is a poem which makes the reader smile for long:
The tiny tot observes;
At one hit the coconut pisses
He blurts out: What a shame!
Didn't somebody teach
Loo habit to it
as being taught to me? (What a Shame! p.28)
The section 'You in Me' is about love at its zenith:
Hold me like a child,
the way a mother does;
caress me gently
as leaves by the breeze
… … ..
Because
You are me. (You in Me, p.31)
In this section there is a poem that is makes us think deep about life and living:
Pillows are full of secrets
'stuffed with stories of
pains and pleasures
… … …
As long as the stains are not grubby
and memories vague
couples in one boat, hopes alive.
Stories are old, as life on earth.
That many stories
as the number of bonds. (Old Stories, p.36)
Resonance is a section with poems about hope, premonition, loneliness and some other human qualities.
Carrying yesterday's hurt
I went to bed
with a broken heart.
Sleep was hesitant,
yet benevolent
to soak my grief
under its magic wings
and heal my wounds.
…. …… …
Today is at my grasp.
Let me live it to the full
till it becomes yesterday
and I step into that
unknown morrow. (Hope, p.41)
Animals have premonitions and anticipating high tides they move to highlands. The poet says:
I wish if men could
analyze premonition
before it becomes true. (Premonition, p.42)
The, there is a poem about a belief in folklore. Folklore is a treasure trove and lots of work can still be done in that area. It has deep significance since it contains ancient thinking, belief and faith. The tree is believed to be an abode for evil spirits in some places in the distant past:
Ezhilampala, the evergreen tree
with ornamental shades
near the temple
had leaves in whorls seven,
exciting white scented night blooms,
and long fruits almost touching the ground, (The Devil's Tree, p.45)
The section "Today' has an epigraph from Jose Andres Puerto: 'The modernity of yesterday is the tradition of today and modernity of today will be tradition tomorrow.' Some aspects of modernity are here:
Feminine passions get a fillip
Mehndi corners, quick make-ups
Instant portraits, free gifts; What not!
From pins to platinum sets,
sure to tempt, your or old. (Modern Malls, p.53)
Love of motherland is a trait of modern poetic expression. Pankajam offers a salutation to the patriots and expresses a devout wish for the success of their action:
Oh, the great lovers of this country
come down from your heavenly abode
to take a rebirth on this sacred soil,
your mission here is sure to succeed. (Mother India Wails, p.58)
The poet has this to give expression to make-up materials:
Glossy lips truly resemble
colour of the scraped skins
that rouse sacred wishes
in beholders' hearts
But veils from dreamy eyes
the pain of the mute subjects. (Cosmetics, p.59)
The section 'Stigma' has a telling epigraph, the saying of Jimi Hendrix: "When the power of love overcomes the love of power the world will know piece." The poet loves simple, unpretentious, natural life and living. She reminds us of Khalil Gibran taking his words as an epigraph o the section 'In Nature's Lap'. The section 'I, Me, Mine' has these words as her wish and desire:
I want to dwell here as fragrance in flowers
Wish my soul sing and fill music in the air
And words from my pen rejoice doleful hearts (p.95)
The poet has belief, faith and wisdom that the world would be ideal if it is motherly and allowed to be motherly. To bolster her faith and belief she takes a sentence from B. R. Ambedkar: "I measure the progress of a community by the degree of progress which women have achieved.'(p.107) Ideals and aspirations of high living are revealed in the poet's collection of epigraphs:
"Try to be a rainbow in someone's clouds."(p.117)

"My pen never intends to hurt, wish it heals,"(p.127)
Pankajam has already carved a niche for herself in the Parthenon of poets of intense and understanding femininity and this book has placed her on a still higher pinnacle.