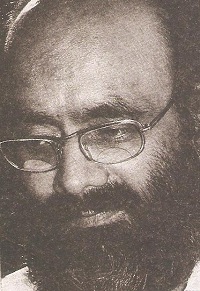 Vaddera Chandidas is the nom de plume of Cherukuri Subrahmanyeswara Rao (1937-2005), an academic in the Dept. of Philosophy, Sri Venkateswara University, Tirupati who wrote two novels, Himajwala and Anukshanikam in Telugu. His first novel was serialized in the widely read Telugu daily Andhrajyoti. Apart from these, his letters written to a personal friend Adluri Raghurama Raju – whom he called Raghu, from 10th Jan1984 to 21st Dec 1991 were brought out in a volume Premato … Vaddera Chandidas by Telugu-One Grandhalaya -(With Love.. from Vaddera Chandidas) in 2007. In these letters the novelist-philosopher–thinker expressed his intentions and attempts to delve into his innermost and candid feeling about consciousness, chetana or chaitanya.
In 1969 Vaddera Chandidas added a seven page epilogue about himself which along with his letters to his friend Raghu may be read as a summing up of his personality, or individuality, if you want it to be called so. Following are some of his averments:
I write the following few words thinking that the readers must be tolerating the tiresomeness of reading bearing the confusion of the layers of my mind-heart's (manas – in one word) existential nuances, for the darkness of passions.
… … …
By now the readers must have dropped their lips with boredom or tiresomeness for passion in their eyes must have been washed out. For that reason, what ever I might say I don't bear responsibility.
…. … …
I can only write, only when I cannot help submitting to some tension. For that reason I may not perhaps be a writer.
… … …
The plot has been moving in my thoughts for quite some time but it took its shape in 1960. At the beginning of 1961 the first chapter took its shape. Starting again in 1968 I completed it in five months. In the interregnum I did not write even a single word. The flame of snow secretly raising the heat remained in me.
… … …
Dramatization, pure narration, stream of consciousness – joining and intermixing these into one these- not a very clear idea - stays in me. The idea is to keep all without tearing away the layers of the links between the external and internal movements. There is a desire to know some empty secret.
… … …
Except for the picturing the inner consciousness of the two main characters nothing of that in others is done, I don't know their deeper minds inner. I' m limited to their outward, external acts.
… … …
In my view the experiencing of rasa is the great goal and some jignyasa- a passion to know. And some benefits are its related qualities. There is a wrong idea that the feeling of rasa is limited to sex. The feeling of thirst naturally is universally felt. This thirst expresses itself in umpteen types of hunger.
… …. …
The various characters are not the makers of different theories. To limit a living being with blood and bones is murder of literature. (Except when they are beings of deep thinking, wisdom)
….. …. …
It is said that literature is a mirror of contemporary living. But, if it is just a piece of glass, a mirror, it would be a mere photograph… In my view it is a total waste… Life is a never ending self-extinguishing piece of camphor used as aarti.
… …. ….
When the inner consciousness becomes flood like the changes in it show their influences. …. Love rising above fast like an ignited fire makes life a whirl pool.
The one who having gone into a world of silence and deep thinking for years and years and breathed his lost in ennui is Chandidas. Only those very few who understand his intensely philosophical thinking and secret inner life would appreciate his work. He violated limitations and won only a very few intimate friends. Of these Lenin Dhanisetty was one. This Lenin along with his friend Mastan Khan recorded bits of Chandidas's views, opinions and attitudes. As was his wont the philosopher-writer did not show any interest to send these to any newspaper. But the duo Lenin and Mastan passed on their jottings to Andhra Jyoti and here are some excerpts:
-For some reason music captivates me. I don't know why. I expand my life with music.
-I like Whitehead for some reason.
-Of Feminism, Dalitism, Post Modernism I don't know anything.
-A teacher from Kakinda came asking me to speak something to his students about Himajwala to clear their doubts. I told him that all that wanted to say was in the book and there's nothing more for me to say.
-In the book written by Laurence Hope (while the British were in India) he wrote:
To ask no question
To make no prayer
To take what fate God gives
Thus I believe in God.

-I have no fear of death. Wish to die, wish to live, - both I don't have.

-Thus living thus living for nothing. Basically living thus - Living for Nothing.
These the newspaper carried with the title Conversation with a Great Sage in their feature Vividha as Mahaamauni tho maataa mantee on 7th Feb. 2005.

Himajwala (Flame of Snow) created a sensation and won acclaim from his avid and enthusiastic readers. Chandidas himself went on record saying that the first hundred pages were written in 1960 and after a gap of seven years the rest of the novel was completed in 1967. The central character of the novel was Krishna Chaitanya. Chetana - awareness, consciousness, existence - was at the base of the writer's thinking and the expression in the novel, especially in the initial part of the writing. Besides narrative and dramatization, interior monologue and interior dialogue with deep inward feeling made the novel very stimulating and powerfully expressive. There were some attempts at maligning and vilification for the unusual way of the novelist's thinking and expression. But they were negligible and were set aside by the youthful and imaginative who regarded the work as a masterpiece.

As regards plot construction, there are seven parts in Himajwala: Stain of Radiance, The Veena that Went Dumb, Godavari Rose in Spate, Inner Feeling is Shameless, Love is Innocent, Search for a Mirage, Remnant of Life. The two major characters are Krishna Chaitanya and Gita Devi. Chaitanya is the son of Vijaya Saradhi, a rich man and a widower. He doesn't make an appearance till Chaitanya leaves his father's house Nafiz Manzil. Gita Devi is born rich but the sudden death of her makes her poor and almost a dependent on her friend who supports her. Chaitanya goes under eddying waves of inner conscience and loves Gita Devi. She too goes into inner consciousness but leaves Chaitanya with the remark: "Professor Sir, a human being is not hungry in the stomach alone." Moral issues never crop up in the chief characters. Chaitanya is a dreamer and mostly with deep inner consciousness.

The foils are Seshank a close friend of Chaitanya and Gita Devi. A journalist Sesahank is always down at heel. He is intimately loved sometimes and protected by the philosophising with inner consciousness. The other foil is Gita Devi's friend, a young woman who supports her. Having gone away from Chaitanya, Gita falls for Sivaram and marries him. Chidambar Rao is a sickly person. His lascivious wife Madhuri Devi seduces Chaitanya. Vijaya Saradhi has affection for Gita and Gita tells Chaitanya when they meet after a long time that she was his father's lady love, a keep and, by law, his step mother. Chaitanya's uncles come for the cremation of their brother. Seetamma, his aunt, a widow, wishes to giver her daughter Nirmala in marriage to her nephew. But he puts his foot down saying that he wouldn't marry that very young girl. He promises that he would educate her and perform her wedding. When his father is vilified, he tells all that the world could malign even an old man. He tells his friend Nayak: "Gita Devi is not our relative. She has acquaintance with me. When I was going off for research, I advised her to go to Bombay and study for her MA Degree in Bombay University. When dad went to Germany she remained with me. I wrote to her after her MA to come to our home and stay with dad as a supporter. Whatever did people think of the ripe old man and the young woman who's not even twenty-five?"

During the course of the movement of things Gita Devi leaves Sivaram for his harsh, un-understanding and possessive ways. At the end Chaitanya and Gita Devi go to the railway station to see off Seetamma, his aunt, and her daughter Nirmala. When the train was just departing, they heard somebody crying loudly Gita's name and saw somebody jumping off the train. That is Sivaram. He was taken to Nafiz Manzil where he quarrelled with her asking her to go with him. He beat her head with his pate. Both got severely injured and both fell down dead. This is the high level drama with which the novel ends. The book ends with sentences which indicate the entry of the writer's mind into another narrator: "Life has not ended. There is more to happen – the cremation and funeral rites are not theirs. They are rites that occur always and ever."

There are many moments when Chaitanya's inner consciousness comes up. Chandidas has found a new expressive device for expressing his inner thinking. Here are some of those statements beginning with a hyphen.

Traversing slumber, dream and profound sleep, desiring to go beyond my and your complete divine consciousness and become so and realizing below such going into another unconscious is not the good movement, or travel. That is going .That is disappearing. That is a stupid, idiotic condition…. What can I write? That the bunch or ball of tangled hair of contradictions, the birth marks of non-compromises ….

He was calling her. She turned around laughing. Why doesn't she speak, reply? From between the curtains of snow, from the red tinged …
Gita!
Who is Gita?
Aren't you Gita Devi?
Me, me Gita! Ha, ha, ha?
Then what is your name?
Rita
No, you are Gita Devi, tell me where you are.
In the Mars
In the Mars –what I feared about has happened. Who has taken you?

He took a stone to chisel Roden's head but couldn't and beat his head on the stone, dead, poor man!
What are you doing there?
What am I doing? What can I do? I was tightly held in Antonio's embrace.
Then Cleopatra?
Where is Cleopatra, poor one, dying in paralysis. Getting treated with ayurveda.
… ….. ……. … ….
Her back is pressing in his eyes. Melting in the eyes of consciousness – under the white blouse ... shining yellowish from the marble back are visible the curves and turns of veins ... the blood turning, bubbling through the nerves - in thousand bright electric lamps … in her back – in that compound shades round and enlarged shadows .. Green shadows of stones –
It's feeling like their being held compressed in his hands. The electricity frozen must have taken such shape.
That inspiring rasa
"Gita!" in the limitless compound his throat got split.
"voo" A hundred wired veena vibrated, trembled.
*** *** *** (pp 64-67)
The same is the condition of Gita Devi's mind at this juncture:
She stood on the veranda looking at the moon – pressing the moon on her forehead, embracing the blue sky in the valley of the Himalayas. Disturbing her primordial loneliness, becoming permanent in the drops of time… (p.64)

Her hair dishevelled and falling down is brushing her cheeks. With no petty coat under her sari, visible through the muslin is the movement of her yellow limbs. The slope of the green grass – the valley – the flame broadly spread on the sky - are not allowing his glance to shift… (p.71)

The state of inner deeper consciousness and thinking of the feelings deep within are limited to the part of the novel written first. The quality of writing in the parts added later is just mundane, no more other-earthly things. With the end of the first chapter stop the succulent and captivating presentation and portrayal of chetana . There is a distinct qualitative variation of excellence between the first and later parts of the novel.

The second part titled the veena that went dumb is after the parting of Gita Devi. Then follow Gita's marrying Sivaram and her staying with Vijaya Saradhi, all without the knowledge of Chaitanya. The action finally shifts to Nafiz Manzil, Saradhi's acquired residence and concludes there.

Vaddera Chandidas's averments about the layers of his heart-mind (manas) are highly significant. The disturbance of existence which he called asthitwa and the passion he describes as a creeper of lightning the readers enthusiastically wade through. For literary enthusiasts who admire creative writing at a higher pedestal, this writer's declarations are captivating:

Only when I find that I cannot but yield to some pressure I can write. The reason is that I may not be a creative writer.

In my view experiencing rasaanubhuti is the ultimate goal of literary pursuit, some amount of intense thoughtfulness and some purpose. There is also a feeling that the experience of rasa is limited to sexual happiness. But the feeling of satisfying thirst is naturally beyond the terrestrial. This thirst is expressed as hunger in many ways.

More truthful than truth is the mirage of life which has no limit or end. Life is self-burning camphor (on the plate) which would never get spent..

Love which goes high as a fire cracker makes life a whirl pool.

We are told by this writer that he had an idea of mingling the narration of a story with inner consciousness he calls chetana. His desire is to show movement, travel and flow in writing, unravelling the external and internal movements without disturbing the linked layers with an effort to discover 'empty secrets'. Having been a student of metaphysics he deals with abstractions like the nature of existence with aplomb. Being an academic teaching philosophy to post graduates, this writer is bestowed with extraordinary tendency for rumination. As a man and a writer he is unique. The very thought of calling himself Vaddera has immense significance. In ordinary parlance Vaddera is a stone cutter. Chandidas is a sculptor and Chaitanya is a bewitching statue.