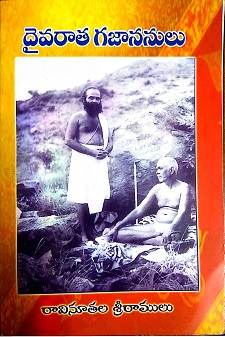 Sreeramulu Ravinutala, Daivarata Gajanaa,
Akshara RamaNa Kendram, Tirupati,
pages 46, Priceless
The trio, Sri Ramana, Ganapati Muni and Daivarata, are the divine trio the firate st being the most sublime. Ravinutala, a retired Govt Servant from Andhra Pradesh, has written with the grace of the divine trio this brief book to enthuse the blessed readers to know the higher things of life with the grace of Bhagavan Sri Ramana.

Daivarata is a distinguished saadhaka of the highest order. His spiritual, religious, devotional books are highly esteemed. Veda Mantra Darshanam, Maha Yajurveda Kalpalata are related to Yajurveda. Vedardha Kalpalata is the exegesis of the mantras in the Vedas. Vaksudha is about Vak, speech. He wrote his autobiography too and it is pity it is unpublished.

Son of Hosamane Ganesha Sastry of Gokaranam and Nagaveni of Karnatakarajya Daivarata was born in 1892. At five he began going to Yogi Satchidananda Saraswati, a great Yogi. His parents performed his upanayana when the boy was seven. The boy served taking food to Vasudevananda Saraswati known as Tembeswami. Right from a tender age Daivarata started learning Hatha Yoga. Noticing his abilities, Temeswami sent him to Kashi (Varanasi). Under Baba Saheb Jamakhandikar he learnt the grammar of the Vedas.

In 1912 the great saint and near associate of Bhagavan Ramana, Kavyakantha Ganapati Muni went to Gokarna. He had been by then honoured with the title of Kavyakantha and won great esteem in Navadweepa, the centre of Vedic learning. When addressing the young learners there he asked as to who would come to serve him, Daivarata, then twenty years old jumped up and agreed. The young man Gajanana introduced himself as belonging to traiya rusheeya Viswamitra, Daivarat and Audalu. He was named Daivarata after the second rishi.

The young Daivarata was taught by Ganapatimuni always referred to as Kavyakantha

Ganapati Muni. At the sea shore, Daivarata was taught some ways of dhyana, contemplation as per the methods of the Upanishads dhaaraposana, mukhya praNopasana and vaiswanaraa vidya. At the peak of Mahendragiri on a shivaratri day Nayana (this was how Shri Ramana called Ganapatimuni) discovered the Shiva- linga there as Dahara Gokarneshwara. There Nayana with shodaakshara japa, a great way of worship, blessed Daivarata and took his disciple to Bhagavan Ramana.Daivarata lauded Bhagavan's form and appearance saying that they were indicating His inward looking qualities, antarmukhata.



In 1917 Daivarata accompanied Ganapatimuni to Renuka kshetra at Palaiveedu. There Nayana heard his disciple uttering something and discovered the sounds to be divine mantras. Nayana also discovered that the utterances were in the Rigveda metre, chandas, He was happy that his disciple became his bhhashyakara, an exegete at the peak of knowledge. In 1931 seeing Nayana, Daivarata uttered Chandasstavam which contained Vyswanara Stuti andVishnustuti.

After Nayana's departure to the Divine abode, Daivarata travelled all over the four sides of Bharat. In 1936 Babu Rajendra Praad visited Ramanashram and Daivarata was with Bhagavan.

Bharatiya Vidya Bhavan (of Kulpati K M Munshi) published Chandodarshanam in 1968. Though not very proficient in Sankrit, Daivarata brought forth extempore 450 mantras in Vedic style. When Shri Munshi saw them first he exclaimed with passion "Oh God! Bharat has not gone barren!"

Daivarata has emerged both as a visionary of mantras and an exegete. In 1919 in the vicinity of Sri MallikhaejunswamyTemple Daivarata's ashram came up. In this education imparted was both practical and experimental. Food habits, bodily strengthening, discipline in religion, in speech, philosophical and societal training were taken care of. Day in and day out holy fire went on raging. Though Nayana was asked to take over the position of the pontiff by his disciple, Nayana declined the offer.

Daivarata bought a printing press for printing great books like Uma sahasram. In 1920 he got married to Shraddha Devi. Madan Mohan Malaveeya invited Daivarata to Varanasi and in 1935 he spent a couple of months there. Later in 1963 at B.H.U. the saint like scholar delivered lectures there.

Malveeya conferred on him the title Vidya Vachaspati. Daivarata dedicated himself to Yogabhyasa. His mother tongue was Kannada. He acquired talent to deliver lectures in Sanskrit, Hindi, Tamil, Telugu and Gujarati.

Babu Rajendra Prasad met Daivarat while touring in Bihar. Having observed with great interest the sage like Daivarat's interest in Yogabhyasa, became his devotee. When Rajan Babu went to Ramanashram and Srigeri Peetha he was with him. As President of Bharat he invited the yogi to Delhi and later visited his ashram at Gokarnam. Rajan Babu referred to him as Rajarshi.

In 1964 at Tirupati he presided over the Vedic Mahasabhas. 1966 Bharateeya Vidya Bhavan bestowed on Daivarata the title of Vidya Vachaspati. In 1970 in the conference organized by Shri Saibaba at Puttaparti he delivered three lectures on female Rishis in the Vedic times. Srimati Santa Diwakar published the speeches as 'Value of Orientation of Indian Education' at the behest of Prof V.K.Gokak.

In 1971 he went on invitation to Spain with Mahesh Yogi. In 1972 he was injured in a road accident, fell ill and laid down his existence on 13th August 1975.

In Chandodarshanam Daivarata said that the transcendental manas heart-mind listens the vedic intonations not heard with indriyas and faculties of the living ones. The sage-seer said that owing to the consciousness of the rishis the inner radiance blossoms. The mantras are literal truths. Brahma means Veda. For that reason the sage-saint was called Brahmarshi Daivarata.

By writing in simple and easily intelligible expression Sreeramulu has rendered yeoman service to readers with dedication.