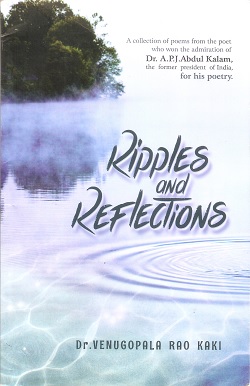 Kaki Venugopala Rao, Ripples and Reflections,
AuthorsPRESS, 2016, New Delhi, pp106, P B, Price, Rs 295/- $15/-
In all its radiant glory,
The poet with a mother's heart,
Full of pride
Harbours and cherishes
The bliss of creation. - Kaki
Kaki titled this maiden collection of poems Ripples and Reflections but this is in fact a chiariascuro, a work of light and shade and a presentation of contrast. A highly promising collection of poems, this book is a self-representation of thoughts, feelings and perceptions of the poet. Cherubs, love, 'Amor Vincit Omnia,, women, Mother, God, human mentality of men and the fair sex, patriotism, smiles, remembering teachers, of charity wasted, and paying tribute for Mahatmas, the value of life and living , of poetry, moralising, of nature, are the themes of this poet who is basically a teacher and thinker. Brevity is the soul of Kaki's poetry. In ninety-six pages fifty poems are packed. Moralising is this poet's forte. The depth of feeling and the skill of word building of this preacher are captivating.

This poet is a devout person who believes in God. He thinks of God and reveals his faith almost every moment.
A true Eden of bliss
As in the smiles and plays
Guileless and stingless.
Of His puny, cute agents
God envelopes us,
Heavens greet us'. (p.11)
Children are often thought off as God's cherubs. The poem Bubbler is talked about describing his playful acts. A teacher himself, the poet sees the kid as a loving one with the wisdom a learner.

Eyes are treasure houses. Looking into eyes is gleaning knowledge and wisdom. Eyes are a major theme .Clicking eyes is the capacity that is god given. Women too appear in different ways. The poet sees both devils and goddesses in their varying moods and categories them with deep understanding. There nothing which is not a teacher for an avid teacher who is an enthusiastic learner. Victory lies in looking at beauty of life and living.
Ah! Now my sweet love, your eyes lovely
Looking straight into my hearts radiantly
Mock at me and pull on my heart most cruelly
The poet's words as a truth
Burning sweetly. (p14)

Ah! my sweet seraph,
Will you teach us
The carefree art
Of blowing off
Our worldly worries
Into bubbles numberless
To drift in air
And burst unnoticed
On shores unknown? (p.18)
Eyes are the theme of many a poem here. The clicking eyes speak of the capacity of seeing with a sage's eye.
Of their heart-chambers
And treasure it
As the prized possession
In the album
Of life's eternal joys. (p.95)
Eyes are the theme of this poet in many a poems
She raves,
Rants,
Fumes, threatens,
... ... ...
She smiles
Soothes,
Fondles,
Loves, coos,
In her splendours
She appears goddess. (p.17)
A little blade of grass can teach man and bless him with a capacity to weather a storm.
The lone little warrior has the agility to survive.
Victory lies in looking at life and living in a tactful way of life and living.
-A little warrior,
Valiant, victorious,
Joyous
Unfurling the flag
Of beauty of life. (p.98)
The poet has deep reverence for mother whether it is bird, animal, good looking or 'ugly' in some eyes. The poet sees a huge swine sucking its little ones. The one who sees the mother swine with reverence is a sage and seer. Piglets are divine made too. We remember St. Francis of Assisi. All creatures are god's creations.
"What a nasty spectacle
Indeed, a wretched creature
See, it's rolling the ugliest!"
... ... ...
Surely, not a wretched
Creature!
A mother so loving and caring,
Feeding her hungry kids
A glimpse of marvellous
Spectacle,
Beauty, supreme manifested,
Viewed as ugly by "wretched
Vision"
And "ugly hearts' pf short-
Sighted people. (pp. 99-100)
The one with the heart in the right place can have a broad vision. A little boy asks his father a question – not generally a question by a little boy. The thoughtful parent sees a little saint searching for the Master Gardener of a splendid garden, this world with its variety of created things. God the visionary adores one and all. The spiritual bent of the poet's mind is evident in almost in every poem.
"Till his entire garden
Is wet
The invisible gardener
Keeps on sprinkling,
My darling,"
I mumble
And then join
The little saint
And scientist
Searching for
The Master-gardener
Of this splendid garden. (p.21)

The creation
Possesses me
The moment
I absorb HIM
Into the deep layers
Of my whole being. (p.31)
The poet looks at things, men and matters all around with a sense of high seriousness. A little girl's offering a flower to him makes him ask a little question. Her simple and loving answer throws him off his feet in wonder. The perspicacity of the little girl is astounding. He concludes the poem with deep pensiveness.
I muse:
"What superb message
Of eternal beauty
From the wise, little girl!"
A I keep strolling. (p.82)
God is described with deep devotion as a Master Artist. In most of the poems the speaker is the real 'I', the poet himself. His personality and resplendent faith and admiration makes the reader spell bound.
O, Master-artist!
My eyes can't catch you,
Yet I can behold
The marvel of your art
That bears your signature,
I can't, but with
Tears if infinite joy
In my eyes sing of the glories
Of your supreme art. (p.86)
Even a blade of grass unfurls the flag of the beauty of life. It has the wisdom to bend without breaking.
-A little warrior,
Valiant, victorious,
Joyous
Unfurling the flag
Of beauty of life. (p.98)
For the wise it is very easy to quickly estimate the purity a man and a woman. This is lucidly explained.
"How to measure
Purity and nobility
Of a man?
I mean
What thy call
Character"
Queried a lad? (p.22)
A person's smile is greater than a mirror revealing a lot. The dark cloud is a spectacular celestial painting revealing God's mind at that moment. They are more mysterious than even the creator.
The twin dark clouds
Gazing at each other
In close proximity
Shape into lips
Of a dark beauty
Hidden from my eyes,
But at the parting
Of those lips,
Along their lower rims,
A flash of golden tints,
A mass of radiance,
Perhaps, the smile mysterious
Of the ever-mysterious. (p.65)
God is the central theme in the poet's creative mind. Readers would understand the devotional thought processes in the poet's mind. This does not mean that this poet is blind to the actual reality of the mundane world where corruption is rampant.
Decking the sky,
Ugliness, bitterness,
Griefs, rages
Spites, hates
Vanishing from the world,
Heaven of beauty
And bliss descends
Over the earth,
Angels dancing,
Gods rejoicing. (p.73)
The poet thinks of the aspects of growth in the devotional mind. There are two pomes on metamorphosis describing the miracle of love. The young girl is seen as a blossoming woman and the man being profound and genteel while blossoming into a worthy love. Love wins all. The two poems are several pages apart.
I grew into a man,
Gentle profound
To match the women
In her,
"Is it the miracle of love?"
I wonder. (p.71)

Feeding on nectar
Of blossoms
-A celebration
of wondrous beauty and bliss,
Indeed, Love is the beauty
And glory of God's creation. (p.97)
The external ever day world is not unobserved. The poet sees law, more in violation than in practice. Corruption is rampant corroding laws. This poem is about a man who petitions for some kind of help as a pension. Files are heaped on tables gathering dust. He only way to keep is moving is greasing the palms under the table.
Weight on paper
Keeps paper
Stay-well –that's the truth
Of science established,
Undeniable
Weight on file
In our offices
Gives file a momentum, (p.101)
Then about awards and prizes, the poets wry when he thinks of the worthy ones being only modest and humble and perhaps for that reason is never a winner.
A sage
Slogs untiringly
To dispel the darkness
Of ignorance
The best teacher,
The modest
And the humblest. (p.24)
Begging, a social evil has become a pestilence. The charity offered by the kind hearted in good faith is often misused making the helpful disgruntled thinking of the futility of help
Between his dry lips;
Puzzled,
I just keep staring
At my charity
Burning into ashes (p26)
Things have gone awry. Rules, laws and courts are made non-functional. The poet is right in asking the forgiveness of the Father of the Nation.
Of our freedom-fighters
We're shaping,
Oh! Bapu, forgive us all,
For we've shattered
Your fond dream
Of Rama Rajya. (p75)
The poet pays high tribute to the man who has been an angel dreaming and trying to make the angel dreaming of a glorious India. Hope is a thing with feathers, said a poet as well as our Mahatma, the venerable Abdul Kalamji. When people work hard and shoulder to shoulder with right hand to right things would definitely look us, brighter and brighter.
Emerging as the glorious nation
And Super Power
Of Kalam's dreams,
Not far off,
But within all Indians' reach
And grasp. (p.78)
The Little Angel of Excellence is a story poem and a hallowing experience to the poet. The angel has been a shocking experience when the poet was told by the little girl's mother that the young one was dumb.
My heart wrenched
By shearing agony,
I keep gazing
At the mute angel
In tearing quiet. (p.90)
This poem is the feeling of a patriotic heart, a song of hope.
True freedom
For "Mother India"
Through dedication
And untiring industry,
Then, the Indian flag
Ever keeps flying
Higher and higher
In the world-sky. (p.93)
Suicide is considered an act of faithlessness. A prophet and a sage always sees beauty in the true quality of living in beauty. The person who fails to understand the beauty of life commits this sin of self-destruction. Loss of faith is a sin.
Ridiculing
The ignorance
Of the man
Who failed
To understand
The value of life,
Committed suicide
In the neighbouring
House. (pp.27-28)
Every poet wished at a stage of his growth and flowering what he considers a poem should be. Kaki considers that a poet with great qualities of understanding and imaginative poet. Again and again his poems reveal his heart and mind-set
The poem
– Indeed, a marvellous boon
Of supreme art
That descends
From celestial words,
Enriching
Human life
With unique beauty
And wondrous bliss. (pp. 32-33)
A poem is described as an illumination, a rainbow celestial of the glory of God's grandeur.
A poem – a vision
Captured
In a prism
Of illumination
Of life, mundane
And celestial
And glorification
Of the world. (pp. 79-80)
Shades, shadows and darkness which is understood with glowing sympathy all along is mystic joy. Kaki's is a good beginning and a lot is sure to follow very soon.