Mahabharata in Temple Sculptures - 1
It is quite for sometime (10 years to put it humbly) that I have been searching for Mahabharata-depictions in Temple Sculptures of my country. Given the vastness of my country, I am sure this journey will not end, at least in this lifetime (In fact, I really do not want it to end). It is a journey without destination, and all joy is in the journey itself.

I am starting this series to share my experience of what I have found till date; to learn more by sharing ideas with readers, and to acquaint readers who have not yet visited these places with our wonderful heritage. I also cherish the hope that some reader might point out to me a direction to some unexplored territory – where I may continue the next phase of my journey.

I have found some recurrent theme in these depictions across India irrespective of geographical or historical location – and I will start with Bhisma.

In Classical Mahabharata, we have two parallel narratives on Bhisma's fight for 10 days in Kurukshetra War. The Dominant Narrative is that, unable to cope with Bhisma, Krishna and Arjuna went to him. Bhisma told Krishna and Arjuna the way he had to be killed. Accordingly, Arjuna placed Shikhandi before him and killed Bhisma. Since Shikhandi had been a woman, Bhisma would not fight with him. Arjuna pierced Bhisma with numerous arrows so that when he fell from the chariot, his body did not touch the Earth, and Bhisma lay on this bed of arrows. Arjuna provided him 'pillow' of arrows on which Bhisma rested his head; and thereafter Arjuna pierced the Earth with another arrow to bring Ganga and quench Bhisma's thirst. Bhisma despite the agony, continued to live even after the Kurukshetra War was over. Later, after coronation, Yudhishthira and the Pandavas, on Krishna's advice, learnt various aspects of Dharma from him – Rajadharma, Moksha-Dharma, Stridharma etc. Bhisma's teaching through narratives of Itihasa-Purana from his Bed of Arrows constitutes the largest corpus of wisdom in Shanti Parvan and Anushasana Parvan of Mahabharata. Most of these narratives have nothing to do with the so-called Central Kuru-Pandava narrative; yet, Mahabharata is simply unthinkable without them.

The Alternative Narrative in Mahabharata is a rational narrative – in which, Arjuna killed Bhisma in duel; that is, Bhisma died on the 10th day of the Kurukshetra War in straight combat. This narrative being rational, I believe this constitutes the Itihasa, while the Dominant Narrative or Mythical Narrative constitutes the Kavya of Itihasa-Mahakavya Mahabharata. (Interested readers may read about that in "Mahabharata: The Myth of the Death of Bhisma, Drona, Karna, Duryodhana")

Despite my belief and preference for the rational narrative in Mahabharata, I have no hesitation to say that the Dominant Narrative with its Mythical import holds the strongest fascination. Arjuna fighting Bhisma with Shikhandi as his living shield, Arjuna piercing Earth to bring water and quench Bhisma's thirst, and Bhisma lying on his Bed of Arrows – these are images that spontaneously evoke with the very name of Mahabharata.

I guess, these Images are so strong and naturally grasp the mind of any reader of Mahabharata because of their rich poetic/metaphoric significance and philosophic content. In other words, the Images despite being the Form, embody and represent the Content of Bhisma's wisdom and message with such beauty and aptness, that they are inseparable from the Content. This is Mahakavi Vyasa's unique genius that Form-and-Content blend into one Organic Unity.

My firsthand experiences with Temple Sculptures reveal that it is precisely these Images that dominated the mind and aesthetic sense of the Sculptors. Though they were dealing with a different genre and form of Art and Culture, the Sculptors were in essence Poets; and therefore, they found in these Images the most powerful and effective vehicle of expression that befits a Temple.

The architecture of these Temples is inseparable from the sculptures which are no mere ornamentation. The sculptures adorn the Temples and are also the vehicles of message and wisdom. Any right mind will find in them the vibration of spiritual essence – which is in fact, the very purpose that a Temple stands for.

Now, to my experience with Temple Sculptures … and I will start with Terracotta Temple Sculptures of West Bengal.
1. Bishnupur
Terracotta Sculptures are Bengal's own wealth. Bengal lacks stone, so the Bengali sculptors chose reddish clay material from alluvial deposits for their artwork. Terracotta Sculpture in Bengal dates back to the Mauryan age (324-187 BC), and there are even evidences of pre-Mauryan sculptures. Most Terracotta temples of Bengal were built during the period seventeenth century to nineteenth century. The Bishnupur Temples of Bankura are gems in Bengal's Art and Culture.

Bishnupur [23°05′N 87°19′E] is 132 km from Kolkata, and is now the headquarters of the subdivision of the same name in Bankura district. It has an average elevation of 59 metres (194 feet). The region was once under protectorate of Gupta rulers. Local Hindu kings paid tribute to Samudra Gupta. However, the land mostly oscillated between being a minor independent principality and a vassal state.

The region is also called Mallabhum after the Malla rulers of this place. The Vaishnavite Malla rulers built the famous terracotta temples. The patronage of Malla king Veer Hambir and his successors Raja Raghunath Singha Dev and Bir Singha Dev made Bishnupur one of the principal centres of culture in Bengal.

1.1. Jorbangla Temple: Bishnupur

I met Bhisma in the Jorbangla Temple alias Keshta Roy Temple (c. 1655) during my 2013 visit.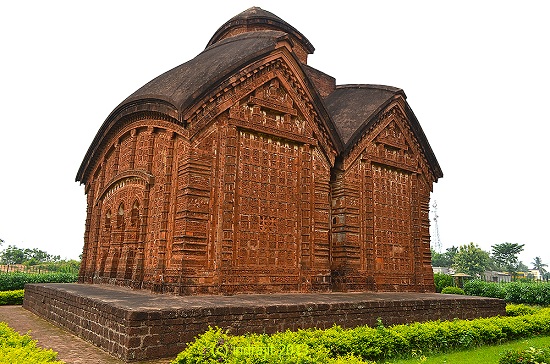 1. Jorbangla Temple or Keshta Roy Temple, Bishnupur
Jor-bangla, also called Char-Chala or Yorubangala, is actually a style of temple architecture. The style involves two structures that resemble the traditional village huts of the region, one that serves as a porch, in front of the other that serves as a shrine.

The Bishnupur Jor-Bangla temple was built in 1655 by King Raghunath Singha Dev. The roof has the classic Chala style of Bengal architecture.

Now, let us observe Bhisma in Terracotta Sculptures.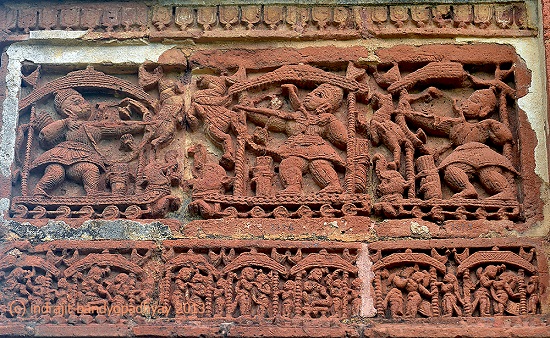 2. Bhisma fighting Shikhandi and Arjuna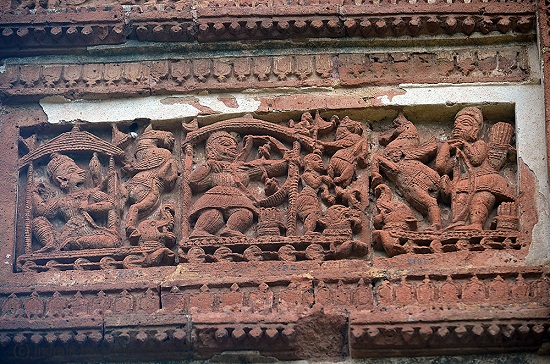 3. Bhisma ceases fight and Arjuna strikes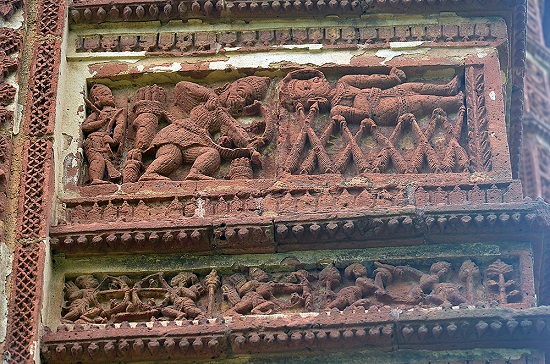 4. Bhisma on Bed of Arrows, and Arjuna piercing the Earth
As if to provide the necessary atmosphere, I observed, two giant lizards locked in deadly duel on the Temple premise. I would not miss that here.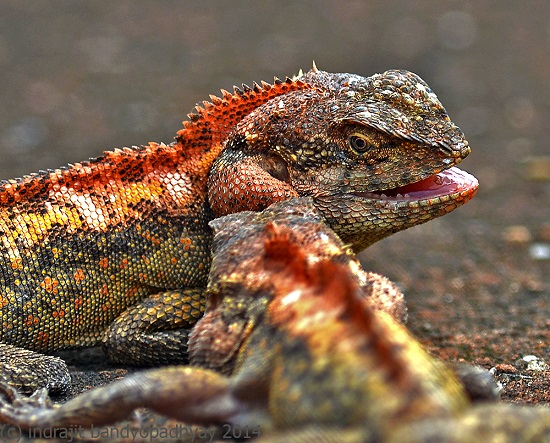 5. Mortal Combat
1.2. Madanmohan Temple

Next I found Bhisma in the Madanmohan Temple which was built by King Durjan Singha Deva in 1694. It is in Ekaratna style, a square flat-roofed building with carved cornices, surmounted by a pinnacle.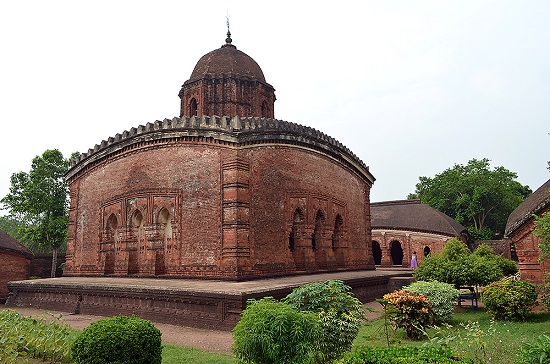 6. Madanmohan Temple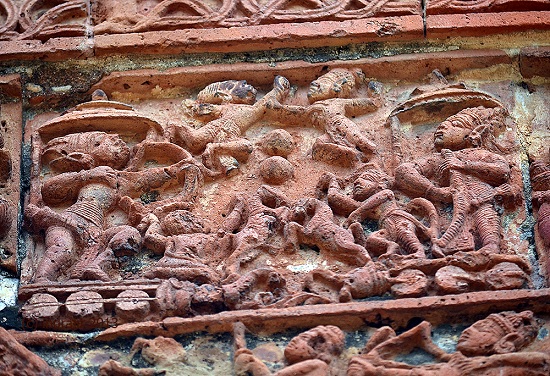 7. Bhisma ceases fight and Arjuna strikes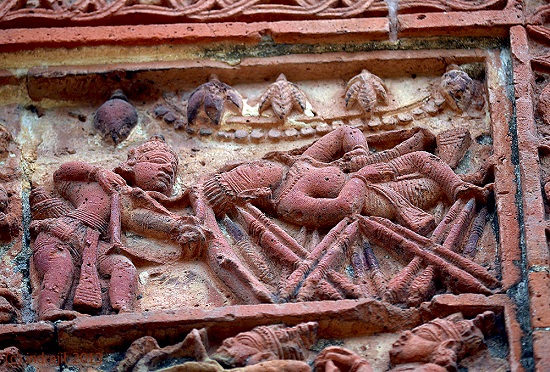 8. Bhisma on Bed of Arrows, and Arjuna piercing the Earth
Next, I will travel South India in search of Bhisma in stone …