Mahabharata in Temple Sculptures – 2
Continued from "Bhisma in Bishnupur Terracotta"

Hoysaleswara temple, Halebidu, Karnataka

Next I find Bhisma in the Hoysaleswara temple in Halebidu during my 2012 trip. Previously known as Dorasamudra or Dwarasamudra, Halebidu is 16 km from Belur, 31 km from Hassan (also the nearest rail station) and 149 km from Mysore, in the state of Karnataka, India.

Hoysaleswara temple, dedicated to Shiva, was built in Halebidu during the rule of King Vishnuvardhana of the Hoysala Empire in the 12th century. The construction started around 1120 CE and was completed in 1150 CE. Despite ransacking and loot by Muslim invaders from Northern India during the early 14th century, Halebidu temple still stands with all glory. Art critic Gerard Foekema is perhaps right to say that Hoysaleswara sculptures are "second to none in all of India". The temple is apparently non-impressive from outside, surely one reason why it has survived; however, as one enters the premise, one is mesmerized in this paradise of art.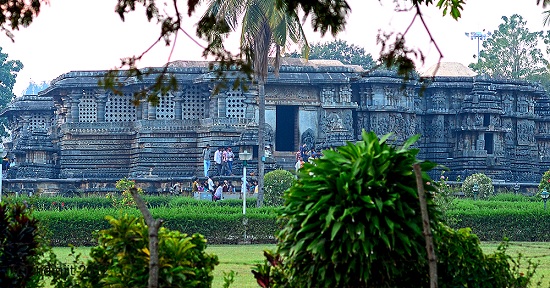 Hoysaleswara temple, Halebidu
And here I find Bhisma fighting with Shikhandi and Arjuna.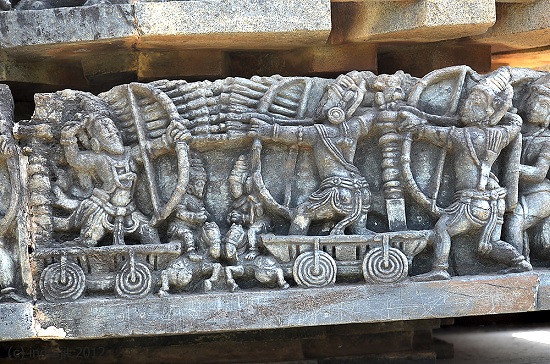 Bhisma fighting Shikhandi and Arjuna
Shiva is all important in Mahabharata, so here I would not miss giving an image of dancing Bhairava (Shiva) to give an understanding of how intricate the sculptures are.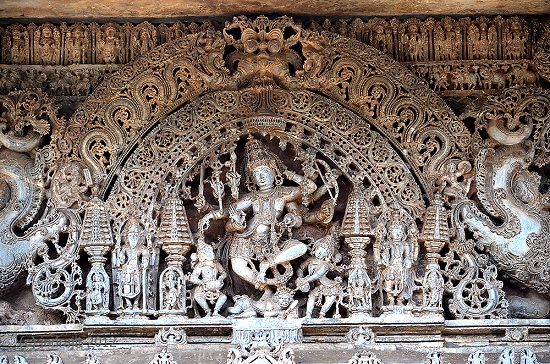 Ten-armed dancing Bhairava (Shiva)
Kedareshwara Temple, Halebidu, Karnataka

Next I go to Kedareshwara Temple which is located a short walking distance away from the Hoysaleswara Temple.

This temple was constructed by Hoysala King Veera Ballala II (r. 1173-1220 A.D.) and his queen Ketaladevi, and the main deity is Ishwara (another name for Shiva). According to art historian Adam Hardy, the temple was constructed before 1219 A.D and is constructed with Soap stone. The Western Chalukyas first popularized the usage of Soap stone and it soon became the standard with the 12th-13th centuries Hoysala architects.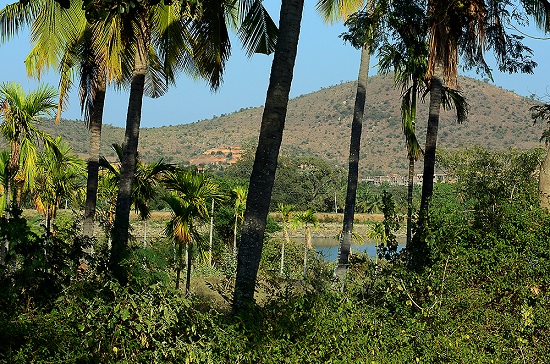 Landscape from Kedareshwara Temple
Here I find Bhisma on his Bed of Arrows, and the Kauravas and Pandavas standing on either side with folded hands.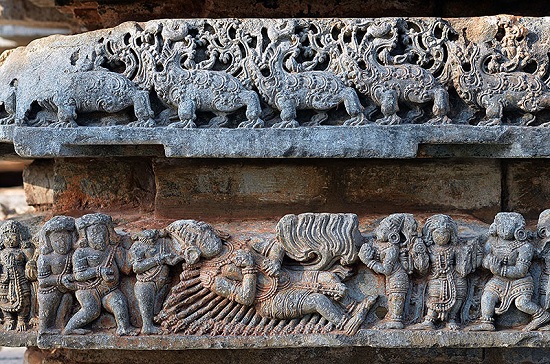 Bhisma on his Bed of Arrows
Belur Chennakesava Temple, Karnataka

Next, I go to Belur, 17 km from Halebidu.

Belur was an early Hoysala capital. It is 40 km from Hassan city and 220 km from Bangalore.

The Chennakesava Temple was originally called Vijayanarayana Temple. It is on the banks of the Yagachi River in Belur. The Temple was built by the Hoysala Empire King Vishnuvardhana in 1117 AD. Chennakesava literally means "handsome Kesava", a form of Visnu. Scholars differ in opinion why King Vishnuvardhana commissioned the Temple. While the military successes of Vishnuvardhana particularly his famous victory against the Chola dynasty of Tamil country in the battle of Talakad (1116 AD) is considered by some a probable reason, some other think that Vishnuvardhana commissioned the temple to surpass his overlord, King Vikramaditya VI of the Western Chalukya Empire (who ruled from Basavakalyan).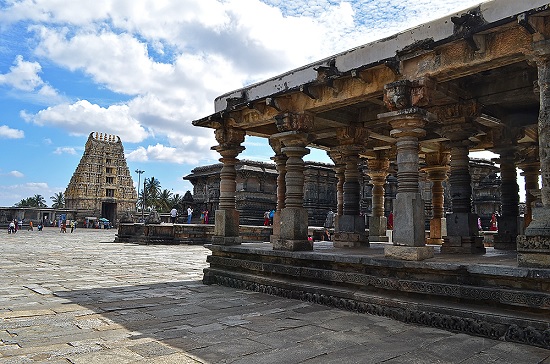 Belur Chennakesava Temple
And here on a small panel – almost missing the eye – I find Bhisma on his Bed of Arrows.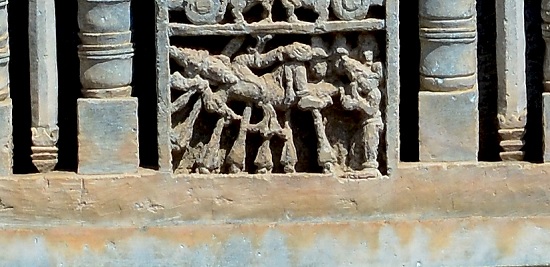 Bhisma on his Bed of Arrows
Virupaksha Temple, Pattadakal, Karnataka

During my 2014 Hampi-Badami-Aihole-Pattadakal trip, I meet Bhisma again in Virupaksha Temple at Pattadakal.

Pattadakal also spelled Pattadakallu is located on the left bank of the Malaprabha River in Bagalkot district and is 22 km from Badami and 514 km from Bangalore. It is 10 km from Aihole, and any tourist can cover Aihole and Pattadakal in one day.

We stayed at Badami KTDC, and from there we hired an auto for Aihole-Pattadakal trip.

Pattadakal was the site where Badami Chalukya kings were coronated, and was the capital of the Chalukya dynasty of Karnataka between the 6th and 8th centuries. The Chalukyas were lovers of art and built many temples here. According to inscriptions found here, the place was known by various names - Kisuvolal (Red Town - mostly mountains near pattadakal gave this name), Raktapura, Pattada Kisuvolal. There are a group of ten temples at Pattadakal, including a Jain sanctuary surrounded by numerous small shrines and plinths in fusion of various Indian architectural styles (Rekha, Nagara, Prasada and Dravida Vimana).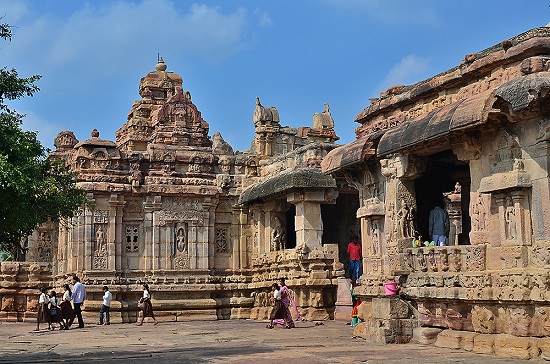 Virupaksha Temple, Pattadakal, Karnataka
Here again, I meet Bhisma on his Bed of Arrows.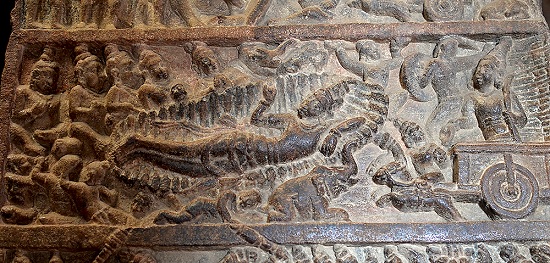 Bhisma on his Bed of Arrows attended by Rsis
These are my findings so far on Bhisma in Temple Sculptures.

What I find, be it the Terracotta Temple Sculptors of 18th-19th century Bengal of the Mallas, or the 12th-13th century Stone Sculptors of the Hoysalas of Halebidu-Belur, or the 6th-8th century Stone Sculptors of the Chalukyas of Pattadakal, the Image of Bhisma's fight with Shikhandi and Arjuna, and Bhisma's Bed of Arrows fascinated them most about Bhisma. Now, we may ask: WHY?

Temple is a spiritual place, but Bhakti is the privileged Marga. In Classical Mahabharata, Bhisma is hailed as a great Bhakta of Krishna-Vasudeva. It is only natural that he will have his place on the Temple walls.

Bhisma in his Bed of Arrows assume much symbolic significance. Pierced by arrows and languishing in physical agony, Bhisma still has the power to pour his life-earned wisdom for his posterity. The Bed of Arrows represents our Existential Reality. It is a challenge that one has to attain God even in that state through Bhakti. It is a challenge that simultaneous to that personal concern, one has to be socially concerned and share one's wisdom with others. A true Teacher is one who learns first-hand; and Bhisma symbolizes that Ideal Teacher. In a way, Bhisma is the very symbol of what a Temple stands for.

In the next part of my journey, I will travel to meet Arjuna in Temple Sculptures.