Raghupathi KV, The Untouchable Piglet, Reliance Publishing House, New Delhi, 2016148 pages, Rs. 230/-
Troubles could be many, starting troubles and teething troubles are only two of them. More of them, eventually are appreciated, felt and remembered.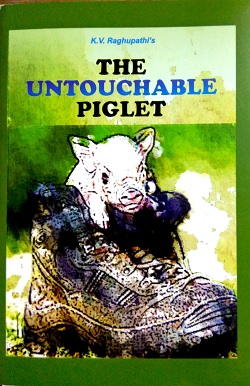 Dr Raghupathi K V is an erudite scholar, academic, poet and now a story writer too. The book under review carries the list of the writer's published works to date. 'The Untouchable Piglet' is one of the eighteen stories, the reader learns after opening on page-one that it is a collection of stories. To begin with there is long personal note called the story behind writing short stories which begins with thanksgiving to friend and an inspiration provider, Dr P. Raja. There are eighteen narratives of personal experiences. The reader goes on learning more and more of the writer's feelings while facing occurrences and happenings. As he goes forward suddenly he sits up with excitement. Stories titled Hudhut, A Tale of Resistance, a Mysterious Writer, The Professor and his Pet Dog, The Self-exiled Father, come up making the reader that he has been reading human beings of various hues. These are high lights, and low notes on high levels. The writer makes readers look up and think afresh to get usefully surprising insights. Here are some examples:

"If you want to come to the limelight, you have to do two things as a writer. One is, you should have written something controversial. Some such stuff to come into the limelight. Criticise some caste group, its age old practices and customs; or attack the ideology of a political party; or some religious tenets and doctrines. Overnight you will become a celebrity. Two, you should have written something sensational to please the young in universities and colleges. This kind of stuff is much liked now. If you write something sentimental, nobody will take it up for publishing and nobody will read."(p.76)

Conversations like the following interest the reader most:

"How has it happened?" I sprang, sharing his grief.

It happened last month. As I was away for a week on my academic work, she did not touch food though I instructed the shop keeper to feed her. But she starved herself. It was on one day as the shopkeeper told me she was molested and raped by four dogs as they were on heat. She was badly bitten by them. Deep cuts got infected, and she refused to take food offered by the shop keeper. As a result she became week and malnourished. … (p.86)

'The Self-exiled Father' is about heartless children. The story is a common human experience in 'Mera Bhrat Mahan'. It is not the narrator 'I's story. The 'I' is the story teller, the old man who exiles himself apportioning his moneys as per a will left with a lawyer. We are told at the end "Veeriah had kept (his will's contents) this unrevealed neither to his children nor to his friends except the lawyer. His two sons and daughter and her children were not seen around, though they were informed of the death. Nevertheless, the burial had taken place in a quiet manner under the descending sun behind the thick black clouds in the horizon in silence.' The reality of human suffering brings tears into sensitive people. The most powerful emotion in narration or portrayal is pathos. The stories towards the end of the volume are replete with pathos. For us the dictum is - Eko Rasah Karuna Eva.

The stupidity of caste prejudice is brought out time and again by writers but their writing never changes the mindset of some people in actual behaviour and action. Rajesh becomes an accomplished Kartnatik musician, the chief protagonist; you can say the hero, of the story.

'"Madam, do you remember me, ten years ago I approached you at your home for your your guidance and instruction, and you refused to take me as your student on learning that I was from a lower caste whose traditional; occupation was begging."

Vanitha was puzzled… After a few minutes, her faint memory made her realize what she had uttered at time when Rajesh had met her. … The bitter truth was a slap on her ego. She cringed in shame.'(p.113)

The last sentence does not appear to be really necessary.

'The Lone Survivor of Three Generations' is a story of unending pathos of the protagonist. 'The image of the old man with dishevelled white hair, unshaven grey stubble, sunken eyes and cheeks with unwashed smudged white shirt, its sleeves rolled up to the elbows, a faded blue towel on his right shoulder and a discoloured stick in his right hand appeared before my eyes. No one has left to wail for him. Only his simple locked house stood in enigmatic silence."(p.145)

One last sentence about book production in our country. Writers rush to print not knowing that copy-editing and proof reading get done automatically. No amount of criticism would help because it comes after the publication. The publishers are kept ever busy.