Sahitra Hanuman Chalisa, K V Bhimarao & Sri Yabaluri Raghaviah Memorial Trust, Hyderabad, Dec 2014, Pages 70, Price Rs 150- US $12/-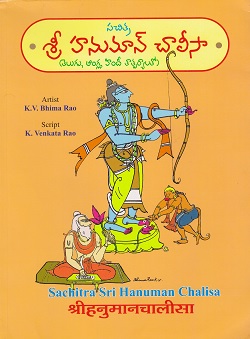 Lord Hanuman, the most devout and obedient master-loving devotee is a deity all by himself in the Holy Ramayana of Sage Valmiki, the aadikavi, the earliest poet with his magnum opus the aadikaavya, the very first epic. Hanuma is the model devotee absolutely submissive and extra-ordinarily competent.

The book under review is the production of the blessed duo, the artist Bhima Rao and the script writer Venata Rao, both from the illustrious Kharidehal family. Devotion is His blessing. This book is about the most devout servant of Lord Sri Rama.

People in our country Bharat worship Sri Rama and almost every village has a temple for the Holy Dasaradha Rama. The forty verses sung in praise of Sri Hanuman are the every day prayers through out the country.

This book is a pious offering, a delectable piece for nitya parayana, for daily prayer with intense faith. The illustrations are the holy representation of the devotee of all devotees. Both the Kharidehals are highly educated and plentifully blessed wit high offices in scientific bodies and academia. The work is highly commendable for several reasons. Intuiting Hanuman while uttering the choupayees renders the aspirant twice blessed.

With the paintings presented on art paper with the hymn-like renditions, the book is for the pooja mandir, which every devout house holder has for his residence, rich or poor.

Every household treasures a copy of Srimad Ramayana – even those who do not study it regularly.

Another very laudable feature of this book is that it includes all the various Hanuman paeans. They are Sri Rama Raksha Stotram, Maruti Stotram, Hanuman Badabanala Stortram, Hanuman Sooktam, Bhaskara Dandakam, Anjaneya Stotram, Aapadoddhaara Sri Hanuman Stotram, Anjaneya Dandakam, Astottara Satanaamaavali and Sri Anjaneya Mangalaastakam. All these are edifying and besides in Telugu, in some other languages, Hindi, Kannada and Tamil also are included.

This book is verily a compendium of prayers offered to Sri Anjaneya, an achievement of the duo in singing the praises of Sri Rama Bhakta Hanuman.