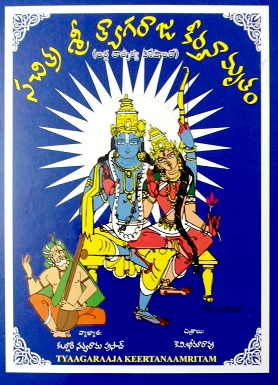 Sachitra Shri Thyagaraga Keertanamrutam,
SYRMT Publications, Hyderabad,
Hard Bound, A-4 size Art Paper, Pages 380, Second Edition,
Price Rs. 1000/ US $ 50/-
This is the work of the Commentator Translator Kalluri Satya Rama Prasad and the adorable devotional artist Kharidehal Venkata Bhima Rao's drawings. The duo is highly educated and both retired from service; one from Bharat Earth Movers and the second from the Electronics Corporation of India. The book is dedicated to Sadguru Sivananda Murty garu Pontiff of Shaiva Peetham, Nagole, Hyderabad, with ashram in Bheemunipatnam.

To begin with, distinguished persons, the devout in the highest order, wrote forewords: the esteemed founder of Rushipeetham, Saamavedam Shanmukha Sharma, Swamini Atmalilananda Saraswati of the Centre for Vedanta & Sanskrit, Varanasi, and Poojya Swami Paripoornanda. These are further enriched with the article Sundara Madhura Bhashyam by Naadanidhi and Sangeeta Vidyanidhi, Dr. Komanduri Seshadri.

This work has provided the meaning of the Keertanas and the significance of each of those immediately after the text with a picture too of many of those. Starting with a prayer to the slayer of impediments, Lord Vighneswara also called Vinyaka in Raag Saurashtra in aadi taala , three hundred and eighty texts are covered. For this the second edition the writers wrote a foreword too. They appended a brief division in the way the texts, keeratanas, are arranged. The ten divisions are texts on Vinayaka, episodes relating to Ramayana, the uniqueness of Sri Rama, the grandeur of music, the pain and anguish when the glorious appearance was delayed, the exuberance of joy on His appearance, the teachings, messages and common sayings to people, traditional upasana ways in the prayers to deities and their related texts and in conclusion the most frequently sung Ghana Raaga Pancha Ratna Keertanas.

In all about the ninety captivating color paintings along with the texts make the reader spell bound. Enough guidance is given to the readers along with care. Any review cannot go beyond a space limit. Madhya Kaal Raga is called Ghana. Laakshnikas said that those kertanas that which elate and inspire are in ten Raagaas. The first five Ghana Raagas are Naata, Gaula, Aaarabhi, Varaali and Sree Ragas. The second Ghana Raagas are Kedara, Bhouli, Reeti Gaula, Narayana Gaula and Saaranga Naata.

Shri Thyagaraja Swami chose the five keertanas in the bliss of seeing the presence of Sri Rama and sang keertanas displaying devotion, grace, elegance and dignity. The first in them was praise, sorrow and grief in the second, linking of frailty and weaknesses in the third and praise of accusation (description of the Lord's leelas and the display of His power), in the fourth the deep joy of feeling and in the fifth the Madhya Kaala Raaga the bliss of witnessing the presence of the Supreme Deity, Sri Rama. This has been the order.

It has been coming down the practice of the devout and devotional singing in unison with all traditional accomplishments celebrating Thyagaraja Aaraadhana every year on Pushya Bahula Panchami at Tirivaiyyar. This aaraadhanotsav singing would take an hour with hundreds of devotees participating in the festival in remembrance of the Saint, reverentially referred to as Thyaga Brahma. Both All India Radio and Tirumala Tirupati Devasthanam would air the program from the beginning to its conclusion.

The extremely melodious and captivating keertana among the pancha ratnas, the five diamonds is the one in Raaga Sree –Adi taala, beginning with endarO mahaanu bhavuluu andarikee vandanam meaning-multitudinous are the sacred minded – salutations to all those.

Anu Pallavi

The one with the hue of the full moon who worship with the fullness of heart-mind-feeling - 'manas' viewing the Supreme Being in the lotus of their heart and experiencing infinite bliss - to all those my salutations.

Charanas
O! The ones who have admiration for Saama Gaana, to the one adorably pulchritudinous! For such fortunate ones, I offer my salutations.

Controlling monkeylike wavering, wandering mind-heart feeling – manas – those who would be able to view the Supreme Being's appearance, I offer my salutations.

Every moment for those offering their manas to the lotus feet of the Lord, I offer my salutations.

To those who worship the one who could make even the sinners god-loving, going along the path of rectitude with their jnaana , knowingness, I offer my salutations.

Myriads are those who wear the garlands of the diamonds of Hari's great qualities on their neck. Along with feelings of love and friendship, with compassion some would be casting their glances by serving and saving all those around. It is only because of them this world is like this. I offer my salutations to those.

There are many famous ones who being able to see the Supreme Being all the time constantly and thereby get goose bumps, floating in the ocean of great bliss, ananda. I offer my salutations to all such.

Extremely pious and totally devoted and devout, sacred seers, the moon, the sun, saints like Sanaka ans Sanandana, the gods of the directions eight, celestial beings like Kimpurushas, Prahlada, Narada, Tumbura, the son of the Wind God Anjaneya; Shiva who has the crescent moon on His head, Shuka , Brahma and the best of the Brahmanas; the greatest ones of sanctity, great ones – all these always enjoy the bliss of being. Apart from these there are many, many more. My salutations to all those.

Sri Rama! The beauty of Your form, body, appearance; the glory and richness in Your grandeur, Your valor and bravery, Your ever calm demeanor, Your spirit of self-sacrifice, Your love and attachment to truthfulness – all these captivate all. For that reason, all the worthless are considered useless by the devout. Loving, admiring and worshipping You and Your mien, people go on singing Your extremely amiable qualities. Many are such and my salutations to all those blessed ones.

All the scriptures, right from Bhagavatham, Ramayanam, Gita and the inner meaning and significance in all sastras and puranas – the six religions approved by the Vedas, aver the truth they all propound the that there is only one Paramatma. Knowing the secrets of the thirty-three crore devi's and devatas, enjoying the bliss of music with the bliss on of bhava, raga and laya, becoming ever alive, with manas full of bliss many are considered his preceptors by Thyagaraja. I offer my salutations to all those.
The concluding Charana:

Many are those who utter and contemplate on the Supreme Being's name with bhakti, jnaanaa and variagya plaited as one are worshipped by this loving and devout Thyagaraja. I offer my salutations to all those.

The saintly Thyagaraja displays his highly sublime samskara in this pancharatna keertana.