Whispering Words, Omkar N Koul,
Authors Press, 2017, 320 pages, Paper Back, Price INR 595/- $30
Omkar Nath Koul is known to thousands of scholars, men of letters and people with enthusiasm to acquire knowingness and culling wisdom from many a thing – the utility of a memoir. Koulji's preface tells the reader all in a nutshell:

The collection of these write-ups has turned as a memoir listing the routine incidents and challenges faced by me in pursuing education, and work in different environments and institutions, my association with various projects and visits to other countries in connection with study, training and participation in joint projects, conferences etc.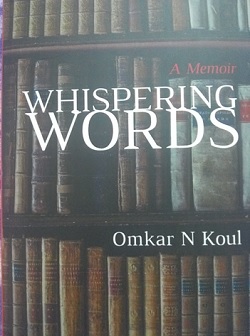 This book has 8 chapters. The valley, the first chapter describes Omkar Nath's village, his family, his sacred thread ceremony before havankund and his neighbors, the panditas, the Razdans and the river Maav and its relationship with the larger river Veshav. He then describes the village school and his teachers and later his college at Srinagar where he studied, his teachers and his classmates.

'Beyond the Valley' is the second chapter which describes his life getting into a bigger, inclusive dimension. It was his great good fortune to have studied in the K.M. institute of Hindi and linguistics in Agra University. Later he shifted to Allahabad where he got married to a research scholar in Allahabad university. Later he shifted to Varanasi and continued his friendship and affinity with Kashmir and Kashmiris there.

The chapter 'The First Flight' is about his travel to the US. He went to Urbane. He had the opportunity to study phonetics from David Abercrombie who wrote Elementary Phonetics. He met people from Andhra there Narsimha Rao and Satyanarayana. In another chapter he gave his pleasant experiences with eminent people like Giridhari Tikku and Omkar Panditji. He returned to India from the US thanks to Braj Kachru's sending his CV to the founder director of the Central Institute of Indian Languages at Mysore, prof. D. Pattanayak. On the advice of his friends he was sent to North Regional Language Centre at Patiala.

From Mysore to Patiala is a move for a higher position in an institution situated in Punjab University campus. The author describes his experiences there thus:

It was in the early years of my stay at Patiala that I learnt that one has to be sincere in the matters of public interest and take initiative to organize events. Support comes from various quarters. I never faced hurdles in organizing academic events and carrying every one with me as a team. The words of encouragement from higher officers and appreciation by my colleagues and friends got things going, (p.116)

The next higher peak in his going up was to be in Mussorie, and he calls the chapter 'The Queen of Hills. He went there as a professor in the Faculty of Languages at LBS National Academy of Administration. He t aught Administrative Hindi to all the IAS, IPS officer trainees. Omkar Nath tells us:

While interacting with officer trainees of the top civil service, senior bureaucrats, I learnt about a lot of administrative issues and challenges the country faced. While at the Academy I was able to work on the preparation of Kashmiri Grammar along with Professor Kashi Wali. (p.148)

After Mussorie, the fifth chapter is titled 'Manasgangotri'. Omkar Nath took over as the Director of Central Institute of Indian Languages in Mysore. After elevation to the director's position, within a short time Omkar Nath was invited by the UNESCO to participate in inter-governmental conference on the official language policy at Harare in Zimbabwe. When he became the director CIIL has become an autonomous institution.

The seventh chapter is gladly titles 'Free from Bondage'. Though 'free' Omkar Nath went on contributing his work to various institutions of word renown. He was invited as a Language expert and specialist to countries like France, Belgium, Russia, Kenya, UK. and USA. He could meet his old friends again and again in international conferences and shared identities divided by borders visiting Lahore, Islamabad and Muzaffarabad.

The concluding chapter is aptly titled "My World of Words'. The various languages he had come up into intimate contact made him richer as a linguistician. As he went along administrative and academic responsibilities have difficult loads to come to the top with the forms and features of many languages He rightly and most deservingly a man of the world of words.

After the eight chapters and long list of his publications, books, papers and book reviews there is something more too. They are Views of 17 high placed and ever diligent scholars ranging from Dr. Pattanayak to the chairperson of Linguistic Survey of India, G.N. Devy and Reviews on Omkar Nath's works provided by professors and distinguished writers in different languages, Indian and foreign like Budki, Saartjee Verbeke and Tej K Bhatiya are at the end.