Towards Indian Consciousness – A Study of Ten Poetic Minds in Indian English Poetry
PCK Prem, Authors Press, New Delhi, 2016, HB 338 pages, Price Rs 1600, $65
The ultimate truth in man is not his intellect but the illumined consciousness which he acquires when he extends his sympathy across all barriers of caste and colour. He then realizes that all things are spiritually alive. – Dr. Radhakrishnan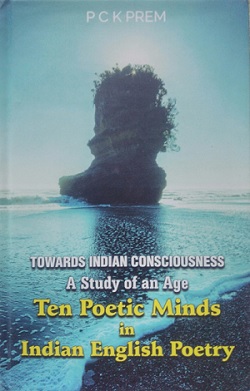 Every state in Bharat has its own distinctive qualities. PCK Prem and D C Chambial are thinkers, eminent poets and writers and educationists. These two know in Sanskrit, Hindi and English and write both in Hindi and English. These poets from Himachal Pradesh are devoutly tolerant, understanding and pensive. Both have affinity with language teaching and writing poetry. Both have been rendering yeomen services in the lands of rivers and hills. Both display love of motherland, literary criticism and poetry.

PCK Prem started his career with teaching English in colleges and universities. And he grew up in government service as administrator. All the while has been writing poetry and articles in literary criticism. He is devout and published works on ancient literature, particularly the sacred epic Mahabharata. He has brought out ten collections of his poems and published five highly acclaimed works of literary criticism. The book under review is his fifth in that genre.

The intensity of Prem's love and understanding of poetry is revealed in his preface to this book in nine parts. Before the reader goes into the work of those ten poets in the title of the book., here are his ideas.

'Emotions, thoughts, philosophical wanderings, perception of contemporary life and knowledge of history and culture constitute poetic landscape. A correct appreciation of life in existential situation without forgetting, even for a moment, the right social, economic and political structure is the poet's anxiety.'

'Tagore belongs to a mindset where Indian culture, heritage and traditions find true interpretation with reference to Vedas and Upanishads, and moral realism, at times, occupies the mind of creative artists …'

'Hazara Singh approximately belongs to a vacillating and uncertain age but seems habitually occupied with idealistic life, where natural environs determine the scope of poetry, and nationalistic ideals dominate. A life of dignity and virtues, integrity and honesty, culture and tradition matters. It is mostly a dreamland of poets' creation but it does stir though verses appear to take birth after immense labour as poets exert hard to convey a message.'

'Syed Ameeruddin moves frequently from the materialistic propensities to spiritual realms with trivial deviations. He touches a subject, ponders deeply, tries to reach a conclusion and then, shockingly opens up new dimensions of experience with a little incoherence.'

'Arora is worried about life and its purpose. Composite apparatus of life-structure criticizes and exasperates a receptive man harbouring humanistic thoughts, and hurts man and psyche. Self-awakes to find out the meaning of existence He examines life like a heartless mathematician and makes efforts to comprehend the obscure geometry of existence. He deliberates, and winds up that defeats and failures strengthen human spirit and therefore, a life of struggles and perseverance proves rewarding,'

'D.C. Chambial is a poet of sophistication and modern sensibilities. If he is sad about the fate of man now, the next moment, he tries to evaluate man's destiny philosophically and in the process, certain metaphysical questions arise to disturb, which defy cogent answers to issues he raises and so, asks man to confront. Rural reflections stir and give glimpses of hard life in natural environ with a strong spirit to live life forcefully. He is humanistic, a poet of images and when he describes social and political phenomenon, he is dreamy, romantic and tries to go beyond borders of normal understanding.'

'R.K. Singh is a poet of woman and beauty. He is conscious of social realism and at times, moral issues disturb but beneath he appears a lover of total freedom. Social system tortures him and the present crop of politicians look disgusting and so man cannot hope of redemption, for unethical and dishonest, corrupt and greedy men govern man and society the poet believes.'

'If situation before 1857 stirred passions and patriotic dedication, it also matured into a systematic and concerted collective outlook towards the attainment of ultimate objective. In fact, the events of 1857, taught bitter lessons and thereafter, the movement to oust the white man gained momentum with an enlightened but subdued political awakening.'

'Indian English poetry was limited to the elite of society and after city-life became a craze with the educated people, even rual people started evincing interest and here, English writing began to grow I metropolitan ambience.'

'It is quite interesting to notice a drastic change in nature and shape of Indian English poetry after1980. Now, one witnesses a new and rich crop of poets from the rural areas as well. Urban poetry gradually but imperceptibly undergoes a change and issues concerning the country and the neglected segments of society find inspired expression, which the poets did not touch earlier in very strong language with realistic persuasive frequency. Poets of rural and urban surroundings demonstrate poetic range of universality and catholicity and the landscape appears unrivalled as one scrutinizes the poetic output that continues to grow with amazing rapidity.'

'Contemporary poets are conscious of the sufferings, the outcome of immense materialistic considerations. Occupation with routine turns a man into a mere machine and brings chaos. A search for identity in dordered lifestyle turns out a huge bafflement.'

'During colonial rule, many religions affected life and thoughts of people. One perceives a fair amount of erosion in ancient Vedic values and culture. Therefore, an awesome struggle to strengthen roots in Indian culture and heritage affirms its existence.'

'Even if one disconnects affiliations with the poets and constructs meaning objectively, the texts would definitely throw light on the sociological, philosophical and psychological facets.'

'In the meanwhile, one is tempted to observe that strong and dynamic voices are gradually emerging on the scene of Indian English poetry. …poets are quite worried about the Indian mind and appear impressive in verses, at times touching universal dimensions. Native consciousness continues to travel verses with an idealistic frame but uncertainty appears pervasive as social realism with plenty of cultural curiosity enrich lyrics.'

'Poets encompass humanity notwithstanding pursuing multifaceted consciousness where apparent contradictions surface, disappear and then, resurface to ascertain facts and truths of life, and drive inquisitive minds to offer varying definitions and meanings to the identity of man.'

The next plan of the writer is to go on giving samples of the ten individual poets and then at the end to showcase a list of his own publications. This meticulously executed plan enhances the utility and value of this book.

Literary criticism is not a diligent study or practice for all poets. PCK Prem is a very competent and renowned literary critic also. Now, the author's assessments of the ten selected poets.

"Tagore concentrated energies on the gentle and affectionate urges of man, and all creative writing riveted on spiritual phases and tendencies. … Patience and harmony within will give infinite delight while one reads Tagore's verses… His poetry is a treasure house of philosophic and metaphysical thought, deep and intense feelings, and makes an imprint on the mind and heart. His poetry generates compassionate outlook and humanitarian thoughts, leads a man to breath taking revelation and realization of truth and thus, natural tenderness enriches and glorifies a man."

"Shiv K.Kumar's lyrical quality is an exciting experience when he touches varied thematic patterns. To fathom the intellect and heat of a scholar of Kumar's stature, at times, gives rise to baffling questions. He is prone to creating bewildering images and turns out exceptionally confusing and incomprehensible many a time but when one moves gradually with each word and simile he structures, one begins to love rhythmical flow of verses."

"Urban life disturbs Daruwalla. His wide ranging experiences of urban life makes him conscious of the paroxysm and choking sufferings which often escape logical solution. He uses language insightfully with a charming effectiveness. … Poetry for him is a journey into psychological complexities and philosophical deliberations constituting an atypical world throbbing vigorously within and he appears to wait for the terrific explosion…. He nurses a distinct individual philosophy. … He writes poetry with a sense of anguished love and passion, and raw cynicism determines poet's philosophy. Distrust and cynical attitude also determines poet's philosophy."

"Jayanta Mahapatra's poetic art strikes the chords of heart quickly as he moves from one image to another even allowing a keen lover of poetry to assimilate the first reflection and metaphor. Use of simple words stuns and puzzles. It spears one is very close to the feelings and thoughts of the poet but then, one is left totally bewildered, for he challenges the very basis of understanding in a subtle mechanism. A consistent movement between the realism and the imaginary world stirs and one begins to reach a conclusion too. He commands unique authority on conceiving startling imagery, and in the process, he beautifies the language."

"Individuals like Hazara Singh, for whom nationalistic thoughts appeared lofty and sacred, devoted life to the cause of welfare of people and freedom of the country. They thought nationalism as a religion (sic). True national zeal and patriotism determined the movement of great lives. Singh, right from childhood evinced interest in the affairs of the country and was very active during the freedom movement. ... When one reads the poetry of Singh, such thoughts begin to assault heart and intellect with a terrific frequency."

'To go through the poems of Syed Ameeruddin is a purifying experience.… His lyrics give unique thrills of an ennobling spirit pervading the entire mortal frame while a distinct catharsis takes place within sanctifying feelings and thoughts. With an inspiring religious mind, he infuses each word with soul-filling nectar. Rooted in Indian culture and traditions, he reposes immense faith in ethical values.'

'Arora's poetry speaks of grace and majesty in thoughts and feelings. He cannot live with ugliness and beauty for a long time. If malice and hatred invade, he tries to find beauty and glory in inequity even. He looks into beauty and ethics that so evidently become transparent but when he penetrates into the realities of ethical living and apparent loveliness, disgust and repulsion invade.'

'R K Bhushan is worried about the contemporary man and his lyrics constitute joys, pleasures, miseries, traumas and tragedies of modern life. … He reposes confidence in the spirit of man. He believes in honest, genuine, truthful, sincere and persistent struggle to reach an objective. If man follows the laws of justice and fair play, he becomes an asset. If he discards politics of treachery and hatred, duplicity and hypocrisy in relations and society, he contributes to the uplift of human kind or else, remains a liability. Still, poet's optimism instils faith and so, hope of a rosy future beacons a disheartened heart.'

'An intellectual probing is one of the most outstanding features of Chambial's poetry. He looks into dilemmas of life in contemporary scenario. He is disturbed since the multifaceted personality interferes too often, and therefore, a coherent and rational view of life is possible only when one goes into the psyche and intellect of the poet. It is imperceptible but it stirs. He authentically speaks of modern anguish, pains arising out of chaotic living conditions, scrambled thought processes while a man fails to locate a correct existential position amidst surging despair and overshadowing frustrations. And therefore, Chambial's intellectual intensity befuddles a gentle heart.'

'R.K. Singh finds life pulsating and stimulating but next minute, darkness overwhelms. In failure and vacuity of thoughts and loss of faith, the poet impersonates as a protagonist of modern man and decides to 'swallow pills to live in a safer tomb'. Failure to set right 'the rotten state of man' agitates and distresses. Fears, vices and uncertainties prove sickening. Gentle and lofty thoughts appear valueless and meaningless, and genuine self-contradicting surfaces. He struggles to search concrete and uplifting moorings. In a world of market economy, shares erode credibility of honest business and make life difficult for a man of modest means.

During the period of PCK Prem's study several changes have been taking place. Poets have been sending their poems and even articles in literary criticism to the widening horizons of journals and periodicals. Poetry has come to attract penmanship widely. The gulf between the rich and the poor, the educated and the uneducated is showing signs of lessening, though corruption at the level of politicians and employees is rising like hydra's heads. The trends of intense and creative cerebration have been expanding. While the schismatic and fissiparous tendencies have been there, poets are envisioning the emergence of a brave new world. PCK Prem's work in poetry and literary criticism is a sign of progressive thinking.