Continued from "Of Folkloristics and Folk Tales"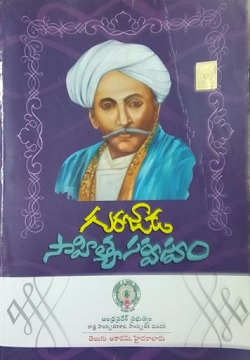 In the earlier parts folkloristics and folk tales have been taken up. Now this third category of folk enthusiasts is dealt with. Of the three in the title above scholars of folk enthusiasts are adding to folk poetry and folk songs. Educated people are adding their writing to folk brands.

In Telugu one of the most distinguished of such is Gurajada Venkata Appa Rao, (1863-1915). Gurajada is a writer who was a devout people's poet besides being a devoted servant of his Raja, Maharajah Anand Gajapati and his family. He served as a private Secretary to Reeva Raani Circar of the Gajapati family.

Gurajada's Work (Works in Telugu with interest in folk compositions are in italics)

The Cook – English Poem -1882

Sarangadhara – English long poem, padya kaavyam -1883

Chandrahasa – English long poem, padya kaavyam -Date uncertain

Victoria Prasasti – English poems in praise of Queen Victoria presented to the then Viceroy of India by Maharani of Reeva -1890

KanyaSulkamu – Play – First Ed. -1892, Completely revised second Ed. -1909

Review and Introduction in English to Sree Rama Vijayam and Jarji deva charitam (Sanskrit works) -1894

Edited (1890s) "the Wars of Rajas, Being the History of Hande Anantapuram," and "Taatacharyula Kathalu," both originally collected by C.P. Brown. These works were published after Gurajada's death.

Review and introduction in English to Harischandra (An English Drama -1897)

Minugurlu – Children's story -1903

Kondubhatteeyam – Unfinished humorous drama -1906

Neelagiri paatalu – Songs describing the beauty of Nilgiri hills -1907

Newspaper articles on the 1908 Congress Party Annual Session at Madras criticizing the lack of focus, integrity and strong will to take on the British rulers. An English poem parodying the session.

"Channa kaalapu chinna buddhulu," – essay denouncing the superstitions associated with the appearance of Haley's Comet in 1910.

Mutyala saramulu and Kaasulu – Poems in Gurajada's own meter, Maatra Chandassu – 1910.

Deshamunu premimchumanna" – Patriotic Song – 1910.

Bilhaneeyam – Unfinished drama, Act I -1910, Act II -1911

Lavanaraaju kala – Poem -1911

Puttadi bomma poornamma – Poem -1912

Kanyaka – Poem -1912

SuBhadra – Poem -1913

Vishvavidyaalayaalu: Samskruta, Maatru Bhaashalu – Report submitted to Madras University -1914

Asammati patram – Minute of Dissent -report against the decision of Madras University to retain classical language as the platform for curriculum development -1914

Dinchu langaru (Poem -1914)

Langarettumu (Poem -1915)

"Sree Gurajada Appa Ravu gari daireelu," is a collection of the dairies of Gurajada published many decades after Gurajada's death - Edited by Burra Seshagiri Rao.

The translations of the poems revealing the writer's enthusiasm of the rural folk are presented here.

Here are the renderings of just two illustrative samples of imaginative folk-related realism in Gurajada's poetic/lyrical compositions. They are remembered even today.
The Golden Figurine - Poornamma (1912)
(Puttadi bomma poornamma)

Maidens of the hue of purest gold
Maidens lotus-eyed
Little women mothered by damsels
DDid ever hear this tale?

Little caskets of playfulness and lyrics
Boughs of the woods of trees sweetest
Mothers who mothered mothers
DDid you ever hear this musical chant?

A hamlet there is amidst hills
Amidst the hamlet is a lake
OOn the banks of the water-body lay a temple
Seated Herself golden mom the young Durgamma

Born of a priest was the golden idol little
The little idol like Poornamma brings fruits and flowers
CCulled fort brothers she deeply adores.

Fruits of exemplary sweetness grown in
Seasons varied
With devotion and glee offers daily
TThe golden figurine, Poornamma

Sweeter than those fruits admired
Glory and grandness exceeding those
Emerged in the young one's mane.
IIncreasing by the day effulgence of the beloved figurine.

When arrived the Spring, in Durgamma' s lake
Lotuses laughed merrily loud
When spring came in the goddess's abode
LLittle damsels excitedly giggled

At the moment when giggles with affection
Bubbling with joy the lotuses
Filled the tears of happiness dee
OOn the faces of the growing girls

When her mates laughed at her
While playing the friendly maidens
Stopping to go there into them
PPoornamma went grieving to Goddess Durgamma

Came her hubby a few days later to take her his home
Brought he many sari
And many a dazzling ornament
FoFor the golden figurine Poornamma.

Anointed with worshipful turmeric
Poornamma bathed
Sisters-in-law all
TaTaught handing her skills various.

Then offered Poornamma salutations to her parents
Her Mom and Dad blessed her
Listening to those
LaLaughed aloud the golden figurine Poornamma.

Hugging all the young ones there
Broke she down with tears eddying in the eyes
Then spoke she to brothers older and young
ThThe golden figurine Poornamma.

Brothers elder and younger
Take loving care of mom and dad
Pray and worship with devotion deep
MoMother of mothers, Mother Durgamma.

Collect and worship with those flowers
Flowered in various seasons
And offer fruits of the various climes
ToTo the Holy Goddess Durgamma

At times when all gather siting and t laughing
Remember me and my name
Name your kids
AfAfter me with love and affection

Plentifully flowed tears
From the eyes of the golden figurine Poornamma
Wiping tears laughed she gleefully
ThThe golden figurine Poornama

Shed tears sisters-in-law elder, and brothers younger
Mother too had her eyes filled with tears
Only the father s the one
ToTo be gleeful

As ever and always at one occasion
Making garlands of flowers
Went she to offer worship to Durgamma
AlAlone Poornamma that once.

Cows and calves gathered to return
Little birds gathered in the nests
Stars began to blink in the sky
DiDidn't come back home, Poornamma

The glows of light reached the lotuses
Reached all radiance of sap
Reached swans the grandeur of their step
Reached the golden figurine the Mother Durgamma

~*~

KaKanyaka (Andhra Bharati, Oct 1912)
The Maiden

Clad in a brocade sari
Adorning the hair with flowers
With bindi on the forehead
EEnhancing glamour

With a shine in the eyes
Ornaments adding glitter
Attracting a fanciful walk
Walked forward a maiden
GGracefully on the royal thoroughfare

With pots of golden milk and cyrds
With fruit and flowers on platters
With smiles enhancing beauty the faces
Maids of honor
WWalked behind

The Raja of the city came facing her
His glances caught the maiden's charm
Cupid's arrows piercing his heart
WWondered like this

"How wondrous! The moon amidst stars" thought he
Before this maiden's glowed,
This kind of brilliance
IIs there any one to match?

Capture her I must with power
Beat I should Cupid's kingdom
Wear I must the anklet of grandeur
AAmong the gallants voluptuous

On the highway in the middle
Along with ministers, he
Wanted the maid to capture
RRushed forward the Raja

For the one way laid
God alone could be the savior
Thinking thus with inteeligence
SSpoke maiden thus

"Touch me you wouldn't,
Come return I'd, you are
The Raja of the cit, I the Chetty's daughter
HoHow can I escape you?"

With relatives flocking around
Servants following
Folding his hands, to the Raja,
HeHe said

You are the raja ruling us! With power
Should you win us? Aren't we your
Wealth? Isn't there anything more precious
ThThan your seeking her! Fortune to the Vysyas

But giving us value
My relatives and caste elders
Following Dharma
IfIf a way is found

Take her with fire the witness
Love us and receive presentations desired
ReRespecting our caste

Laughing derisively, said the Raja!
"Oh! Ah! You teach the path of Dharma to the Royal kid!
Teaching the king's son
IsIs Chetty teaching the Raja

What the Raja does is Dharma
What he lays down is shastra
IsIsn't there a method for those?
Isn't gaandharava laid down?"

"Don't delay, don't panic
Don't fix days, tomorrow or day after
If you desire relation
GiGive way the daughter, or get lost

"Would the falcon leave the bird
Would the maiden walk back home?
Come, bring the gifts
WaWait, we would till you come"

Not moving said Chetty
"Duty to God first, later alone
The Raja's! Isn't it?
IfIf you permit me!

"I'd go first to the temple
Of deity Veerabhadra
Make an offering
IfIf you please"

"Good, start , we too would come
In the temple,
FiFire being witness we'd take Kanyaka
In your presence!"

That day raged fire in the pit
While the flame touched the sky
The Raja seeing ii
ApAppeared to be moved

With heart felt devotion
Praying to Mother Durga, Kanyaka
Worshiping, her ornaments all
OfOffered Durgamma

Swallowing all grief
WeWearing red perfume and red clothes

Said Kanyaka
To all those assembled
"Elder brothers, fathers,
Listen to my simple submission
To protect wife and kids
Is there no single way,
InIn this caste?

"If the king rules the city
Is there no God to rule the Raja?
Why wouldn't your courage and sense of honor
Inspire you?
"The one who teaches is a Brahmin
The one courageous is of fighter caste, Kshatriya
ThThat is the way of Dharma

Forgetting that, for placement
Without faith, for filthy coin
Satisfied thjs
Without strength, without learning
IfIf you act without wisdom

Wouldn't there be troubles, awakening,
Using wisdom and strength of shoulders
Keeping trust in God, among Rajas,
Be kings and go ahead1" saying this
Kanyaka appeared before the Raja then
WaWalking forward a few feet
Spoke thus

In broad day light, amidst the public pathway
Wouldn't thieves and the voluptuous
I'd catch and punish
ArAre you a Raja?

'The elders of the caste are assembled here!
As witness there is fire rising in flames!
Here is the maiden your eyes desired!
WhWhy delay at all?

"If you are the ruling King of the city,
Catch me now," saying this
The maiden
WaWalked into flames

The Raja's pride
And hauteur mixed in mud, fortress and streets
Collapsed becoming playgrounds for jackals
StStraight away.

At the place where the maiden's honor
Fell into fire, rose a mansion sky high
Words and lyrics stood up
The glorious and the infamous.