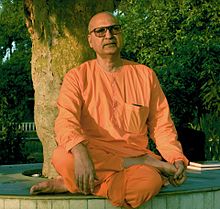 The other day Rajshekhar's teacher and Guru Ramkrishna Maharaj visited me at my home. It was a unique experience for me. Maharajji is a Sanyasi of Ramkrishna Mission and teaches in the university of the mission. He is a product of Ramakrishna Mission Vidyapith. Deoghar and St Stephen's College , Delhi. He is a prolific writer, I have read several of his books. They proved to be refreshing and rewarding read. I was not particularly exposed to spiritual texts prior to it.
Earlier I had learnt of him during my Bihar University days. Kameshwar Babu was a colleague. He had spoken of his son being selected for admission to prestigious Ramakrishna Mission Vidyapith. It His friends and relatives had congratulated him. Some of them were envious. A bright future seemed beckoning for the family. Kameshwar Babu had told me in despair that the family was shattered. Naming him Ramkrishna proved prophetic"
He evolved into the ascetic, wise sanyasi Swami Samarpananananda, author of a number of wonderful books such as Param, Tiya- a parrot's journey home, Carving a sky, Junglezen Sheru , Living Hinduism, among others. His writings have been highly acclaimed by intellectuals such as APJ Abdul Kalam and Upamanyu Chatterjea.They are recommended for parallel reading in top management institutes of the country.

I had read some of the books. I found them absorbingread. They do not preach, they are no concerned with life hereafter.. They talk of life as we live, they help in discovering ourselves.
These books do not preach, they simply put a mirror in front of the reader. The book tells us about our inherent tendencies, our experiences. The perky parrot Tiya's secure world is shattered when he hears an unknown voice urging him to leave his home, the old banyon tree. As he launches into an adventure-filled journey through strange lands, meeting fantastic creatures along the way.Tiya comes to terms with his strengths and weaknesses.He discovers that no one in t his universe is ordinary, and that life is a series of experiences that ultimately unshackle you from your own narrow existence.It is up to you to take on this adventure and come out of it as a free spirit.
Like other fables, Junglezen Sheru conveys a moral. A person is not like any other person around him. Every personality is imbued with a core strength. That is to be identified and worked upon. Then only he/ she would be able to realise his potential. He would evolve from being Junglezen Sheru to the lion that he is.
The book "Carving a Sky" is concerned with individual's quest to be human. The author's opening line is "To be human is to aspire for excellence. The desire to be unique, possibly the best is innate to us all". It stimulated me. I cannot claim to have any clear and academic understanding of spiritualism. I have not read spiritual texts. Still going through the book is an opportunity to understand what and why of living in the light of illustrations from my own persona.
I had written short notes on two of his books It was sort of incursion into unknown territory by an uninitiated. I heard from Rajshekhar that the author had appreciated my writing and he would be visiting my home. I had a nervous feeling. I knew that I had only an arbitrary and self serving idea of spiritualism, which may appear to be blasphemous to the sacred minds. I would like to view spiritual independent of religious. Being spiritual endows you with an ecological conscience. It enables you to respect and love self, people, nature and the biosphere including man. I believe that being spiritual makes you aware of the cosmic energy pervading in and around you. You are able to feel connected with all around you and with time extending from distant past to future as in the poems of Tagore.

So I was apprehensive that the author may not be happy at my intervention. It was gratifying for me that he had shared the note on his blog.

It was an exciting experience. The Sanyasi had visited me. He has multiple identities. The author was at my home. My excitement was induced by a sense of fulfilment on my part.He evokes the mythical story of sage Sukhdeo, who excelled his father Maharshi VedVyas in wisdom It was such an exalting tribute to the glory of life to discover that lost child in the respected scholar.

Swamijee had a cup of tea with us. We sat for nearly half an hour. I learnt that it was an author who had interacted with his readers. Finally as he was taking leave of us, he spoke in jest," I am afraid you are not disappointed after meeting me."