Beyond Words: K. Pankajam, Authors Press, New Delhi, 2018, pages 85, Price Rs 250/- $ 12/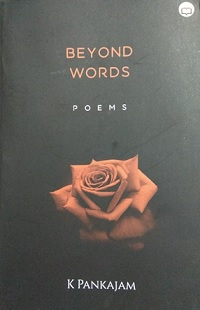 Indian poetry written in English, in the last few decades, has been undergoing a paradigm shift in the choice of subjects, imagination and expression which are near our culture. The contemporary actuality around us has been the basis of thematic content. The language is English but the imagination is Indian. Poems written in English are about our culture and our way of thinking. Serenity, compassion, feminine grace and tenderness are women's hall marks.

The ancient poet Bhartrihari's concept of sad dharma naari of the traditional ethos and mindset are evident on the women poets' way of feeling, thinking and expression. It is unimpeded humane concern and empathy with love of nature, bird and beast with deep understanding and dignified resilience. Culture can never be static, it is like the water in the river, gushing forth or going forward with imminent dignity and grace towards its destination – the ocean. Things, conditions and attitudes may change or get transformed but the basic ethos and values remain the farthest attainable points attained.

Basically, the mindset of the fair sex tends towards basic values. Women by nature are, by and large, devout and God-loving, our native ethos. When one says 'Beyond words', it could be faith or devotion, or both. Pankajam's makes the reader think of that. She calls the mind 'a fine-tuned apparatus.!

… make me shed illusory walls
of the sense of separateness
paving way for greater joy
discard feelings of smallness,
identify with a larger one
so that I earn greater consciousness
to merge in mighty spirit
(Infinitesimal, p.13)

This poem comments on the injustice to the he-she's and she-he's.
…
when the androgynes form
of half-woman we worship
sing praises of warrior Shikhande,
eunuch Brihannala, all in epics
why can't we allow the third gender
to write their own success stories?
Sex is what one is born with
(Eunuch. P.14)

Intense sensibility is the hall-mark of the fair sex.

We ae told
There are things not to be told
which you understand
without being told.
~*~
Your touch is magical
You alone know where, when and how …
Turn the slimmed sins to abysmal pleasures
Each a person on the canvas of our love.
(Your Touch, p. 17)

Feelings about the imponderables are the basis of poetic creation. The "Your" refers not to the reader but to the creator Himself.

Your whispers of endearments
exhilarate my dreams
assuage cluttered sentiments
like darkness wallowing fades away.
Once power is switched on,
shards of pains evaporate like heated camphor
lighten past blemishes, eat up pallor
with the retribution of an unyielding rival,
sunken passions germinate in galore,
nature my soul's craving
…
(Tenets of Love, p.19)

The inner workings are obviously the imponderables which are only felt and expressed in ways wondrous, words!

I fail to realize in spite of no fewer comforts
why me consciousness is fully awake
refuses to settle down chasing ethnic roots
even while sleeping in the cold night's arms.
(Chasing Ethnic Roots, p. 21)

Mind boggling thoughts allow the thinking minds and progresses towards new ideas, create new doubts, the real characteristic of the imaginative person, the devotee, the poet.

Mind restless like the sea
divides two shores to connect.
It aches to cross over to the other edge
with shells cast away by waves
hoping to find meadows
greeted by a winter orchestra.
(To Edge Ove, p. 23)

Devotion leads to prayer and prayer takes one nearer to Him. The two are inseparable.

The seed is in sacrament
willingly endure loneliness
like in the protective darkness
of mother's womb,
perishes underneath, undetected
for its shoots to see the light
and make the forests lush
prays for its flower
with no tomorrows
yet carry seeds within
and as its limbs being cut off
it bleeds and wails.
(Seeds in Prayers, p.25)

Hindu marriage has several ceremonies. On is the bride and groom round the fire pits seven times. This is called sapta padi. This is to confirm the celebration in the pendal called kalyanavedika. The speaker is a devout bharat naari, woman in Bharatakhanda.

Resolves of footsteps I listen
The first step enslaves my fears
Second teaches me to forget my flaws
upon the third I ignore rejections
The fourth one warns me to give up comparisons
Crushing my anxieties, I leave the fifth
and on the sixth I sustain my confidence
upon which the seventh prompts me
to give my best to beat my own past
They promise to bring me smiles
and my heart laps in joy
(Seven Steps,p.26)

Pankajam's poetry is Godward. Many like this. Reading for understanding involves a lot of rumination. One after another her poems make you cerebral. All the best!