Serenade of Spring: K. Pankajam, Authors Press, New Delhi, 2018, pages 85, Price Rs 250/- $ 12/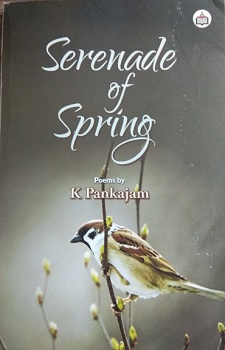 I paint with the tools of words
to show my thoughts to the world
make things appear good, otherwise not
and it dances to make you merry
~*~
Poetry takes birth
when my emotions marry thoughts
gives birth to words, exquisite,
out f passion, love and longings
(Paining with words, p.46)

Pankajam has made a niche for herself in the Parthenon of Indian English poets in our country., in the last few decades, our poetry has been undergoing a paradigm shift in the choice of subjects, imagination and expression which are paeans of our age-old culture. The contemporary actuality around us has been the basis of thematic content, and our renowned ways of living. The language is English but the imagination is Indian. Poems written in English are about our culture and our way of thinking. Serenity, compassion, feminine grace and tenderness are women's distinctive mind-sets.Women by nature are, by and large, devout and God-loving, our native ethos.

Only words can be used to convey ideas and feelings to another person. Poets use words to convey the inner sensibility. A poet cannot be criticised for being wordy or guilty of wordiness. The following poem is about the Supreme being

Oh Lord
You are compassion embodies
Divinity consecrated
make animate and inanimate
abide by your orders
take refuge in you
to flow ad merge in you
for supreme awareness,
and when we knock at your doors
infinite be Thy blessings on us.

(To the all-pervasive Supreme Power, p.7)

The following poem conveys the feeling of self-realization. The poet herself wonders if it is an illusion and concludes

I continue my journey
in the direction of light
from some mysterious source
bound by an awareness
perhaps a spiritual
commitment
as both mind and body
prostrate in adoration
before that unknown force
that brings tranquillity to me
make my mind at peace
with a revelation
that things perceived by senses
are one or parts of the same,
a state of oneness or togetherness,
a state of love with nature
or adulation with the Supreme.
Or if it is just a mystic illusion
unattainable to my rational senses
am I here like a traveller
who chases a mirage in the desert?
(A Mystic Illusion, p.8)

The speaker of the poem talks addressing her beloved. 'Humility is endless' wrote a poet. This is evidence to that. At one level this could have been a prayer to the Almighty Himself.

When I am gone
don't look for me among the stars
stuck between the murky layers
am visible only after the sunset.
I will be there in your breath
unseen, untainted, unscathed
~*~
Still I expect you to spend a moment
before my framed picture once in a while
when I can feel the worth of a life lived well
and pray for one more spell to love you more.
(When I am gone, p.14)

The speaker, the poet herself, if you perceive so, is all humility, devotion and total submissiveness. Another poet said 'Let Nature be your teacher'! Wisdom to do so is worth the value of the most precious diamond. The poet seeks wisdom from birds that migrate, from the deer running swift from the chasing lion. She concludes:

It would be great
To gain wisdom like that of the sea,
Wish if could see wisdom in oneness
Mutual faith, smiles and gentleness.
(I Seek Wisdom.p.16)

Suffering pain with equanimity and devotion in total submissiveness is Godliness itself. The you in the penultimate line can be taken as You referring to Him.

I'm a butterfly
Allow me to endure my own pains
wrapped up in contentment and joy.
From caterpillar to butterfly
evolution is my mission, my sojourn,
destiny set the path and destination
to acquire the most endearing semblance
paint me is stunning colours
and give wings to explore the sky.
~*~
Allow me to endure
wrapped up in contentment and joy
while you sit and scribble
poems in amusement.
(Let me Endure My Pains, p.17)

Women take life, comparatively more realistically and the following poem illustrates that actuality. She is wise indrawing her conclusion

Her frayed nerves crumbled
yet, a frail smile hovered over her face
before the live cameras,
perhaps dawning realization
that in the ebb and flow of life
one should expect the unexpected.
An illegal route to rapid riches
is a cake not worth the candle
and wisdom, a bitter lesson.

(Expect the Unexcepted, p.18)

The poet talks about practical wisdom with her usual tenacity. She goes on reputing 'Happiness' again and again in eleven ways which is ad infinitum. This is the most readable, piece of practicable wisdom.

You can see t, still beyond definition.
Everything in life may be serendipity
To fulfil the predestined cosmic purpose.
Happiness is everything, yet nothing.
(What is Happiness, p.19

Really is here the faculty of making good discoveries by accident, if you think it is so.

The three last poems really are a part of the spring serenade and I would be failing in executing my job as an effective reviewer. The 'I' is the real poet her, not a speaker.

don't have plans big to bring about
Which my old limbs struggle to carry out.
Two steps at a time I may not mount
the strains of it being too much to stand.
Neither do I seek out any undue support,
nor find any sturdy hands stretched-out.
(Climbing Two Steps at a Time, p.74)

Here is poem where the your and you, are not the Almighty, still no harm even if it is.

When my dreams scatter
give me your support
help me stand straight
money or alms I seek not
your words if assurance I expect
nothing stands to match it.
~*~
I count upon you to help me out
for it is all a give and take here
Life is a levelling ground
let's ever be there for each other. it
(When My Dreams Scatter, p.75)

The last poem is devotional, where the poet uses the Sanskrit words, abhaya hasta, jaladhaara.

I stand in the temple nearby before Devi in a pose of sacrament
with 'abhayahasta', getting bedecked after 'jaladhaara',
among devotees worshipping for mercy offering small coins,
strikes a revelation, SHE is flooded with so many obligations
as more and more people keep faith in the system
perhaps that is why it takes longer for a cure.
(For Her Mercy, p.78)

The poems are meaningfully effective and readers stand indebted to such a poet and such poetry.