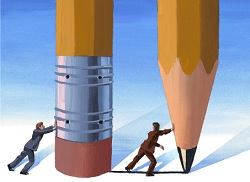 Some pencils are sold with erasers attached as if to make them angry. The erasers undo the good job done by pencils. For obvious reasons, sharpeners are not so attached to the pencils.

Pencils are about 2000 years old whereas computers are of recent origin.

The black-lead pencil is euphemism since no lead is available inside. It has graphite inside.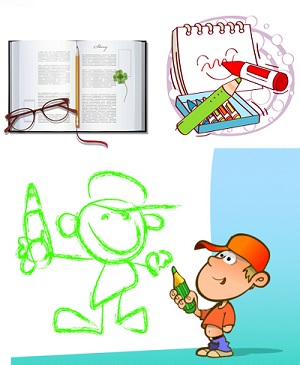 With a pencil we can mark a line around our city if its perimeter is about 70 kilometers. Or we can even write a novel of 35-thousand words using a single pencil. The astronauts in the outer space may as well use pencils instead of the pens when the same are not working.

Some of the resting places for pencils happen to be ears of their users. We often see them on the ears of tailors, artists and even editors. Sometimes they are used to clean the ears or jab at someone as a wake-up call. Students play with pencil like jugglers do, to pass their idle time in the class. Pencils are seen thrown at one another in the class playfully or in time of fights which is not only a bad habit but risky.

Some pencil collectors love different pencil boxes in varied designs and colors. There are different grades of pencils like H to 9B grades. There are pencils with water colors or one may find soluble pencils, magic pencils, etc. If the number is higher, it means they are harder whereas 'H' says it is a just hard pencil. 'B' indicates it is black. HH is too hard and light at the same time and 'F" indicates its finer point.

Some children crazily sharpen their pencils quite unnecessarily and leave a lot of wood shaving; what a waste of trees that results in. But thank god, nowadays they are being made from plastic.

In the end, some pencil sketches are wonderful to look at and to do them it needs more skill than a painter got.

Pencil is a lovely thought provoker and it is never replaceable.
Images (c) Gettyimages.com