Mukunda Rama Rao, Vyaktitwa Vikaasam – Paths for Happiness, Navachetana Publishing House, Hyderabad, Mar 2018, 88 pages, Price Rs 70/-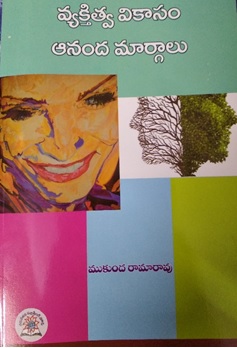 The author of this book is widely well known as a Telugu poet and a translator. He translated the poems of Nobel Laureates whose poems were presented in English. This slender volume has twenty-five very brief chapters. The following are their titles - some questions and some memorable pieces of sagacious advice.

1. With confidence after 40-50-60

2. There is meaning and ultimate purpose.

3. Don't isolate yourself when in problems

4. How is it right when you believe too much?

5. It is true that all goals are important

6. Happiness needs a strategy

7. If we think of our group as large, how large is the family of the world?

8. Be contented with what you have!

9. If we are far, does it mean we are separated?

10. You should accept yourself unconditionally

11. How would it e if we hate ourselves?

12. Lessons that our childhood teaches

13. Better to be in work stress than being irritated

14. Do you think that you should always win?

15. Keep doors open for changes and new thoughts

16. Where…when…how

17. Be ready to change

18. Don't sit as one bound

19. Relations are always different

20. Are you not interested in your own work?

21. Ambitions should be realistic

22. Don't lose good thoughts

23. Let us love ourselves as individuals

24. Don't ask what has already happened

25. Achieve something everyday

Here are some quotable quotes from the text:

According to a study the lives of those for whom there is no purpose are seven out of ten.

According to a study of wife husband, if there is cruelty in one and carelessness in the other is found as a link.

For a vehicle there are four wheels one wheel is not strong enough or of is they are not wee-fixed it does not work well.

Self- respect should be protected is expected both in others an in one' own self is necessary. It is the way to joy and success. It is natural to make mistakes but going on making mistakes is a failure.

Naturally children have goodness. To be cheerful is their nature. It would be wonderful if all are good and loving, the world would be fine if all would take care of all others. Love and affection would create and foster joy and happiness.

Life has ups and downs. There would be many stops. One should manage by having suitable plans. Then only there would be a smooth travel.

If we see how affectionately animals show love, we would be surprised. The nearer we go to them the closer they would come.

Relations are built on mutual praise, help and co-operation. Praise and concern for others depends on mutual praise.

The ancient Greek Emperor Alexander (BC. 356-323) expressed three desires to his chieftains in fights:

For his great doctors who treated him No 1. to carry his bier on their shoulder,

No 2. That they go on throwing down all his silver, gold, diamonds and all valuables and till l the cremation ground

No.3 That his hands must showing out from the coffin.

When the chieftain made bold to ask him why he wanted to do the three, the Emperor's answers are:

1. However great the doctors, none of them could save his life.

2. However much one earns, nothing could be carried any where

3. Showing my empty palms is to show to all that he brought nothing here and not taking anything away either.

4. The only thing that matters is the time I have given to others.