Yes It is My Government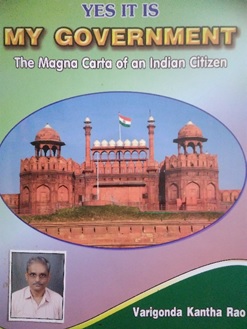 Yes It is My Government, Varigonda Kantha Rao, 2019, Sree Deepthi Printers, Hanumakonda, Price Rs. 450/- Pages 240 + 79
Magna Carta is the foundation of the great charter of human rights originally issued by King John of England in 1215 A.D. Parts of the Constitution of India contain the fundamental rights of rights referred as Magna Carta of India. Democracy is the government of the people, by the people and for the people.

Now about the book brought by Varigonda Kantha Rao the magna carta of Indian public in March 2019.

The text has five sections listed thus as Books

It is My Government
Welcoming the Change
Integrated India
The Preamble to the Constitution
National Festivals (Holidays)
The Legacy of Colonial Suzerainty
The Union Territories of Delhi and Puducherry
Article 370
The Election Commission
The Political Parties
The Governor
Territorial Constituencies of Lok Sabha and Legislative Assemblies
Rajya Sabha
Legislative Councils
Gram Panchayat
Zilla Parishad
The Municipal Corporation
Urban Development Authority
Democracy is not a Monarchy
The Election
The Removal
Certain Conditions
Certain Limitations
The Responsibility is for the Full Term
The Positions
The Stability
Behaviour of the Legislators
Services of Former Parliamentarians
The Voter Must Know
The Judiciary
All India Technical Jury
The Judgement
The Minorities
Reservations
Certifications
Certain Aspects of Reservations
The State and the Religion
Religious Matters
All India Council of Medical Standards
Drug Authority of India
The District Administration
Management of Higher Education
The Police
Investigative Police Stations
The Job of Establishing the Truth
Administration of Jails

Book II
The Agriculture Matters
Healthy India – Infrastructure
Healthy India – Reaching out to People
The Garbage Matters
Civic Administration
Wilder than the Wildest
Trade Unions
Am I a slave?
Students' Union
The School
Plus-Two Education
Entrance Examinations
Higher Education
The Research Matters
Monetary matters relating to Education
Who is a Poor Child?
Food and Accommodation to Students
Names and Statues
Advertisements
The Media
Indian Railways
India Post
Our Nation Among Comity of Nations
Indian Economy
Matters of Procedures
The Human Resource
The Governance
The Democracy

Book III
Efforts in the Past
Petition to President of India duly signed by 541 Members
Letter from Ministry of Law, Justice and Company Affairs
Letter from Assistant Registrar, Supreme court of India
Appeal to Indian Railway
Replies from the Railways

Hither and Thither
1.Whither Nation 1. The Basics
2.The Scene 2. Democratic Anarchy
3.The peaceful Country 3. Should I?
4.The Process 4. Transparency
5.The Sanity 5. Charity, The Selfish Way
6. Irresponsibility as Birth Right
7. You and I
8. The Promise
9. The Clarity

The author has taken great pains to put across what he has in mind for long, now it is the duty of the reader to make justice for himself. To make matters clearer the enthusiastic thinker wrote a poem too. I cite it whole. Go on to the end now:

Whither Nation

When Police becomes the
Lawful arm of the
Lawless politician
The Extremist becomes the
Unlawful weapon of the
Lawful people

When media thrives on the
Criminal sensation
Deified criminals rule the
Stupefied Nation.

When intellectuals gloat on the
Selfishness par excellence
Hypocrisy becomes the
National character

A nation without character
Decays within and gets
Enslaved without
27-Apr-2019
More by : Dr. Rama Rao Vadapalli V.B.
---
---
Sir,
Though the gist given of the book YES IT IS MY GOVERNMENT - THE MAGNA CARTA OF AN INDIAN CITIZEN is small, it gave the essence of the book completely. Those who would like to own the book for reading may kindly contact me through phone.
94418 86824
0870 2507555.
Thank you, Sir,
Yours sincerely
VARIGONDA KANTHA RAO.
---