Just for once, Indira Babbellapati, Published by cyberwit.net , Allahabad, 76 pages, Price Rs 200/-
Love poetry is unique genre. It has a distinctive glamour and fragrance. It has an intense sensibility. Here is Robert Burns whom we lovers of poetry and love never forget. It still rings in the ears of millions of lovers.

O my Luve's like a red, red rose
That's newly sprung in June;
O my Luve's like the melodie
That's sweetly play'd in tune:

Each love poet sings in a new and different voice, and each has a great value.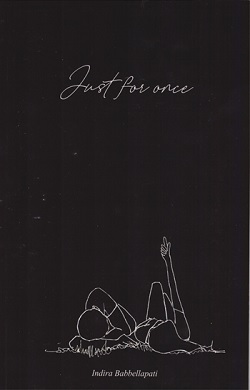 Indira is basically a love poet and everything else next. The blurb on the text tells us: "Her poetry anthologies are Affair de Coeur, Vignettes of the Sea, Echo. Some of her poems have been in many online portals …her poetry has been translated into Hindi, Bangla, Spanish and French." This present collection has a distinction in that the poems are illustrated by the pet's squint Tabitha Percy.

Indira has not provided titles to the poems. A good start in the beginning. However, there are dates given at the end. Each poem rouses a specially different feeling and there is a refrain with mellifluous resonance.

won't you lift me like
the wind that blows
from across the seas

won't you be the ship
set in sail for me on
the indigo seas

won't you be the lone
star twinkling for me
on a purple night

won't you drizzle on me
like first shower on
a summer evening

just for once
my love … - 19 April 2018

~*~

i willingly create
darkness around me;
a darkness vibrant
filled with you alone …
i silently slip into
your being and allow you
to wrap me in your
eloquent wholesome warmth …

there's no seduction
nor any body play

my love …

i absorb you and
the silent darkness
that lights my
heart and mind

just for once - 1 June 2008

~*~

the sky scape within
splashes a rainbow
dipped in the colours
of my passion for you

come my love
let me paint your
invisible canvas
with all the colours I have

jus for once… - 15 June 2008

~*~

Even a mat in the open
on a summer evening
and
the sparrows are nowhere …

yet
i still long for you
when I hear the stubborn koel
or when a drizzle caresses me

just for once… - 16 June 2008

~*~

the liquid silk night
flowed gently on my skin
spreading a soft layer
of eternal black

i lay there
like a stone in
the visible darkness …

come, my love
into timeless sculpture
of love in ebony
just for once - 27 June 2008

~*~

my eyes eagerly wait
to gather the glint
of your smile
that they sparkle as
diamonds forever
to walk through
the myriad darknesses
as one pair of
dazzling eyes …

just for once…! - 26 December 2007

~*~

come, my love
let's fill the
empty spaces
with gentle echoes

come, my love
let's fill each
longing heart
with soft
assurances aplenty

come, my love
let's kindly love
in a heart that
knows not
what love is …

for once! - 26 October 2007

~*~

thunder-passion roared
lightning-desire blinded
under thick black clouds
my pale skin came alive
with multiple hidden hues

I began to breathe

and like those two mighty trees
entwined by the field-bund
we stood there – two ancient bodies
still n a deep sea of passion

the elements folded us in …
just for once - 16 July 2010

~*~

this embryonic desire
to surrender myself
at the altar of your passion
to feel the warmth of your breath
that breathes the skin
into a glow
to taste those lips
that determine the course
of our growing passions
set to flood either of us
dislodge me out of this
empty human reason
and put me on flight
of fancy
no longer can I
resist this call of desire - 9 September 2009

~*~

in the seas of your eye
I see the refection of
The sun rise and the sun set
at the same time
I also see the sparkling high tide
of a full moon night
and splinters of glassy waves
of a bright summer day
I see the mysterious depths
Of the sea I can never negotiate
hidden behind the fluid veil
that protects the whites of your eyes

I still long
The mysterious sands of your shores
At all times of the day
And the night …. - 30 November 2006

The poet's sensibility brings together passion and external nature - the clouds, the sea, the seasons, the sun and the moon. It is not just sexual alone: there is something else to understand for which we need intense feeling and imagination. A very imaginative text.