Nar Deo Sharma, Emotionoceans New Delhi: Authorspress. 2015 New Delhi: Authorspress. 2015 ISBN 978-81-7273-985-0 ISBN 978-81-7273-985-0, Pages 68 | Rs 195
Scholarly poetry

Nativism, talking about our people and our politico-socio-economic scenario provides contemporary poets writing in English with originality that is innovative, cerebral, nature loving. Even the attitude on nature is new. Nar Deo describes this in 'In my Poems' –

Words in my poems
don't bristle with the doting
on political messiahs
absurdities of plastic modernity
... ... ...
Feel for common grief
wish for mass happiness
find soil in my poems. (p 42)

A sensitive and careful reading of Nar Deo Sharma's poetry demands two epithets to put his work on the pedestal of eminence: Innovative and Inimitable. Innovative, because of his employment of deliberate and dexterous stylistic devices; and inimitable, because he produces an 'I' which is unique as a pronoun in most of his poems. Sharma is a scholar's poet and his poetry wins scholars' acclaim.

This scholarly poet knows stylistic niceties which is not an ordinary poet's cup of tea. He believes that style is reflected in the totality of specific linguistic choices patterned in poetry. This knowhow is used in Sharma's first collection of poems 'Melody of Wounds' published first in 1984.

In 'Soldier's Memories' another aspect of the front-fighter's feelings are expressed:

I get immersed in the memories
Of your married beauty
Clothed with blush rush
Whose embrace still revives
The fountain of thrills in my veins. (p 23)

Phrases like 'minted honour,' 'blush rush' and 'thrills in veins' in the above poem linger long in the reader's mind.

The poet is alive to beauty also. 'Kashmir: A Magnificence Past' (later carried in this new collection Emotionoceans is a case in point –

The gentle breeze
Will inebriate you
With a cocktail of fragrance
Culled from various flowers.
... ... ... ...
The pensive lake
Ripples into joy
When you tickle its bosom
With your boating desires. (p 52)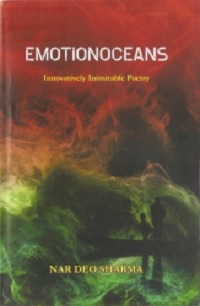 Emotionoceans is an enthusiastic jumble of emotion and oceans. This collection includes ten poems in the first collection (many already cited) making the count forty-five. The very first poem is a prelude to this much matured poetic expression and imaginative 'Green Go' is a neologism for autumn green and fall. Go suggests a coming back and fall wouldn't suggest rising of the fallen leaves again. The following lines are effectively poetic.

Like the congregation of ascetics
Merged in meditation
The eye-cry-dry-trees are
Poised, pieced in pensive prayers
To preen on green go. (p 16)

A rich fabric of nature and ascetic meditation as warp and weft – sound echoing the sense and assonance distinguish the poem as scholarly. This is enticingly imaginative poetic fancy.

'Pink City of Jaipur' is the poet's criticism of contemporary society as found in that city –

People heap streets with
their stinking neglect of hygiene.
... ... ... ...
Stray pigs, herds of cattle
on busy roads are incidental to
The panoramic implementation of
a tolerant democracy.
... ... ... ...
Except for its pink painted walls
the national worries have
turned its people pallid. (p 18)

Decadence and sociological inequities and imbalances have eaten into the fabric of beautiful Kashamir [sic] and its Dul [sic] Lake too.

Melancholic Dul Lake reminisces her
enthralling people-pleasure-past.
Miscreants minister the morsels of horror:
Dul Lake boat-riding goes down to death-riding.
(Kashamir: The Ugly Present, p 53)

The acid burnt faces of women and the young have come to be the most disgusting feature of decadence and demoniac male stupidity and arrogance.

'Cabaret Dancer' expresses pain and sadness of the woman's ultimate condition – the loner's misery.

Nobody burrows into her
Compulsions that traded upon her grace
The sweets of orchestra, clapping
luxury-larded-life
nothing balms her lonely life. (p 31)

The poet speaks of the filth and squalor of modern living which is devoid of virtue or goodness. The humane and good qualities are spoken about in 'Dots of History' –

Living far from
the rush of base selfishness
a few people think of others
although the dots of history
they have been. (p 33)

'Mothering Miseries' is a poem about the hard times for girls. The vicious demoniac grasp of dowry, the misery of being born poor makes the death of a daughter a blessing for an impecunious father.

Should I thank death?
Why ... why for ...? That it
spared my daughter from
her whirling into
the rape rush sporting trend,
her wrapping in
the dowry burning package. (p 36)

'Love Loss' is about the disappearance of love; with hatred and apathy encircling the society in the nasty scenario of contemporary malaise. Religion in its present state cannot bring love or goodwill between people –

Demolished temples, mosques may
restore their stone grandeur
but no lint of love can
heal her love loss. (p 37)

There is a poem 'Distinction' which is a dubious thing – doing wrong like corruption, cruelty and evil; and the poet asks a rhetorical question –

Can you soak in truth that nothing is so soft as sympathy?
nothing is as hard as hate
nothing is more aloof than apathy
nothing is so clean as morality
nothing is so deep as love (p 38)

The reader is reminded of Tagore's 'Where the mind is without fear' when he reads Sharma's 'The Best Award' –

Only when my poems
transform my nation into
a heaven on the earth
... ... ... ...
where people identify themselves
with love, fraternity, peace. (p 39)

The present millennium is described in the poem 'Millennium of Mess' –

Love, hate, joy, grief, loss and success
What we treat others we possess.
With altruism we rarely dress
Money measures human progress.
No thought to piece with God to bless
Drafts of desires do us distress. (p 40)

Intense cerebration and disgust with the present human situation are found in most of Sharma's poems. He makes use of words in a new way as in the title of the poem 'Shame of Nations [sic]' – the term 'Nations' suggesting nations plus emotions.

Peelings of privations
nude-clad poverty,
these children
transport ton-toil. (p 41)

Word compounds are samples of word squeezing to promote thinking. Many a poet thinks and speaks of his own canons for his compositions.

A young man's thirst for his love and the eventual jolt from his sweetheart are the subject of the poem "Grudge' –

Daily stirred the streets:
hey! She flaunted the tidbits
... ... ... ...
He has been green with
the cactus of grudge since
she spurned him as her Hero. (p 43)

Poetry apart, the poet is not liked for his wares by his own children as shown in the poem 'Poet – A Family Funroll' –

On poetry why do you
fritter away you talent?
What'll people
do with your poetry? Privation for you
starvation for your children
are your poetry yields –
this is from the poet's father.
From the wife is this:
Staple life with a poet
to marry myriad miseries.
From children is this
Be innovative, dear brother
Feel father's feelings,
pursue your Ph.D
on papa's pains. (p 44-45)

'Mean' is word play. Neither a quality nor an adjective, it is a verb with the meaning of 'signifying'

What the light for a means
What the rays for the sun means
What the throbbing to hear means
For each other we mean. (p 47)

The poet pays a tribute to nature in 'Nature's Homage' –

Nature confers homage
on her muse son who
played in Nature's lap
kissed her, embraced her
versified his love for her. (p 48)

'Mismatch' is just one poem where the poet goes in for buxom and blithe gaiety and worth presenting in full –

A poet was married to a village woman
Buxom, rustic was she to stare, to scan.
The poet praised his wife figuratively
Rural wife listened to him attentively
Apple cheeks, rosy lips, gourd-groins, cabbage breast
Good metaphors define your beauty best.
Oh, no ... she cried, you are so insensible
My body doesn't grow fruits, vegetables. (p 56)

Poetry never pays and writing can never be monetarily enriching. Every writer, most importantly every poet, knows this. Even Milton's Paradise Lost – the great epic fetched him a meagre five pounds, I remember someone saying. Here is Sharma's poem on the subject in 'Father' –

Unexplored, unsung in poetry
has remained father
the backbone of the family. (54)

It is true that poetry is never praised most importantly – by the poet's wife. As the famous Telugu poet Sri Sri says, writing poetry is a thirst unquenched (Kavitvamoka teerani daaham). Nar Deo Sharma is sure to forge ahead writing – writing poetry.